9 Comments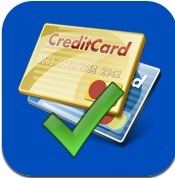 Over the summer, I used credit cards to pay for things I'd ordinarily have used cash to purchase: vacation expenses, back-to-school supplies, school books, clothes for my kids, and business travel expenses. It added up fast. As a result, I am now carrying balances on three different credit cards. The total amount I owe is large enough that I can't pay it off immediately, so I needed to come up with a plan to get out of debt.
[Article: Knee-Deep in Debt? Here's a Resource]
I figured there'd be an app for that, so I looked around the iTunes app store and found something called Debt Free. It's a well constructed app that helps you use the "Snowball method" to pay down your debt (including credit cards, car loans, lines of credit or any other kind of loan). If you're not familiar with the Snowball method here's how it works:
1. Make a list of all of your outstanding loan balances, sorted from the lowest balance to the highest balance.
2. Write down the minimum payment for each loan.
3. Figure out how much extra you can afford to pay every month. This is your "snowball."
4. Pay the minimum payment on each loan, and apply the snowball to the loan with the lowest balance.
5. When the lowest balance loan gets paid off, start applying the extra payment to the next lowest loan on your list.
6. Repeat steps 1-5 until you are free of debt.
Debt Free automates the above process. You simply enter information about each card (remaining balance, interest rate, due date and minimum payment) and how much of a snowball you can afford. It crunches the numbers, generates a payment schedule and tells you when you will be debt-free. It will also notify you when a bill is due (even if the app is not running), and send you a detailed report by email.
[Featured Product: Get a free trial credit score]
Now, eliminating the smallest loan first is often not the most cost-effective way to clear your debt. However, many financial advisors recommend it because of the psychological boost people get when they pay off a loan—it encourages them to keep working at clearing the other debts. The Debt Free app gives you the option of paying off the highest interest rate loan first, and it lets you compare the savings between paying off your lowest balance debt and your highest interest rate debt first. In my case, there was barely a difference between the two methods—less than a dollar. That's because my bigger loans have a lower interest rate than my smaller loans do.
Debt Free is $1.99, but you can get it for $0.99 for a limited time. Also, there's a free version called Debt Free Lite that allows you to track two debts (the full version can track any number of debts).
[Resource: Get your free Credit Report Card]