1 Comment
Would you take financial advice from a cocktail napkin sketch? Well, it depends on who is sketching. If it's your brother-in-law, who likes to boast about how he "almost" made a killing investing in Google stock, then the advice is probably not worth the paper it's on. But if it happens to be sketched by Carl Richards, a financial planner and blogger on the New York Times' Bucks blog, then it's a good idea to save the napkin and wipe your barbecue wing sauce covered fingers on your pants instead.
Richards' sketches offer practical financial advice in the form of humorous (at times darkly humorous) graphs that get to the essence of peoples' oftentimes troubled relationship with money and credit. For instance, Richards has a graph that charts the increase in the price of gold in relationship to the chance you will get hurt. That line climbs at a steady 45-degree angle.
Richards' new book, The Behavior Gap: Simple Ways to Stop Doing Dumb Things with Money combines napkin sketch graphs with financial advice that focuses on reducing fear, making realistic choices, and learning to accept the fact that life rarely goes as planned.
Unlike most personal finance books I've read, Richards' is upfront about the role luck plays in a person's life. For instance, he tells the story of applying for a job at a securities firm. The employer had winnowed down the number of candidates to two: Richards and another man. They were sitting together in the waiting room when a woman came out and said that the other man had been picked. The chosen applicant turned to Richards and said, "I don't want it. You can have it." Years later at the same job, Richards' boss told him he'd have to start coming in on Sundays. So he quit. That led to another job, which eventually led to running his own business and landing a gig at the New York Times.
But Richards doesn't think all luck is good. He recently had to short-sell his house, an experience that he said "has been permanently seared into my psyche." It caused Richards to think less of the "possibility of a certain event occurring," and instead "consider the consequences of the event happening," advice he now shares with his clients.
At 178-pages, The Behavior Gap is a short book, but that's because Richards respects the reader enough to not pad it with fluff. With its focus on studying your own patterns of behavior instead of the market's, it's the antithesis of Jim Cramer's frantic, panicked hot tips that are only valuable as punch lines in Richards' napkin sketches.
Below, four sketches that give you an idea of the kind of advice Richards gives to readers of his book and blog.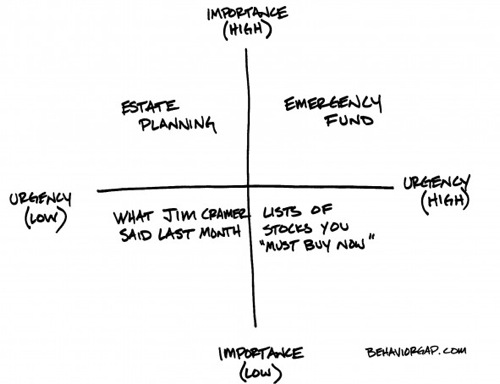 Confusing Urgent with Important
The New American Money Math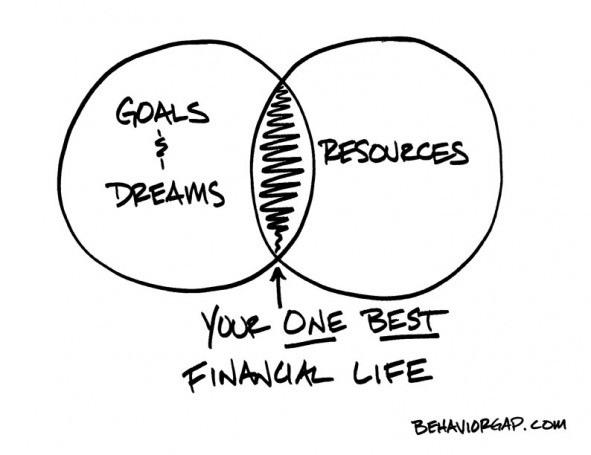 One Best Financial Life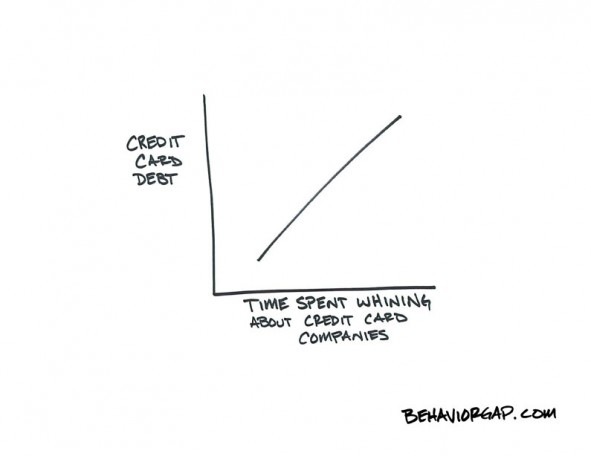 Whining About Credit Card Companies