0 Comments
[UPDATE: Some offers mentioned below have expired and/or are no longer available on our site. You can view the current offers from our partners in our credit card marketplace. DISCLOSURE: Cards from our partners are mentioned below.]
Nobody likes being turned down for a job or a date, but there is something especially painful about having a credit card application rejected. Applicants know that credit card issuers examine their income and pull their credit reports, so it can feel like their entire life is being held to account.
Thankfully, several issuers offer credit cards that are easier to qualify for. For those with poor credit, or no credit history at all, the first rung on the ladder is a secured credit card. These products require that customers first place a refundable security deposit with the card issuer before receiving a card. In many instances, the size of the deposit becomes the cardholder's credit limit, essentially eliminating the card issuer's risk. In fact, some secured card applications do not even require a credit check, so acceptance is virtually guaranteed once the the applicant's identity is confirmed.
Yet in all other ways, a secured card is exactly like a regular credit card. Cardholders are billed for their purchases, and can be charged interest if their balance is not paid in full each month. Penalties are also assessed for missed payments, but on-time payments are reported to credit bureaus and will improve the cardholder's credit score.
The next step up for applicants with fair or average credit are the several standard, unsecured cards marketed to those with some blemishes in their credit history. These cards generally tend to be basic products with less competitive terms and no rewards. Another good option is student cards that are designed for the needs of those who have a limited credit history.
Here are three credit cards that that are easy to get, along with the details applicants need to know before they apply.
Capital Once offers a variety of rewards cards for those with good and excellent credit, but even those with merely average credit may be approved for this card. Although it offers no rewards, it does feature perks such as access to a 24-hour hotline for roadside and travel assistance, an extended warranty program, and automobile rental insurance. Cardholders start off with a modest credit limit, but Capital One offers a higher limit after cardholders make their first five payments on-time. There is a $0 annual fee.
First Progress Platinum Elite Mastercard® Secured Credit Card
Card Details
---
Ongoing Apr:
19.99% Variable APR for Purchases
---
---
---
Credit Needed:
Bad-No Credit
Snapshot of Card Features
Receive Your Card More Quickly with New Expedited Processing Option
No Credit History or Minimum Credit Score Required for Approval
Quick and Complete Online Application
Full-Feature Platinum Mastercard® Secured Credit Card
Good for Car Rental, Hotels; Anywhere Credit Cards Are Accepted!
Monthly Reporting to all 3 Major Credit Bureaus to Establish Credit History
Credit Line Secured by Your Fully-Refundable Deposit of $200 -- $2,000 Submitted with Application
Just Pay Off Your Balance and Receive Your Deposit Back at Any Time
24/7 Online Access to Your Account
Nationwide Program though not yet available in NY, IA, AR, or WI * See Card Terms.
Card Details +
With this secured credit card, approval is granted to applicants with any credit history or credit score, as long as their identity is confirmed and they have been discharged from any bankruptcy filings. Once approved, cardholders must submit a refundable security deposit of at least $200, and pay an annual fee of $29 . Cardholders can then use this card just like any other credit card. Customers have 25 days from the statement closing date to pay their balance in full to avoid interest, or they can choose to carry a balance and pay the standard of 19.99% Variable APR for Purchases . After at least a year of making their payments on-time, most cardholders will find their credit to have improved enough to qualify for a standard, unsecured card.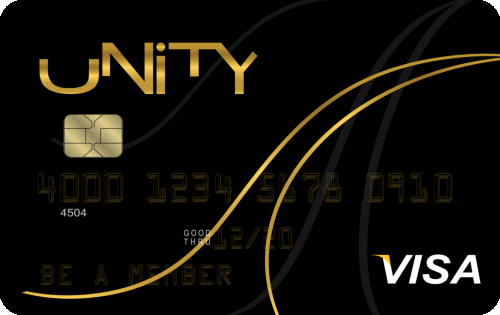 UNITY® Visa Secured Credit Card - The Comeback Card™
Card Details
---
Ongoing Apr:
17.99% (Fixed)
---
Balance Transfer:
Intro: 9.95% for 6 months
---
---
Credit Needed:
Poor-Bad-No Credit
Snapshot of Card Features
Unlike your Prepaid Card, UNITY Visa secured card can help you build your credit. Apply online in less than 5 minutes, and you could be approved today!
No Minimum Credit Score required; low fixed interest rate of 17.99%; Fully refundable FDIC security deposit* required at time of application; if you have a min of $250 to deposit immediately, you can start now!
No application fee or penalty rate
Monthly reporting to all 3 major credit bureaus
24/7 online access to your account
*See the Cardholder Agreement for more details.
Card Details +
The UNITY Visa secured credit cards boasts of an online application process that only takes 5 minutes and approval the same day. You can't have a credit score too low to apply for this card. The minimum security deposit is just $250. And it offers a decent ongoing APR of just 17.99% (Fixed)
Things to Remember
Keep in mind that just because these credit cards have lower approval thresholds than other cards on the market does not mean that every person who applies for one of these cards will be approved. Before you apply for any credit card, it's good to know the state of your own credit.  Then you're prepared to search for a card that you're more likely to qualify for, based on your credit-worthiness. Check your credit scores to get an idea of where you stand. There are free tools that can help you do that, like Credit.com's Credit Report Card, which updates your scores every 14 days, and gives you an overview of your credit so you can see where you need to improve.
At publishing time, the First Progress Platinum Elite MasterCard Secured Credit Card, Capital One Platinum MasterCard and Discover it Card for Students are offered through Credit.com product pages, and Credit.com is compensated if our users apply for and ultimately sign up for any of these cards. However, this relationship does not result in any preferential editorial treatment.
Note: It's important to remember that interest rates, fees and terms for credit cards, loans and other financial products frequently change. As a result, rates, fees and terms for credit cards, loans and other financial products cited in these articles may have changed since the date of publication. Please be sure to verify current rates, fees and terms with credit card issuers, banks or other financial institutions directly.
More on Credit Cards:
Image: Getty Images