0 Comments
[UPDATE: Some offers mentioned below have expired and/or are no longer available on our site. You can view the current offers from our partners in our credit card marketplace. DISCLOSURE: Cards from our partners are mentioned below.]
The new year is officially here, and you've probably come up with a New Year's resolution or two. If one of yours is to become more financially stable and improve your less-than-stellar credit, we're here to help. Check out these four credit cards that can help you get a fresh start in 2017.
Keep in mind that you'll need to manage the card responsibly, keeping your balance low and trying to pay it in full each month if you want to improve your credit. Doing so will also help you avoid racking up interest charges. Some of these cards carry relatively higher interest rates than cards aimed at people with higher credit scores, so carrying a balance can really add up after a few months.
And, as with any credit card, it's a good idea to check your credit scores before applying so you know where you stand. You can get your a free credit score, updated every 14 days, on Credit.com.
1. U.S. Bank Secured Visa Card
Why We Chose It: The majority of secured credit cards require cardholders to place a deposit on their account when their application is approved. This deposit will act as their credit limit. A lot of cards set a maximum limit of $2,000 or $3,000, depending on the card, but the U.S. Bank Secured Visa card has a maximum $5,000 credit limit if you can afford the matching deposit.
After you have been a cardholder for 12 months, U.S. Bank will assess your account to see what kind of borrower you've been. If you've been making payments on time and your spending has been kept under control, you could be moved into an unsecured card.
APR: Variable 19.49%
Annual Fee: $29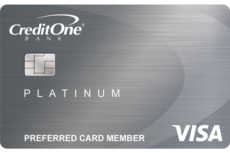 Credit One Bank® Unsecured Platinum Visa®
Card Details
---
Ongoing Apr:
25.49% Variable
---
---
---
Snapshot of Card Features
See if you Pre-Qualify without harming your credit score
This unsecured card requires no deposit and can help build your credit
Track your progress with free online access to your Experian credit score, terms apply
Build your credit history—we report to the credit bureaus monthly
Accounts are automatically reviewed for credit line increase opportunities
Enjoy the flexibility to choose your payment due date, terms apply
Receive 1% cash back rewards on eligible purchases, terms apply
No need to fret—you're covered by $0 Fraud Liability
Card Details +
Why We Chose It: The Credit One Bank Unsecured Visa Card is one of the very few unsecured cards available to almost anyone with poor credit (keep in mind you can still be turned down for a credit card, even a secured one, if you have an active bankruptcy on your credit report). You will not be required to come up with a deposit to use this card. Plus, cardholders will have the ability to earn rewards on purchases. Each time you use the card at gas stations and grocery stores, you will receive 1% cash back.
You can get pre-qualified for this card in less than one minute. This will help by letting you know if you will be approved and potentially save you the hard inquiry on your credit report. Credit One Bank will report to all three credit bureaus. Because a lot of financial institutions use a combination of your three scores, this can be an important part of rebuilding your credit.
APR: 25.49% Variable
Annual Fee: $39
Why We Chose It: The Capital One Secured MasterCard is a little different than other secured cards. Instead of matching the credit limit with the deposit placed on the account, you can receive a $200 limit with a deposit of $49, $99 or $200. Plus, if you prove to be a good borrower, Capital One can decide to increase your credit limit without requiring any additional deposit.
APR: 26.74% (Variable)
Annual Fee: $0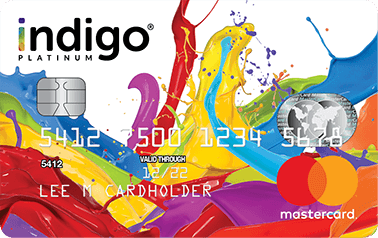 Indigo® Mastercard® for Less than Perfect Credit
Snapshot of Card Features
Less than perfect credit histories can qualify, even with prior bankruptcy!
Choose your card design with chip technology at no additional cost
Quick pre-qualification available with no impact to your credit score
Easy pre-qualification process with fast response
24/7 access to your account, even on mobile!
Protection from fraud, if your card happens to be lost or stolen
Accepted nationwide wherever Mastercard is accepted
Card Details +
Why We Chose It: Like the Credit One card, the Indigo Platinum MasterCard offers pre-qualification, meaning you don't have to ding your credit score only to be denied. You won't find many perks with this card, though, other than the ability to improve your credit over time, but that is your main goal.
APR: 24.90%
Annual Fee: $0 - $99*
At publishing time, the Credit One Unsecured Visa Card, Capital One Secured MasterCard and Indigo Platinum MasterCard  are offered through Credit.com product pages, and Credit.com is compensated if our users apply and ultimately sign up for these cards. However, this relationship does not result in any preferential editorial treatment. This content is not provided by the card issuer(s). Any opinions expressed are those of Credit.com alone, and have not been reviewed, approved or otherwise endorsed by the issuer(s).
Note: It's important to remember that interest rates, fees and terms for credit cards, loans and other financial products frequently change. As a result, rates, fees and terms for credit cards, loans and other financial products cited in these articles may have changed since the date of publication. Please be sure to verify current rates, fees and terms with credit card issuers, banks or other financial institutions directly.
Image: phototechno