0 Comments
[DISCLOSURE: Cards from our partners are mentioned below.]
College students often work summer jobs to gain experience and save up cash for when they return to school. But it can be difficult to build up enough savings for the school year in three months, especially if you don't make a lot of money.
To maximize your savings, you need to dedicate yourself to socking away money all summer long. Here are five tips for saving your summer income before you go back to college.
Move Back Home
Staying in your college town to work for the summer has some upsides – you'll maintain independence and you won't have to pack up your stuff to move home. But if you can move home and live with your family rent free while you work, it's a no-brainer. You won't be responsible for rent, bills, and other expenses, and you can put a lot more money into savings.
Of course, living rent free with family isn't an option for everyone. But if you can find another affordable place to live for the summer (on-campus summer housing, for example), you should strongly consider that option.
Set a Budget
To increase your ability to save, you need to set a strict spending budget. Figure out what you need to spend during the summer to get by and commit yourself to saving the rest. The more economical you are, the more you can save. While you don't need to live like a monk, you should try to reduce your optional expenses.
Once you have a budget in place, you should set your savings goal for the summer and commit to reaching that goal by the time you return to school.
Open a Savings Account
If you're stuffing cash in an envelope or keeping all your money in a single checking account, you're far more likely to spend your savings. Resist the urge to spend your money by opening a separate savings account. You could even open an account at a different bank! When your savings is separated from your everyday spending money, there will be a greater psychological barrier to spending it.
Make it Automatic
Does your bank offer automatic deposits from your paycheck into a savings account? If so, set up an automatic deposit for payday so you won't even have to think about it. Just remember to turn them off before you return to school.
If your bank doesn't offer this feature, try to automate part of the process. Set a periodic calendar reminder to move money from checking to savings or drop off cash tips at the bank. This way, you won't forget.
Earn Cash Back
Some credit cards earn cash back on common expenses, helping you save money on purchases. For instance, the Credit One Bank® Platinum Visa® with Cash Back Rewards lets you earn 1% cash back rewards on eligible purchases, terms apply.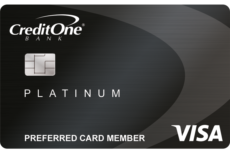 Credit One Bank® Platinum Visa® with Cash Back Rewards
Card Details
---
Ongoing Apr:
25.49% Variable
---
---
---
Snapshot of Card Features
Seeing if you Pre-Qualify is fast, easy, and secure
Get 1% cash back rewards on eligible purchase, terms apply
Rewards post automatically to your account each month
Automatic reviews for credit line increase opportunities
With $0 Fraud Liability, you won't be responsible for unauthorized charges
Pick a card that fits your style. Multiple card designs are available, a fee may apply
Enjoy exclusive offers available to Credit One Bank card members through Visa® Discounts.
Your card includes travel accident and auto rental collision insurance from Visa®
Card Details +
Cash back earnings can help you save by reducing the overall cost of your purchases just a little bit. But remember, a credit card is only a helpful savings tool if you can manage it correctly. If you rack up too high of a balance or you can't pay your balance in full each month, you'll end up accruing interest charges that will eat into the value of your cash back rewards. Only get a credit card if you can commit to paying it off in full each month.
If you want to learn more about your credit, you can check your three credit reports for free once a year. To track your credit more regularly, Credit.com's free Credit Report Card is an easy-to-understand breakdown of your credit report information that uses letter grades—plus you get two free credit scores updated every 14 days.
You can also carry on the conversation on our social media platforms. Like and follow us on Facebook and leave us a tweet on Twitter.