0 Comments
[DISCLOSURE: Cards from our partners are mentioned below.]
During the holidays, most people love shopping. And lots of retailers offer great deals. These deals might seem irresistible and it's easy to just charge things to your credit card.
You may feel euphoric at the time of your purchase because the deal was just so good. You probably aren't thinking of your credit card bill. But the credit card bill you get in January will probably jolt you back to the sad reality of being in debt.
If you can't pay off the balance in full immediately, then you'll be facing interest charges. Then that great deal isn't looking so hot anymore because you're paying for it for months.
Why People Fall into Holiday Debt
Most of us want to see our loved ones smile during the holidays. Thanks to long-standing traditions, our kids expect Santa to bring them almost everything they wished for on their list.
We also want to treat ourselves to a few nice things including:
Eating out at fancy restaurants
Sunny vacations
Expensive "one-time" gifts
Spending the night out
At the end of it all, we end up with a credit card bill that's more than we can handle. Statistics show that the average consumer expected to spend more in 2018 than they did in previous years. The National Retail Federation estimates that Americans will spend about $1,007 over the holidays paying for everything from gifts to food. This is a 4.1% increase from last year.
$1,007 doesn't sound so bad. But once you consider that many families are still carrying holiday debt from the year before, it looks pretty bad. The new spending only adds more to debt that people are already struggling to pay off.
Without proper planning, these holiday shopping sprees can snowball into insurmountable debt that can cripple you financially or hurt your credit score.
How Low Interest Credit Cards Help Manage Your Holiday Debt
Most credit cards have an interest rate or APR (annual percentage rate) that ranges from 14% – 24% on average. Low interest credit cards are cards that have a lower than average interest rate. Some might even go as far as offering you a 0% interest rate for a specific period. The average American has credit card debt of about $6,375. The interest on this can really add up.
As interest adds up, you can sink further into debt. Because of this, some people opt for a low interest credit card or a balance transfer credit card.
What is a Balance Transfer Credit Card?
A balance transfer credit card allows you to transfer the balance from one credit card to another credit card with a lower interest rate. This can save you a lot of money. Balance transfer credit cards usually have a low APR or offer a 0% APR intro period, so you pay little or no interest on the balance you transferred over. You usually have time to pay down balances without paying interest, which can make your debt more manageable.
Great Low Interest Credit Cards to Pay off Holiday Debt
There are dozens of low interest credit cards on the market. The following are some of the most convenient ones for your consideration:
Barclaycard Ring® Mastercard®
The Barclaycard Ring Mastercard features The ongoing APR applies to new purchases, cash advances and balance transfers. There is a annual fee.
Wells Fargo Platinum Visa card
The Wells Fargo Platinum Visa card features a on purchases and qualifying balance transfers. It has a APR based on your credit after the introductory period is over. It has a annual fee.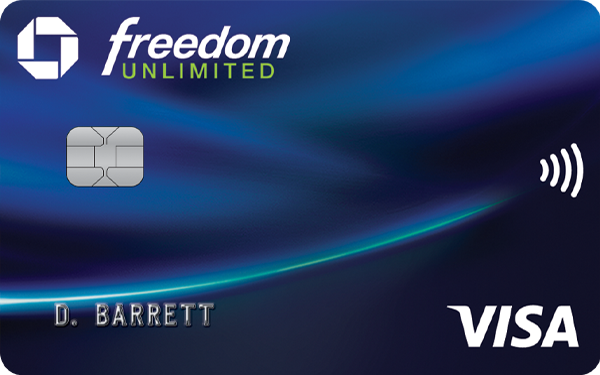 Chase Freedom Unlimited®
Card Details
Intro Apr:
0% for 15 months on purchases
---
Ongoing Apr:
16.49% - 25.24% Variable
---
Balance Transfer:
Intro: 0% for 15 months
---
---
Credit Needed:
Excellent-Good
Snapshot of Card Features
Earn a $150 Bonus after you spend $500 on purchases in your first 3 months from account opening.
Earn unlimited 1.5% cash back on all purchases.
0% Intro APR for 15 months from account opening on purchases and balance transfers, then a variable APR of 16.49 - 25.24%.
3% intro balance transfer fee when you transfer a balance during the first 60 days your account is open, with a minimum of $5.
No annual fee
No minimum to redeem for cash back
Cash Back rewards do not expire as long as your account is open
Card Details +
Chase Freedom Unlimited is a great choice because it comes with rewards. Earn 3% cash back on all purchases in your first year up to $20,000 spent. After that earn unlimited 1.5% cash back on all purchases. It has an introductory 0% for 15 months on purchases . After, the APR is of
16.49% - 25.24% Variable depending on your credit.
Snapshot of Card Features
Card Details +
The HSBC Gold Mastercard has a . A . There are no foreign transaction fees and no annual fee.
Choosing a Balance Transfer Credit Card to Pay Off Holiday Debt
Choosing a balance transfer credit card that offers a 0% introductory APR for longer is a great way to help you pay off holiday debt. It gives you more time to pay off your balance without paying interest. When choosing which card is right for you, you should review the terms and conditions.
In order to apply for one of these credit cards, or most balance transfer credit cards with low interest, you'll usually need good to excellent credit. In order to see where you stand, sign up for a free Credit.com account to check two of your credit scores.
At publishing time, the Barclaycard Ring Mastercard, Wells Fargo Platinum Visa Card, Chase Freedom Unlimited, Discover it Balance Transfer, and HSBC Gold Mastercard are offered through Credit.com product pages, and Credit.com is compensated if our users apply for and ultimately sign up for any of these cards. However, this relationship does not result in any preferential editorial treatment. This content is not provided by the card issuer(s). Any opinions expressed are those of Credit.com alone, and have not been reviewed, approved, or otherwise endorsed by the issuer(s).