0 Comments
Credit scores. Most of us have them—more than one—and many of us hate them. If you're like a lot of Americans, your credit score is in the fair zone—from 580 to 699, depending on which scoring model is used, FICO or VantageScore. And that fair credit score can be, well, unfair. It places you the subprime category where you won't get approved for the best rates or even the best credit cards.
Most people with fair credit already have at least one credit card. They also have a total credit line of less than $5,000. That's proof that with a fair credit score, you can still find a credit card. What you may not know is that you can find a card that fits your needs. You may even find one that helps you boost your score and/or lets you earn rewards.
Before delving into credit cards for fair credit, just what is a fair credit score?
Just What Is Fair Credit?
FICO credit scores and VantageScore credit scores are the two most popular credit-scoring models. FICO scores were developed by the Fair Isaac Corporation. VantageScore scores were developed by the major credit bureaus—Experian, Equifax and Transunion. Scores in both models range from 300 to 850. Within this range, the models group potential borrowers into five categories:
| | |
| --- | --- |
| FICO Credit Score Ranges | VantageScore Credit Score Ranges |
| 800–850 Exceptional | 750–850 Excellent |
| 740–799 Very Good | Not applicable |
| 670–739 Good | 700–749 Good |
| 580–669 Fair | 650–699 Fair |
| 300–579 Very Poor | 550–649 Poor |
| Not applicable | 300–549 Very Poor |
A lot of factors go into a credit score. Payment history is the single biggest factor for both FICO and VantageScore. It accounts for roughly 35% of your total score. If you have a fair score, chances are you've made at least one payment more than 60 days late in the last 12 months. That fair score also affects your chances of getting loans and credit cards and good interest rates on those you can get.
Your Credit Score and Getting Credit Cards and Loans
Your credit score is your lifeline to getting approved for new credit cards and loans. If you have a low score or no credit history, your odds of approval go down and/or your interest rate goes up.
Poor and very poor credit means you're unlikely to qualify for a loan or credit card. Individuals in this category may benefit from a secured credit card, which requires a security deposit but helps to rebuild credit.
Fair credit means you can probably qualify for credit cards and some loans, but not at optimal interest rates.
Good credit lets you get approved for most loans and credit cards at lower interest rates than people with fair credit.
Very good, exceptional or excellent credit typically qualify you for the very best interest rates, credit card rewards programs and credit card and loan terms.
Your Credit Card Options for Fair Credit
If you have fair credit and need a new credit card to build or rebuild your credit or just to use, you have a few options.
Option 1 is to work to improve your credit before you apply for a new card.
Option 2 is to find the best credit card option available to you now—one that's known to approve someone with a fair credit score.
A credit card can actually help you improve your credit. So, choosing option 2 may be a good idea depending on your situation. If you get a credit card now, you can always ask your card issuer to review—and increase—your interest rate when your credit score does improve.
These are some solid unsecured credit cards for fair credit.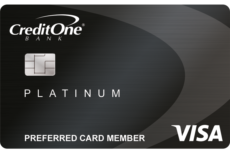 Credit One Bank® Platinum Visa® with Cash Back Rewards
Card Details
---
Ongoing Apr:
25.49% Variable
---
---
---
Snapshot of Card Features
Seeing if you Pre-Qualify is fast, easy, and secure
Get 1% cash back rewards on eligible purchase, terms apply
Rewards post automatically to your account each month
Automatic reviews for credit line increase opportunities
With $0 Fraud Liability, you won't be responsible for unauthorized charges
Pick a card that fits your style. Multiple card designs are available, a fee may apply
Enjoy exclusive offers available to Credit One Bank card members through Visa® Discounts.
Your card includes travel accident and auto rental collision insurance from Visa®
Card Details +
The Credit One Bank Platinum Visa with Cash Back Rewards is also a rewards card. It lets you earn 1% cash back on eligible purchases—some terms do apply. Your rewards post to your account automatically each month. You also get access to offers only to Credit One Bank card members through Visa® Discounts. The card also includes travel accident and auto rental collision insurance from Visa.
You can see if you prequalify for the card quickly, easily and securely. So you can find out if you're likely to get approved before putting a hard inquiry on your credit report.
The card does have an annual fee of $0 to $99. But that fee depends on your credit score. With a fair score, you're more likely to pay on the lower end of that range. The ongoing APR is a bit nicer than the two Capital One cards at 25.49% Variable for purchases. You can't do balance transfers with this card, so there's no APR for that.
Credit One Bank will give you a chance to increase your credit line down the road, but a fee might apply.  As you use this card responsibly, your account will be automatically reviewed to see if you're eligible for an increased credit line.
Last, but not least, this card speaks to your unique self by letting you pick from multiple card designs, a fee may apply.
If you'd rather skip an annual fee and don't care about rewards, the Capital One® Platinum Credit Card has no annual fee which is a rare perk among credit cards for fair credit. This card carries the same ongoing APR of 26.74% (Variable) for purchases and balances transfers as the Capital One® QuicksilverOne® Cash Rewards card. But if your goal is to solely build credit without having the temptation of spending more to earn rewards, this card is a great option.
This card offers fraud protection if your card is lost or stolen. And if you make your first five payments on time, Capital One will increase your credit line.
This card also gives you the option to choose your monthly payment due date as well as to pay online, by check or at a local bank branch.
Helping Your Fair Credit Score
Some of the factors that lower your credit score include late payments, using more than 30% of your available credit, significant outstanding debt compared to your income, negative public records like judgments and bankruptcies and several credit inquiries in a short time period. The length of your credit history and the mixture of different types of accounts also plays a role.
Using a credit card wisely can help you work toward a higher credit score. Increasing your available credit with a newer card lowers the amount of overall credit you're using, which has a positive impact on your score.
When you get your new credit card, keep your combined balances of all cards below 30% of your combined credit limit to lower your credit utilization ratio, make on-time payments and pay off other debt to see the benefits of your hard work in improving your credit.
Even increasing your score from the fair to good category will let you qualify for credit cards, car loans and personal loans with lower interest rates. It also boosts the chances of approval for a mortgage or rental home. Auto and home insurance premiums are also lower for people with good credit.
Not Sure What Your Credit Score Is?
Knowing your credit score can help you narrow your search for a credit card. If you don't know your score, you can get your Experian VantageScore credit score right here on Credit.com for free. And you can get your FICO score for just $1.
Your free Experian VantageScore score includes a free credit report card that shows where you stand the five key criteria used to calculate your score—payment history, credit utilization, credit age, account mix and credit inquiries. Your score and report card get updated every two weeks, so you can see how using your new card improves your credit or what you need to do differently if it's not.
At publishing time, the cards mentioned here are offered through the Credit.com product pages, and Credit.com is compensated if our users apply and ultimately sign up for one of the cards. However, this relationship does not result in any preferential editorial treatment. This content is not provided by the card issuer(s). Any opinions expressed are those of Credit.com alone and have not been reviewed, approved or otherwise endorsed by the issuer(s).