0 Comments
[UPDATE: Some offers mentioned below have expired and/or are no longer available on our site. You can view the current offers from our partners in our credit card marketplace. DISCLOSURE: Cards from our partners are mentioned below.]
Americans enjoy a highly competitive market for credit cards. In fact, though we find that there are few alternatives to many services, we complain that too many credit card offers stuff our mailboxes each day.
At the same time, choosing a new credit card is not the most enjoyable activity, and many cardholders remain loyal to their cards for years rather than shop for a new one. But just as we will eventually have to retire our favorite T-shirt and our outdated electronic gadgets, there comes a time when you might want to add a different sort of credit card.
That said, there's a case for keeping the credit card you have open; the age of your credit accounts is part of your credit score, and that number affects your credit scores. (You can see two of your credit scores for free using the Credit Report Card.)
Here are five of the most important signs that you need a new credit card.
1. The card you have isn't even offered anymore. 
Let's say that you go online to compare the benefits of your current card with others on the market, but the issuer no longer maintains a Web page marketing your card. That likely means that the card is no longer offered and has probably been replaced with a newer product.
Thankfully, the highly competitive market has created an environment where the new cards are almost always better than the older ones. For example, in early 2013 Discover replaced all of its consumer credit cards with a new card, Discover It, that combines most of the features of several previous cards. Existing cardholders have the option to retain their old products, but nearly all would be better off upgrading to a current version.
2. You are getting only a penny in rewards per dollar spent. 
Credit card issuers and industry analysts argue all day about which rewards are worth the most. But one thing is for sure, 1 cent per dollar spent is no longer considered a competitive rate of return. Some cards offer 1.5 or 2 cents back on every dollar spent, but at the very least, cardholders should receive bonus rewards for purchases that they make regularly. Keep in mind that if you carry a balance month to month, a rewards credit card may not be your best bet.
3. You need a balance transfer offer. 
You might have a competitive, up-to-date card, but you may still want to open a new account if you are carrying a balance. That is because there are many new cards that offer up to 18 months of interest-free financing on both new purchases and balance transfers. A new card with one of these offers can help out anyone paying interest at the standard rate, but they are especially valuable for those who have a balance on a card with higher-than-average interest rates.
4. There is a great sign-up bonus being offered.
Rewards credit card aficionados travel the world for nearly nothing by applying for credit cards that offer generous sign-up bonuses. But you don't have to be a dedicated hobbyist with grand travel plans to apply for a card with an exceptional sign-up bonus every now and then. During the past few years, several cards have been offered with sign-up bonuses worth $500 or more in cash back, points, or miles.
5. You are starting to travel internationally. 
International travelers need a card that has a few features not found on most basic credit cards. First, they will want a card that has no foreign transaction fees. These fees are charged by most cards on any transaction processed outside of the U.S., and they are normally 3% of the amount charged. Fortunately, many card issuers such as PenFed, Capital One and Discover now waive these fees. In addition, other cards aimed at international travelers are now doing away with this unnecessary fee as well.
Another feature travelers need to look for is an EMV smart chip. This small silver- or gold-colored square is visible on the front of the card and is necessary to ensure compatibility with the latest generation of credit card terminals being used in Europe and other parts of the world.
At publishing time, the Discover It card is offered through Credit.com product pages, and Credit.com may be compensated if our users apply and ultimately sign up for this card. However, this relationship does not result in any preferential editorial treatment.
Note: It's important to remember that interest rates, fees and terms for credit cards, loans and other financial products frequently change. As a result, rates, fees and terms for credit cards, loans and other financial products cited in these articles may have changed since the date of publication. Please be sure to verify current rates, fees and terms with credit card issuers, banks or other financial institutions directly.
Image: iStock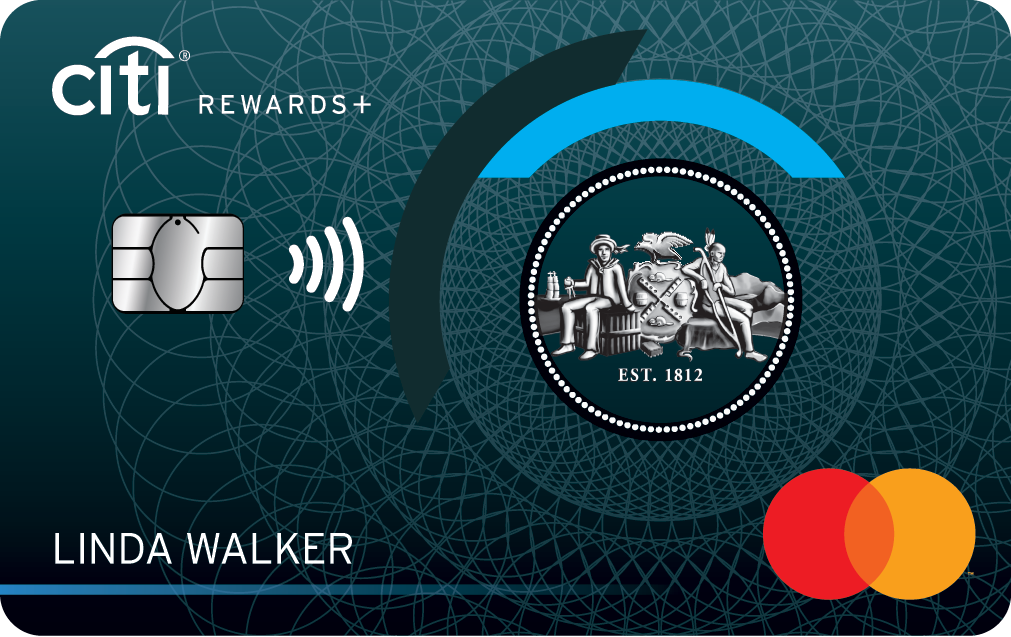 Citi Rewards+℠ Card
Card Details
Intro Apr:
0% for 15 months on Purchases
---
Ongoing Apr:
13.49% - 23.49% (Variable)
---
Balance Transfer:
0% for 15 months on Balance Transfers
---
---
Credit Needed:
Excellent-Good
Snapshot of Card Features
The Citi Rewards+℠ Card - the only credit card that automatically rounds up to the nearest 10 points on every purchase - with no cap.
Earn 15,000 bonus points after you spend $1,000 in purchases with your card within 3 months of account opening; redeemable for $150 in gift cards at thankyou.com
0% Intro APR on balance transfers and purchases for 15 months. After that, the variable APR will be 13.49% - 23.49%, based on your creditworthiness. Balance transfer fee — either $5 or 3% of the amount of each transfer, whichever is greater.
Earn 2X ThankYou® Points at Supermarkets and Gas Stations for the first $6,000 per year and then 1X Points thereafter. Plus, earn 1X Points on All Other Purchases.
The standard variable APR for Citi Flex Plan is 13.49% - 23.49%, based on your creditworthiness. Citi Flex Plan offers are made available at Citi's discretion.
Card Details +