2 Comments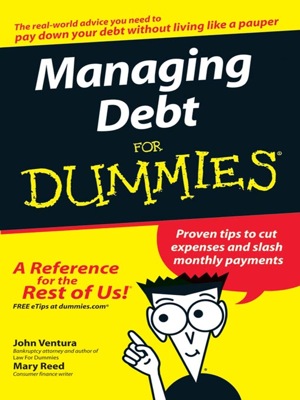 Why should you spend time reading a book about debt management if you don't have a problem with personal debt? To me the answer is easy: You never know what's coming down the road. A medical emergency can easily wipe out your savings, forcing you to dip into your credit cards to cover monthly expenses. You could get laid off from your job. You could lose your home or car and if you aren't well insured, you'll have to go into debt to rebuild or replace your property. It's never a bad idea to prepare yourself for the unexpected.
I just finished reading Managing Debt for Dummies, by John Ventura (a bankruptcy attorney) and Mary Reed (a consumer finance writer), and I'm glad I did. This practical guidebook explains the different kinds of debt you might have, which debts should be a priority to pay down first (hint: child support payments and income taxes are at the top of the list), how to manage a past-due mortgage, how to avoid eviction, how to avoid car repossession, how to negotiate with creditors, how to deal with debt collectors, how to make and stick to a budget, how to develop a plan to get out and stay out of debt, how and when to file for bankruptcy, and more.
[Article: Will The President's New Debt Relief Programs Help You?]
I learned dozens of useful things from this book. Here are a few:
• If you convince a creditor to write off part of a debt, the IRS will tax it as income. In other words, if you owe $10,000 to a lender and they settle for $6,000, the IRS will consider the $4,000 as income and tax you accordingly (unless the IRS agrees you are insolvent).
• This book not only tells you the smartest and fastest ways to get out of debt, it also warns you against getting involved in schemes offered by bad actors who will make things worse, such as "debt counseling" firms that want to give you a loan to pay your debts, or "debt settlement" firms that promise to work with creditors on your behalf to reduce your indebtedness. Always work with a "non-profit credit counseling" agency instead, such as the ones you can find at The National Foundation for Credit Counseling (www.nfcc.org) or The Association of Independent Consumer Credit Counseling Agencies (www.aiccca.org).
[Featured Product: Monitor your Credit Reports and Scores]
• If a debt collector is calling you and you don't want them to call anymore, all you have to do is tell them to stop. By law, they are not allowed to call you again (and if they do call you, you can hire a consumer law attorney and sue them).
• If you feel that your debts are a result of out-of-control spending, consider joining a local meeting of Debtors Anonymous (http://www.debtorsanonymous.org)
Managing Debt for Dummies might not be as fun to read as your favorite thriller author, but I promise it will be worth it.
[Resource: Get your free Credit Report Card]