2 Comments
[UPDATE: Some offers mentioned below have expired and/or are no longer available on our site. You can view the current offers from our partners in our credit card marketplace. DISCLOSURE: Cards from our partners are mentioned below.]
Once of the biggest allures in life is scarcity, as we all want what we can't get. In the extremely competitive world of credit cards, there have been banks that have gone a bit too far, and offered products with rewards that were so generous as to be unsustainable. In other cases, there have been some great credit card offers that never quite gained traction and were pulled from the market.
Here are four of the best credit cards that you can't get, as well as some pretty good alternatives.
Charles Schwab Bank Visa 
In December of 2008, the Charles Schwab investing company introduced a credit card with an unprecedented rate of return. Cardholders receive 2% cash back on all purchases with no annual fee and no foreign transaction fees. Despite, or perhaps because of, its popularity, the card stopped accepting new applicants in early 2010.
But thankfully, there isn't much need to mourn its loss. Last year, Citi introduced its Double Cash card that offers the same rate of return. Cardholders receive 2% cash back on all purchases; 1% cash back at the time of the transaction, and another 1% back when payment is made. In addition, new applicants also receive 15 months of 0% APR financing on both new purchases and balance transfers, with a 3% balance transfer fee. There is no annual fee for this card, but there is a 3% foreign transaction fee.
Old Blue from American Express
There is a card called Blue from American Express that is currently offered, but it's a rather ordinary card that offers one point per dollar spent, and not much else. However, there used to be an extraordinary card offered by the same name, that some now refer to as "Old Blue." This previous card offered 1% cash back on all purchases, until cardholders reached $6,500 in annual spending. After that, cardholders then received an amazing 5% cash back at U.S. supermarkets, gas stations and some drugstores. At those rates of return, credit card rewards experts became very enthusiastic about using their card to earn as much cash back as possible, and American Express later limited the 5% rewards to cardholders' first $50,000 spent in a year. Nevertheless, legend has it that you may still be able to apply for the Old Blue card if you know where to look. Instead, American Express offers its Blue Cash Preferred, which offers 6% cash back on up to $6,000 spent each year at U.S. grocery stores. There is a $95 annual fee for this card.
United Airlines MileagePlus Presidential Plus Card from Chase
Aside from being the only card that has the word Plus appear twice in its name, this card had a lot of things going for it. Cardholders receive access to the United Club and Star Alliance airport lounges, and receive their first and second bags checked for free for themselves and one other traveling companion. Customers also receive Premier Access travel services, which include priority check-in, security lanes (where available), boarding and baggage handling. But what really sets this card apart is the ability to earn 1,000 Premier Qualifying Miles (PQMs) for each $5,000 spent, allowing cardholders to earn elite status much more quickly.
But because this card was originally offered as a Continental Airlines card, a company that has since been acquired by United, this card is not available to new applicants, although existing cardholders continue to enjoy its benefits. As an alternative, new applicants can apply for the United Club card from Chase, which offers many of the same benefits, but no PQMs. There is a $395 annual fee for the United Club card.
JP Morgan Select from Chase
This was a very high-end card, but with an affordable price tag. Cardholders earned double points on many travel expenses, and one point per dollar spent elsewhere. It was also one of the first cards offered in the United States with an EMV smart chip. Other benefits include all sorts of travel insurance and purchase protection policies, as well as no foreign transaction fees. There was a $95 annual fee for this card.
In retrospect, it's obvious why this card is no longer offered, as Chase's current Sapphire Preferred card now has almost identical terms — including double rewards for travel purchases, the $95 annual fee and no foreign transaction fees.
[Research & Compare Credit Cards at Credit.com]
Before you apply for a credit card, it's important to do your homework — which you can start by getting your credit score so you know where you stand. Once you know what range your credit score is in — good, fair, poor, excellent — you can narrow your search to cards that require a level of credit that matches yours, and which you're more likely to get approved for if you apply. You can get two of your credit scores for free on Credit.com, and they're updated every 14 days.
Note: It's important to remember that interest rates, fees and terms for credit cards, loans and other financial products frequently change. As a result, rates, fees and terms for credit cards, loans and other financial products cited in these articles may have changed since the date of publication. Please be sure to verify current rates, fees and terms with credit card issuers, banks or other financial institutions directly.
At publishing time, the Citi Double Cash, American Express Blue Cash Preferred and Chase Sapphire Preferred cards are offered through Credit.com product pages, and Credit.com will be compensated if our users apply for and ultimately sign up for any of these cards. However, this relationship does not result in any preferential editorial treatment.
More on Credit Cards:
Image: iStock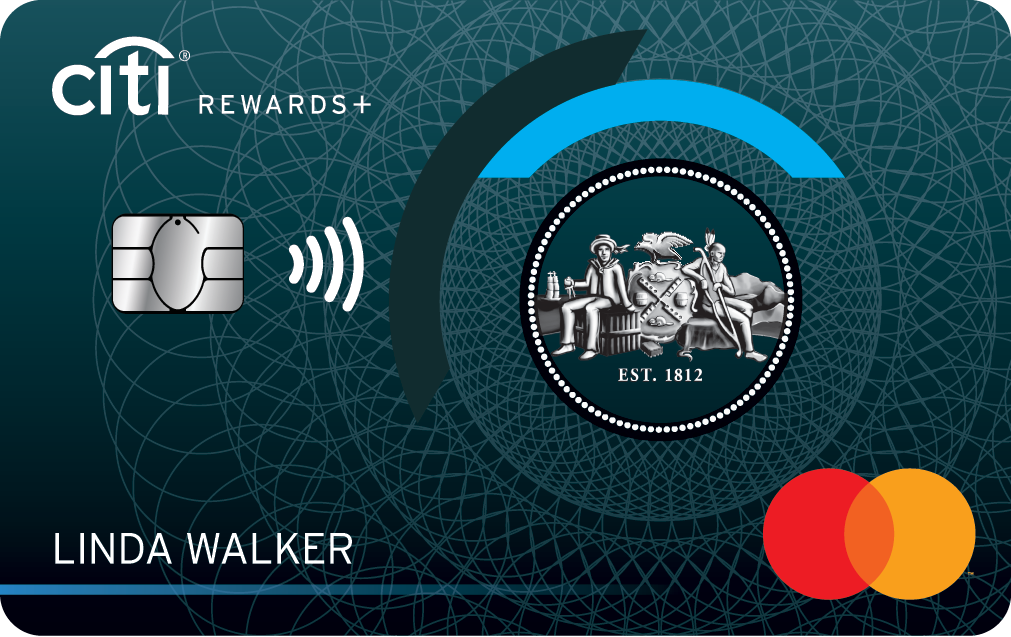 Citi Rewards+℠ Card
Card Details
Intro Apr:
0% for 15 months on Purchases
---
Ongoing Apr:
13.49% - 23.49% (Variable)
---
Balance Transfer:
0% for 15 months on Balance Transfers
---
---
Credit Needed:
Excellent-Good
Snapshot of Card Features
The Citi Rewards+℠ Card - the only credit card that automatically rounds up to the nearest 10 points on every purchase - with no cap.
Earn 15,000 bonus points after you spend $1,000 in purchases with your card within 3 months of account opening; redeemable for $150 in gift cards at thankyou.com
0% Intro APR on balance transfers and purchases for 15 months. After that, the variable APR will be 13.49% - 23.49%, based on your creditworthiness. Balance transfer fee — either $5 or 3% of the amount of each transfer, whichever is greater.
Earn 2X ThankYou® Points at Supermarkets and Gas Stations for the first $6,000 per year and then 1X Points thereafter. Plus, earn 1X Points on All Other Purchases.
The standard variable APR for Citi Flex Plan is 13.49% - 23.49%, based on your creditworthiness. Citi Flex Plan offers are made available at Citi's discretion.
Card Details +