How it works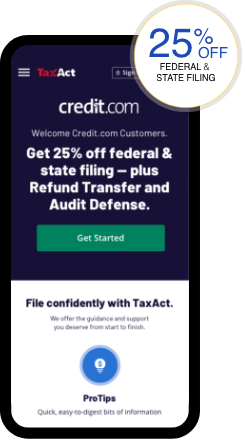 Use our partner link to sign up at TaxAct
TaxAct has been helping people file their taxes for over 20 years—their experience can help you maximize your return
Save money on Federal and State filing
TaxAct is already an affordable tax solution, and this discount nets you an additional 25% off your Federal and State filings
Enjoy even more savings with TaxAct
When you use this exclusive offer, you also get 25% off two additional products from TaxAct: Audit Defend and Refund Transfer
Earn actual cash with ExtraCredit®
On top of all of these savings through TaxAct, ExtraCredit users can also claim a cashback reward through Reward It
Tax tips & more
Learn more about taxes and your credit from Credit.com
See what real TaxAct customers are saying
@gabriellew26
I really like this tax service. It is very easy to use and much cheaper than many other softwares.
@chinaslade77
I love the site and I have used it faithfully for a few years now. It makes preparation a breeze and its an easy format to follow for beginners.
@rgonzo
Filing taxes can be intimidating but TaxAct makes the process extremely simple. It is completely free and they provide a step-by-step guide for you to follow.
**All TaxAct offers, products and services are subject to applicable terms and conditions. The TaxAct® name and logo are registered trademarks of TaxAct, Inc. and are used here with TaxAct's permission.