[DISCLOSURE: Cards from our partners are mentioned below.]
Need to pay down high-interest credit card debt? Get a new credit card. Seriously. A good balance-transfer of 0% interest can help you get out of the red. That's because a balance transfer card with a promotional 0% APR buys you time that's interest free.
Balance transfer credit cards let you—you guessed it—transfer a high-interest balance (really any balance) to a new piece of plastic that offers 0% interest for a period of time. The best ones offer a nice long window—think 15 to 18 months—to pay that balance down without interest. And they don't charge an astronomical fee to make the move. Typically it's just a 3% to 5% fee. Bonus: The best ones don't carry an annual fee either.
What cards make the grade? We've got you covered with our picks below.
Of course, there are a lot of balance transfer cards to choose from. Adding to the number of options is that most offer introductory 0% periods. So, there's no one "best" card for everyone. All cards have their perks and quirks. So, you simply need to choose the card that's "best" for your needs and spending habits. To help you figure out which one is the right card for you, here are a few of the favorite balance transfer credit cards of the Credit.com team.
Cut to the Best Balance Transfer Cards of 2019
Our picks for the best balance transfer cards are:

For full card details, see the individual card agreements.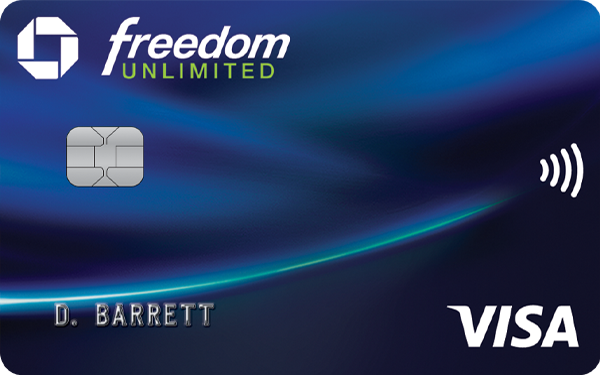 Chase Freedom Unlimited®
Card Details
Intro Apr:
0% for 15 months on purchases
---
Ongoing Apr:
16.74% - 25.49% Variable
---
Balance Transfer:
Intro: 0% for 15 months
---
---
Credit Needed:
Excellent-Good
Snapshot of Card Features
Earn a $150 Bonus after you spend $500 on purchases in your first 3 months from account opening.
Earn unlimited 1.5% cash back on all purchases.
0% Intro APR for 15 months from account opening on purchases and balance transfers, then a variable APR of 16.74-25.49%.
3% intro balance transfer fee when you transfer a balance during the first 60 days your account is open, with a minimum of $5.
No annual fee
Free credit score, updated weekly with Credit JourneySM
No minimum to redeem for cash back
Cash Back rewards do not expire as long as your account is open
Card Details +
Benefits: The big draw for our runner-up card is a generous 15-month 0% APR on balance transfers and new purchases made with the card.  On top of that, there's no annual fee.
The Chase Freedom Unlimited card is a rewards card. Earn unlimited 1.5% cash back on all purchases.
Drawbacks: The Chase Freedom Unlimited card as a rewards card might lull you into overspending. This card also carries a higher APR after the 15-month promotional period ends of 16.74% - 25.49% Variable . So, charge carefully if you choose this card.
Benefits: This card is hard to compare with the Chase Freedom Unlimited card. Both offer a generous 15-month 0% APR on balance transfers and new purchases.  Both have no annual fee. This card does offer zero foreign transaction fees, making it a better choice if you're a traveler.
Like the Chase Freedom Unlimited card, the Capital One Quicksilver Cash Rewards card is a rewards card. It offers the same unlimited 1.5% cash back on anything you buy and $150 cash back on the first $500 in purchases made in your first three months.
Its post-promotional APR is lower than the Chase Freedom Unlimited card at 15.74% - 25.74% (Variable) .
Drawbacks: Like our other picks, the Capital One Quicksilver Cash Rewards card could entice you to spend too much. So, charge ahead only after some consideration.

How to Pick a Balance Transfer Credit Card
The two most important factors in a promotional balance transfer credit card offer are:
The length of the available promotional financing
The balance transfer fee, if any
The most important factor, the length of the promotional financing offer, by law has to last at least six months. But the best offers featured here currently last as long as 18 months. For that 18 months, you get interest-free financing on your transferred balances. The cards' standard interest rates apply to any remaining balance only after the promotional period ends. And some cards offer 0% interest on new purchases for six or more months too.
The next most important factor is the balance transfer fee. Most credit cards with 0% APR promotional financing offers impose at least a 3% fee on the amount transferred. Some are as much as 5% of the amount transferred. Others offer a flat dollar amount if that amount is lower than the 3% to 5% of the transferred balance. There are however a few exceptions, so it's a good idea to read the fine print on any card you're considering.
Other factors to consider include the card's standard interest rate or APR. This rate will ultimately be charged on any balance you don't pay during the promotional period, in addition to any new purchases. Many credit cards offer a range of standard interest rates, with the rate you receive being based on your creditworthiness at the time you apply. You can check your credit scores for free on Credit.com to see where you stand as far as creditworthiness.
You also want to consider any rewards that the credit card offers. Keep in mind that rewards credit cards will usually have higher standard interest rates than similar cards that don't offer rewards. Plus, it's best to avoid rewards credit cards with balance-transfer offers if you think the ability to earn points, miles or cash back will ultimately result in your overspending.
Finally, it's always worth considering the various fees you may be asked to pay. Be aware of a card's annual fee, any foreign transaction fees and cash-advance fees.
How to Use a Balance Transfer Credit Card
Transferring your credit card balance doesn't mean your debt will be paid off. What's important is what you do after the transfer is made. Create a plan to pay your debt off before the promotional financing offer period ends. This way, you won't end up paying the standard interest rate for that balance down the road. When 100% of your payments goes to the principal, with no interest charges, your balance goes down with each payment. Use this nifty credit card payoff calculator to help create a debt payoff plan and to see how much you can save in interest charges.
Note: It's important to remember that interest rates, fees and terms for credit cards, loans and other financial products frequently change. As a result, rates, fees and terms for credit cards, loans and other financial products cited in this article may have changed since the date of publication. Please be sure to verify current rates, fees and terms with credit card issuers, banks or other financial institutions directly.
Editorial disclosure: Reviews are as determined solely by Credit.com staff. Opinions expressed here are solely those of the reviewers and aren't reviewed or approved by any advertiser. Information presented is accurate as of the date of the review, including information on card rates, rewards and fees. Check the issuer's website for the most current information on each card listed.
Some offers mentioned below may have expired and/or are no longer available on our site. You can view the current offers from our partners in our credit card marketplace. DISCLOSURE: Cards from our partners are mentioned below.
This article was last updated June 12, 2017, and has been updated by another author.