It can be tricky to tell the difference between a prepaid card and a secured card — especially if someone leaves the "debit" or "credit" out of their title. After all, they're pretty much look identical and they both require you to put a deposit down before you can use the card. But there's a crucial difference between prepaid cards and secured cards that people should be aware of — particularly if they're looking to build credit. (You can see where your credit currently stands by viewing your free credit report snapshot on Credit.com.)  
Prepaid vs. Secured Card
A secured card is, in fact, a credit card. That deposit you're being asked to put down serves as (or "secures") your credit limit and the charges you make and pay off each month get reported to the three major credit reporting agencies. A prepaid card, on the other hand, is an alternative to a debit card or checking account. In fact, it's really most comparable to a reloadable gift card. It's plastic and you can use it in lieu of cash, but those purchases are being deducted right from the balance on the card — and they're not getting reported to Equifax, Experian or TransUnion. Confused? No worries. Let's break it down further.    
What Is a Prepaid Card?
With a prepaid card (often referred to as a prepaid debit card, though the Consumer Financial Protection Bureau has advocated dropping the "debit" from that title to avoid confusion with traditional debit and checking accounts), you load value on the card by cash, check, wire transfer, online transfer or direct deposit. The amount of money you have to spend on the card is the amount of money that you load, less any fees charged by the card issuer. But that balance isn't considered a line of credit. Once you spend the dollars, they're gone — and you'll have to reload funds onto your prepaid card in order to use it again.
It's important to note that prepaid debit cards do not report your payment activities to the major credit reporting agencies, as they're not actually a line of credit. That's why these cards do not help you build credit.
Prepaid cards also tend to contain many fees. However, you may be able to waive a card's monthly fee by maintaining a minimum balance or having a payroll or government check deposited on your card each month. Either way, it's important to read the fine print and calculate how much you'll be paying in fees each month on a prepaid debit card before getting one to help ensure it fits into your budget. By shopping carefully and comparing different cards, you can find one that carries fewer fees and meets your spending needs. You can go here to learn everything you need to know about prepaid cards.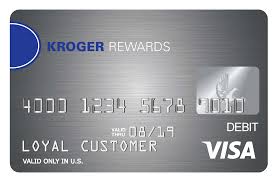 Kroger REWARDS Prepaid Visa® Card
Card Details
---
---
---
Annual Fee:
$0, $4.95 Monthly Maintenance Fee
---
Snapshot of Card Features
Earn Rewards Towards Free Groceries and Fuel Savings* - A Smart and Convenient Way to Pay
Get a $10 bonus added to your reloadable card when you sign up for Free Direct Deposit(1)
Card Details +
What Is a Secured Credit Card?
A secured credit card is designed specifically for people with thin or bad credit profiles. Because these cardholders pose more of a risk, they are asked to secure the line of credit on a secured card by making a deposit into a savings account. The credit limit on a secured card is the amount of the deposit, less any fees charged by the card issuer. So, let's say you make a $250 deposit on a secured card with an annual fee of $25, your credit limit would be $225.
But here's the thing: That deposit is only tapped if you fall behind on payments and can't shore up your account. Otherwise, just as with an unsecured credit card, you'll receive a bill each month and be required to pay at least the minimum (usually 1% to 3% of your outstanding balance) using new funds. The idea is to demonstrate your ability to repay a loan as agreed. If you make on-time payments and keep balances low for a set period of time (usually around six months to a year), the issuer may return the deposit and/or offer you an unsecured credit card (more on unsecured credit cards in a minute).
Making on-time payments with a secured card will help you build credit, so long as your issuer reports your card use to the credit bureaus. Most do, but it's still a good idea to confirm and to choose a secured card that reports to all three national credit reporting agencies. (You can learn everything you need to know about secured credit cards, along with our picks for some of the better ones.)  
What Is an Unsecured Credit Card?
An unsecured credit card is basically what most people think of when they hear the term "credit card." You apply for the card and, if approved, you receive a pre-set revolving line of credit, no deposit required. There are a few unsecured credit cards out there for people with bad credit, but the fees and annual percentage rates (APRs) associated with many of these cards can be on the high side. You can read more about the best unsecured credit cards.
As with a secured credit card, when managed responsibly, an unsecured credit card will help you build credit.   
What Type of Card Should I Get?
If you're looking primarily to build credit, a secured or unsecured credit card is the way to go. If you're looking for a money management tool or are trying to teach money management to someone else, like your teenage son or daughter, a prepaid card could help. Beyond that, a prepaid card may be a last resort for people who can't qualify for a traditional credit card or bank account or for someone who wants to remain unbanked by choice.
How Can I Build Good Credit With Credit Card?
Establish a good payment history by making small purchases on a secured card and paying your balance on time each month. And keep your balances low — experts recommend keeping your credit utilization ratio (how much debt you carry in relation to your credit limit) at 30%, ideally 10%, of your credit line. After a year or so of on-time payments and only low or no balances, you may build enough credit to qualify for an unsecured credit card.
This article has been updated. It originally ran on December 18, 2013.