Like our free Credit Report Card, Track It lets you review each of the five factors that affect your credit score and see how you're doing. Using a proprietary algorithm, ExtraCredit creates your credit grade for each factor, based on information in your credit reports. You can see your grade for each factor and details, and figure out what you can improve on. Each bureau has slightly different information about you, so you can see how each is reporting on all of these factors.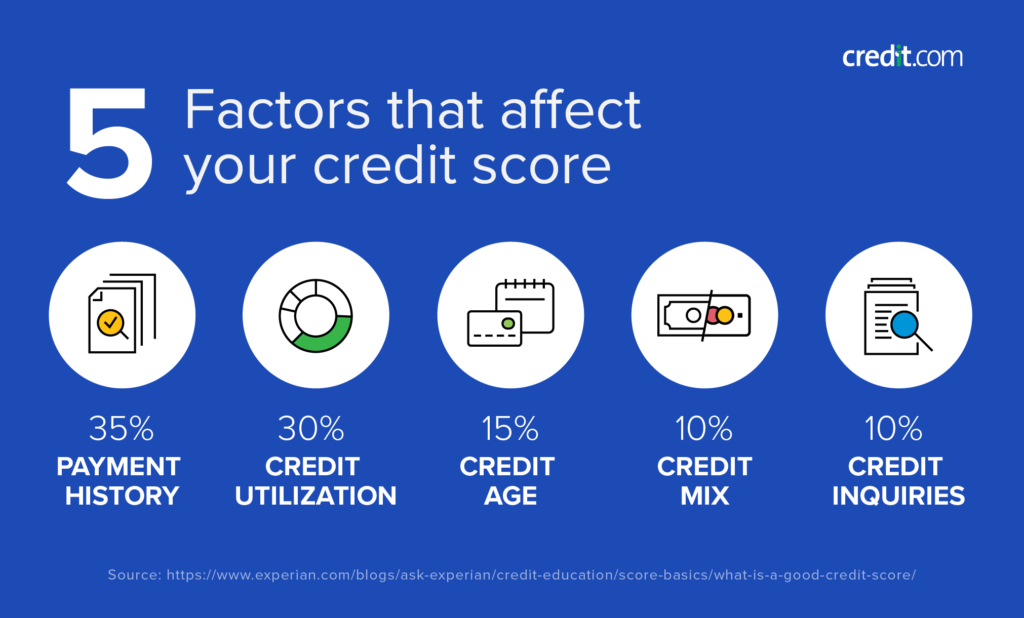 There are five main factors that affect your credit scores, and ExtraCredit breaks down each one for you and how it's impacting your scores specifically.
Payment History
Payment history is a big one—it accounts for 35% of your credit score. If you need to build up your score, making on-time payments could really make a difference. Track It will show you
negative accounts listed on your credit reports, your total late payments, as well as 30-day late payments and 90-day late payments.
Tip: Our only real tip for you is to do whatever you can to make your payments on time, every month. Set an alarm, use an app, schedule it on your calendar, just make sure you pay them on time!
Learn more about the importance of your payment history >>
Debt Usage
Your debt usage makes up 30% of your credit score. Keeping your credit utilization ratio low can prove to potential creditors that you can responsibly manage your debts. ExtraCredit shows you your current debt to limit ratio, your current revolving debt, number of accounts with a balance, and your total credit limit. You can also see which accounts are showing a balance and what that balance is for each.
Tip: How low should your credit utilization be, exactly? Experts say around 30%.
Learn more about credit utilization >>
Credit Age
Credit age, or the length of your credit history, accounts for 15% of your credit score. ExtraCredit makes it easy to see how old your credit history is, including your youngest account, oldest account, and average account age.
Tip: You can't go back in time to open up a credit account and extend your credit history, but you can refrain from closing old accounts now. Keep your old accounts open to lengthen your total credit history, even if you're not regularly using them anymore.
Learn more about credit age >>
Account Mix
Your account mix makes up 10% of your credit score. Having a variety of credit cards and other accounts is really appealing to potential lenders, because it shows that you can responsibly manage different types of accounts. See how many revolving credit accounts, mortgage loans, auto loans, and student loans you have on your credit report.
Tip: Account mix has a relatively small effect on your credit score. Don't open an account just to improve your account mix if you won't be able to pay it.
Learn more about account mix >>
Credit Inquiries
Credit inquiries make up 10% of your score. Applying for too much credit can be seen as a red flag to potential lenders. Trust us, you don't want to look desperate. ExtraCredit shows you how many inquiries are showing up on your report. And because inquiries affect your score less the older they are, ExtraCredit breaks it down to show you how many recent inquiries there are, how many old inquiries there are, and when the last inquiry was made.
Tip: FICO lumps together similar credit inquiries made within 45 days of each other. If you're shopping around for credit, try to keep your inquiries close together to minimize the effect of each.