Credit scores impact a lot: whether you get approved for a loan or a credit card, what your interest rates are, even whether you get that job you applied for. Understanding your credit score and where you stand compared to your peers can help you make smarter financial decisions.
Average Credit Scores in the United States
More than one credit scoring model exists. Most follow a range of 300 to 850, with the higher scores being better. But there are some exceptions—and even if ranges are similar, the scores each model generates based on information in your credit report can vary. For example, you can have a 700 with one model and a 670 with another—and that makes pinning down average scores a bit more difficult.
FICO 8
FICO 8 is currently the most commonly used FICO score. According to Experian, the average FICO Score 8 for Americans in the second quarter of 2019 was 703. But that's actually considered good credit on the FICO credit score chart.
An average or "fair" credit score on the FICO credit score chart is between 580 and 669. So you could have an average credit score and still be much lower than the average FICO 8 credit score.
VantageScore 3.0
In the second quarter of 2019, the average VantageScore in the US was 680 according to Experian. Once again, that's considered a good credit score on the VantageScore credit score chart. A "fair" credit score according to VantageScore is between 601 and 660. So once again, you could have an average VantageScore and be much lower than the average VantageScore.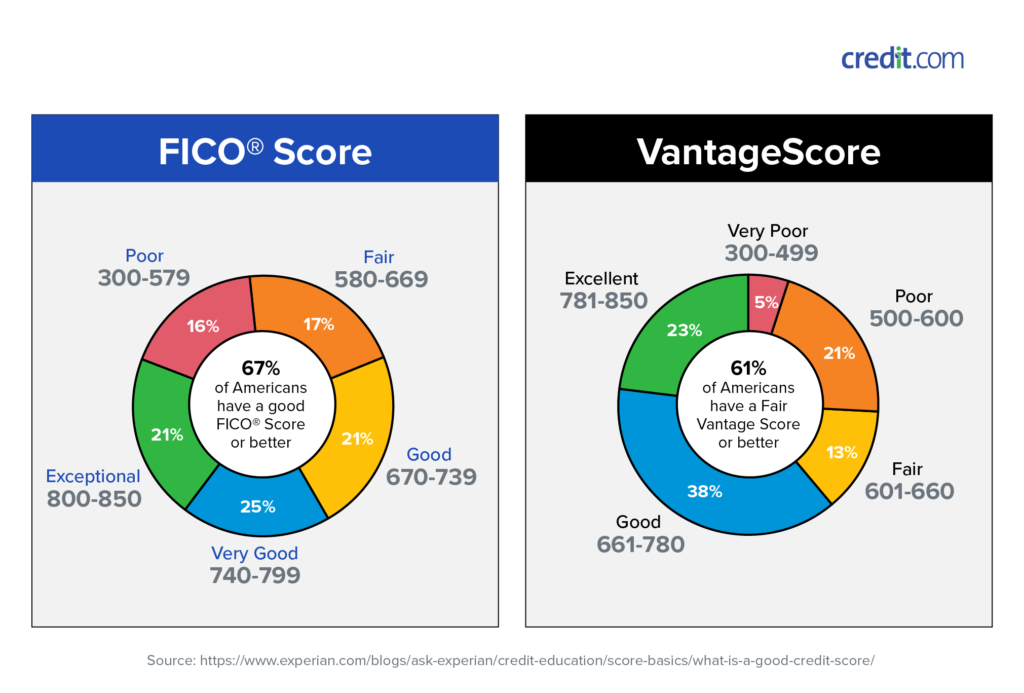 Average Credit Score by Age
Younger people tend to have lower credit scores on average. Often, this is simply due to the fact that they haven't had time to build a strong credit history yet. The length of your credit history accounts for about 15% of your credit score. The longer you've had credit history, the better.
Here's a look at the average credit scores by age according to 2019 Experian data:
20 to 29: 662
30 to 39: 673
40 to 49: 684
50 to 59: 706
60 and up: 749
As people age, they tend to become more financially responsible. They've also had the benefit of time to recover from past mistakes—most negative items fall off your credit report after seven years.
Average Credit Score by State
Average credit scores also vary widely by region. According to Experian, Minnesota had the highest average FICO score—733—in 2019. Mississippi had the lowest average credit score at 667. Overall, 41 states (and the District of Columbia) increased their average credit scores in 2019 over 2018. The remaining states averaged the same over both years.
>> Sign up for our free Credit Report Card and see how you compare to your peers!
How Your Score Compares
If you want to know how strong your credit is, you'll need to know your credit scores. Because there are different credit scoring models, it's important to know which of your scores you're seeing so you can accurately compare your score. Also keep in mind that some free credit scores are considered "educational scores" used primarily for informational purposes.
Our free Credit Report Card, however, shows you your Experian VantageScore 3.0. For a more complete picture, you can sign up for ExtraCredit. With ExtraCredit's Track It feature, you can see 28 of your FICO scores from all three major credit bureaus. A membership costs about $25 per month, but it comes with unique features that offer cash back rewards, exclusive discounts, and other benefits—including $1 million in identity theft insurance.
Ultimately, what's considered a good credit score or a fair credit score depends on how the lender views it. But you can get an idea of how lenders are likely to view your applications by checking your scores and seeing where they fall on those ranges.
Simple Ways to Improve Your Credit Score
You can build good credit by focusing less on the numbers and more on what's dragging them down. Most credit scores consider the same five major factors.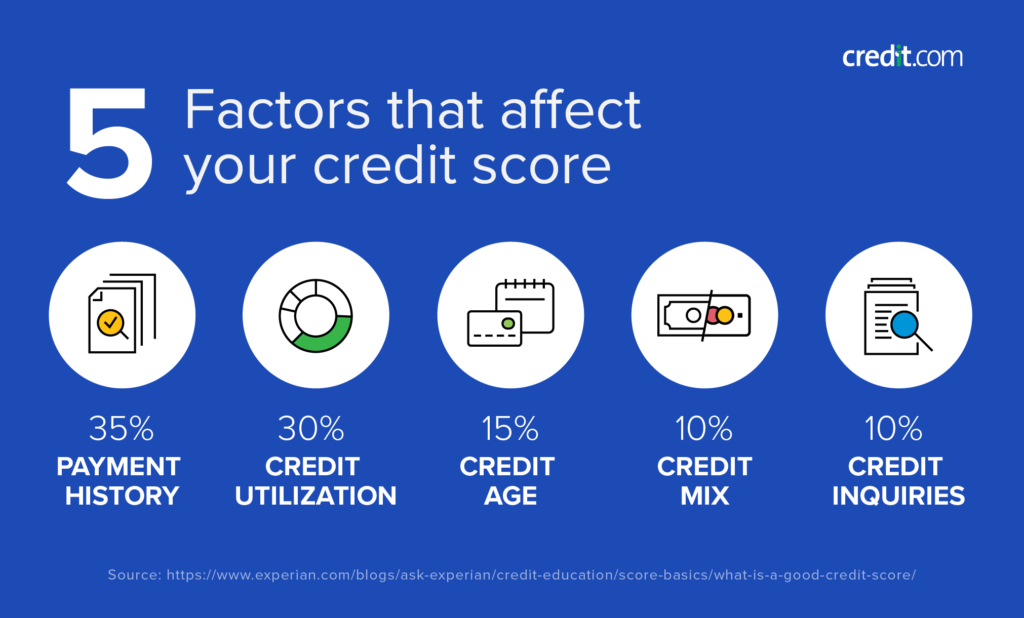 Payment history, which is whether you make your payments on time, consistently and as agreed. Payment history accounts for 35% of your credit score.
Amount of debt you owe, which is how much of your revolving credit limits you're actually using. It's called credit utilization, and it accounts for around 30% of your score.
Length of credit history, which is how old your oldest credit account is. This accounts for 15% of your credit score.
Mix of credit accounts, which refers to having a mix of installment and revolving accounts on your report. This accounts for 10% of your credit score.
New credit inquiries, which refers to how many hard inquiries hit your credit report in a short period of time. This also accounts for 10% of your score.
Your Credit Score Doesn't Need to Be Average
Now that you know what your score is, how it compares, and what is affecting it, you can take steps to build up your credit profile. Sign up for ExtraCredit to give your credit the extra attention it deserves.
---