0
1
2
3
4
5
6
7
8
9
0
1
2
3
4
5
6
7
8
9
0
1
2
3
4
5
6
7
8
0
1
2
3
4
5
6
7
8
9
0
1
2
3
4
5
6
7
8
9
0
1
2
3
4
5
6
7
8
9
0
1
2
3
4
5
6
7
8
9
0
Free sites get paid when you use the them to find a

Auto Loan

Mortgage

Credit Card

Personal Loan
With ExtraCredit, YOU get paid.
Have you ever wondered how those free credit sites stay free? For the most part, it's through the credit card and loan offers that they feature on their sites. Any time you use a free service to sign up for a credit card or get approved for a loan, they get paid—often hundreds of dollars. Meanwhile, you get nothing.
With Reward It, we split that money with you. Really! We'll send you a Reward It debit card and pay you real money for getting approved for select offers through Reward It. Because when you make smart financial choices, you deserve to be rewarded—starting with the $5 bonus cash we'll send you just for signing up for ExtraCredit.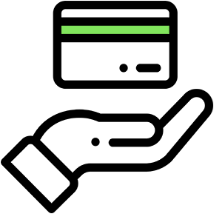 Get your Reward It card
When you sign up for ExtraCredit, we'll send you a Reward It card preloaded with $5, as a thank you for signing up. That's real money that you can spend on everyday purchases anywhere debit cards are accepted.
Analyze your credit
We run your credit through our internal algorithm to determine what kind of offers you may qualify for. Every time you log in, you'll see personalized offers with rewards ranging from $3 to $300.
Find the perfect offer
Next, you can pick which offers make the most sense for your situation from your customized list of recommendations. And it's not just credit cards! You'll see offers for loans, insurance, even personal finance apps.
Get paid real money
After you qualify for an offer, we split the reward with you—up to $300 sent directly to your Reward It debit card. Our card has no annual fee, and you can claim multiple rewards, depending on what works best for you. Plus you can use it anywhere debit cards are accepted.
Better than basic cash back rewards
Free sites want you to sign up for whatever pays them the most. Our offers are based on your personal credit needs.
ExtraCredit
Basic competitors
Cash rewards sent to your Reward It card
Up to $300 in individualpayouts
$5 sign up bonus
Personalized offers
Credit tracking with all three bureaus
28 FICO® Scores with Track It
Rent & utility reporting with Build It
$1 million ID insurance with Guard It
Exclusive discount to the leaders in credit repair

ExtraCredit

Trustworthy offers to help you master your credit.

Basic Competitor

An offer that rewards them, not you.
Potential benefits of Reward It
Because Reward It analyzes your personal credit report, ExtraCredit is able to provide personalized offers that you are most likely to be approved for. That means a lower risk of your application being denied and fewer potential inquiries resulting in dings to your credit score.
And that doesn't even cover the actual cashback rewards that you can rack up. Claim multiple rewards ranging from $3 to $300, depending on your situation. Then use the cash to reward yourself or offset other financial fees. It's up to you!
Learn more about cash back rewards:
Reward It is just one of five incredible tools within ExtraCredit.
Five features. Total credit coverage.
Don't settle for anything less than ExtraCredit
How much does ExtraCredit cost?
ExtraCredit costs $24.99/month and you can cancel anytime.
Reward It is only one of the features of ExtraCredit—there are four additional tools to help you take control of your financial future.
*While ExtraCredit was in its early stages we had employees, friends and family trying it out. These are their testimonials based on that experience.
Credit isn't just our name—it's everything we are
Created over
20 years
ago
Credit.com was established in 1996 to empower consumers with important credit and financial information. Now, we're taking our dedication to helping individuals build credit even further with ExtraCredit.
There's a reason so many people continue to rely on Credit.com for all their credit monitoring needs—because it works.