See the scores that really matter with
One of five incredible tools within ExtraCredit™
28 FICO® Scores
All three bureau reports—Experian, Equifax and TransUnion
Advanced credit monitoring and alerts
Credit factor report card
Get started with one month free*
Get started for free
0
1
2
3
4
5
6
7
8
9
0
1
2
3
4
5
6
7
8
9
0
1
2
3
4
5
6
7
8
0
1
2
3
4
5
6
7
8
9
0
1
2
3
4
5
6
7
8
9
0
1
2
3
4
5
6
7
8
9
0
1
2
3
4
5
6
7
8
9
0

With Track It, you see what

Auto

Home

Credit Card


lenders see
We have bad news: that free score you got from that app doesn't matter. Sorry, but it's true. The only credit score that actually matters is the one your lender is looking at. And frankly, your lenders aren't looking at free credit scores.
With Track It, you get 28 FICO® Scores, covering auto loan scores, home loan scores and more. In other words, you see what lenders see.
Get your FICO® Scores
Better than
basic monitoring
On top of 28 FICO® Scores, Track It offers a detailed credit report card, advanced monitoring and more.
ExtraCredit
Credit Karma
All three bureaus
28 FICO® Scores
Updated monthly
Credit report card
Four additional ExtraCredit features

ExtraCredit

Everything you need to master your credit.

Sign up for free

Basic Competitor

A generic score that lenders may never see.
Track It is just one of five incredible tools within ExtraCredit.
Five features.
Total credit coverage.
Take your credit to the next level with ExtraCredit
Sign up for free
How much does ExtraCredit cost?
ExtraCredit costs $24.99/month and you can cancel anytime.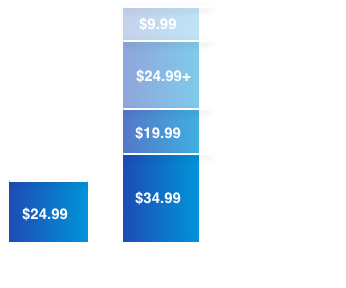 While Track It only covers one part of your credit, ExtraCredit has four additional tools to help you protect your identity and take control of your financial future.
Sign up for free
Credit isn't just our name—
it's everything we are

Created over
20 years

ago
Credit.com was established in 1996 to empower consumers with important credit and financial information. Now, we're taking that even further with ExtraCredit.

There's a reason so many people continue to rely on Credit.com for all their credit monitoring needs—because it works.