How Does My Credit Score Impact Me?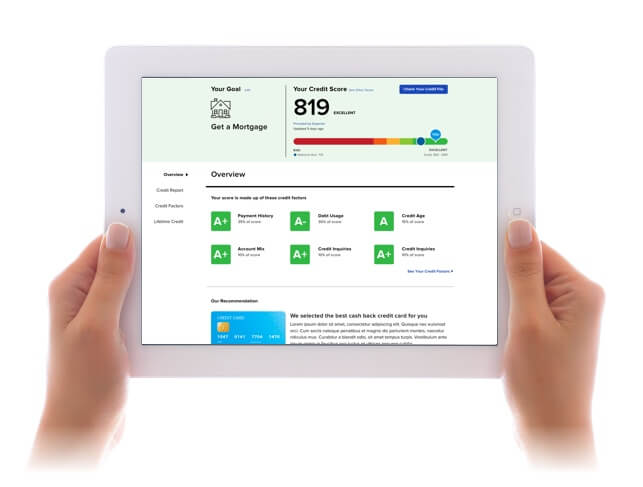 Your credit scores and reports give lenders an idea of how trustworthy you are when it comes to paying off your debts. Our goal is to provide education to you so that you can qualify for that home loan, auto loan, or premium travel rewards credit card to help you take that dream vacation. Frequently checking your scores helps you know where you're at when it comes to achieving your goals, and can help you qualify for better interest rates. You don't have to be wealthy to have good credit but having good credit can help you achieve your financial goals more easily.
We Won't Ask You For Your Credit Card

There are no tricks, or gimmicks. Your score is updated every 14 days, and you can always check it for free. We will never ask for your credit card. We want to help the hardest working Americans (you) understand their credit and to take control of their financial well-being-without making them work harder. That's why we want you to check your credit scores every 14 days without being charged for it. Review your profile now
When Will My Score Change?

The honest answer to that question is this: your score can change at any given point in time. It all depends on when creditors furnish information to the credit bureaus (usually every 30-60 days). It also depends on when you pay down balances, when you apply for a new loan or credit card, open a new account, or when you close an account.
How Does Credit.com Find My Credit Score?

Credit.com pulls your credit information every 14 days from Experian, one of the three major credit bureaus. We also pull your Vantage 3.0 score and when you sign up, you have the option of purchasing your FICO score and all three credit reports from Experian, Trans Union, and Equifax (but you are entitled to a free report once a year through annualcreditreport.com).

Based off your score and the information provided by Experian, we'll analyze your reports and let you know how you're doing with your payment history, your credit utilization, credit age, new credit (inquiries), and credit mix-the five factors that make up your credit score. Once we do this, we'll provide you with a personalized action plan that can help you build your score and ultimately, maintain good credit.
Why Credit.com?
It's important that you have access to your credit score, especially since it's not part of your free credit report. After all, it's a number that lenders, landlords and others use to evaluate your credit worthiness. Our philosophy is that you should have access to your own information, without having to pay for it each time, or cause any negative hits to your credit. With Credit.com, you get a free credit score from Experian, the most comprehensive credit bureau in the U.S., and the best part is, checking it through Credit.com doesn't cause any hard inquiries, so you won't hurt your score by doing so. Plus, you get your VantageScore 3.0 credit score, which lots of lenders use! So, empower yourself!
Discover Your Free Credit Score

When you sign up for your free credit.com account, you'll receive your Experian and Vantage credit scores-updated every 14 days. These scores are frequently used, so it's useful information to have, especially if you're trying to get a home loan or a new credit card. It's also a great way to monitor your credit health, and track your progress against financial goals. Plus, you'll receive personalized offers for mortgages, auto loans, credit cards, and more no matter what your goal is.
Find Answers to Your Credit Questions

Want to understand how to get approved for a mortgage or auto loan? Or how you can qualify for a credit card and get a lower interest rate? Do you have good payment history already but want to know what else you can do to raise your score? Our credit experts can help. We also offer you personalized product matches based off your credit scores, and give you lots of different options to choose from, so you're in control!
Get a Snapshot of Your Financial Well‑Being

Along with your credit scores, you'll get an updated credit report card every 14 days, that shows you the factors impacting your credit score. You also find out how your credit score stacks up against others in your state and across the U.S., then chart how your score changes over time. You get five easy-to-understand grades along with your credit scores, plus highlights of the most important items for you to watch, such as negative information and debt utilization.
Monitor Credit and Keep an Eye on Your Identity

Unfortunately, identity theft is a very real threat to everyone. Even if you don't keep an eye on your credit reports every other week, that's OK because monitoring your score can help you make sure your identity isn't being fraudulently used - a drastic change in your score can indicate that something may be wrong and help you keep track of how your sensitive information is being used.