0 Comments
[UPDATE: Some offers mentioned below have expired and/or are no longer available on our site. You can view the current offers from our partners in our credit card marketplace. DISCLOSURE: Cards from our partners are mentioned below.]
When you have many financial obligations to manage, it can be easy to slip up and make a late credit card payment. If you're naturally forgetful, the likelihood of missing your payment due date only increases.
Unfortunately, late payments can lead to fees, penalty interest rates, and damaged credit. But some credit cards are more forgiving of late payments and can even help you remember to pay.
Here are three credit cards for the absentminded.
1. Citi Simplicity
Rewards: None
Sign-Up Bonus: None
Annual Fee: $0
Annual Percentage Rate (APR): A variable 15.74% – 25.74%.
Why We Picked It: This simple card will never charge you for a late payment.
For the Absentminded: This card won't charge late fees or hit you with a penalty APR for a late payment. With automatic account alerts, Citi will keep you up to date on your balance and upcoming payments and alert you if you go over your credit limit. You can even choose what time of month you'd like your bill to come due.
Drawbacks: There are no rewards.
Rewards: 2% cash back on up to $1,000 in combined gas and restaurant purchases each quarter; 1% cash back on everything else.
Sign-Up Bonus: First-year match of all cash back.
Annual Fee: $0
APR: 0% for 14 months on purchases and balance transfers, then .
Why We Picked It: Discover forgives your first late payment and can help with a misplaced card.
For the Absentminded: Discover will waive the late payment fee the first time you're late (after that, it will charge you up to $37). There is no penalty APR for late payments. If you misplace your card, you can immediately freeze your account online or via a mobile app while you look for the card.
Drawbacks: If you spend more than $1,000 a quarter on gas and dining, you might want a card with a higher cash-back ceiling.
3. PenFed Promise Visa
Rewards: None
Sign-Up Bonus: $100 statement credit when you spend $1,500 in the first 90 days.
Annual Fee: $0
APR: Variable 9.49% to 17.99% on purchases; 4.99% for 12 months on balance transfers, then variable 9.49% to 17.99%.
Why We Picked It: When it comes to low or nonexistent fees, it's hard to beat this card.
For the Absentminded: This card will never charge a late payment fee or impose a penalty APR. On top of that, there's no over limit fee, returned payment fee, foreign transaction fee, balance transfer fee, or annual fee. That's impressive.
Drawbacks: You must be a PenFed member to access this card. However, a one-time donation can qualify if you aren't in the military or another qualifying group.
Picking a Card for Your Absentmindedness
If you have trouble making payments on time, you should determine if the root cause is absentmindedness or financial trouble. If it's the latter, you may want to wait until you can better manage your finances before getting a new credit card.
You should choose a card that you can successfully manage and pay on time. Even if the card won't punish you for a late payment, late payments can end up damaging your credit if left unaddressed.
Make sure to evaluate the fees, APR, and other costs associated with the cards you're evaluating. Some cards impose steep penalties for late payments from the start (although it never hurts to call and ask the credit card issuer to waive your fee).
Remember, the best way to use a credit card is to pay off your balance in full each month. That way, you can avoid interest and an unmanageable balance while protecting your credit.
What Credit Is Required for a Card with Late Payment Forgiveness?
Cards that are forgiving of late payments vary in credit requirements. You should make sure your credit is sufficient before you apply, because a credit card application can slightly ding your credit score. You can check your credit report for free at Credit.com.
Image: Petar Chernaev
At publishing time, the Citi Simplicity, Discover it Chrome, and PenFed Promise Visa cards are offered through Credit.com product pages, and Credit.com is compensated if our users apply for and ultimately sign up for any of these cards. However, this relationship does not result in any preferential editorial treatment. This content is not provided by the card issuer(s). Any opinions expressed are those of Credit.com alone, and have not been reviewed, approved, or otherwise endorsed by the issuer(s).
Note: It's important to remember that interest rates, fees, and terms for credit cards, loans and other financial products frequently change. As a result, rates, fees, and terms for credit cards, loans and other financial products cited in these articles may have changed since the date of publication. Please be sure to verify current rates, fees, and terms with credit card issuers, banks, or other financial institutions directly.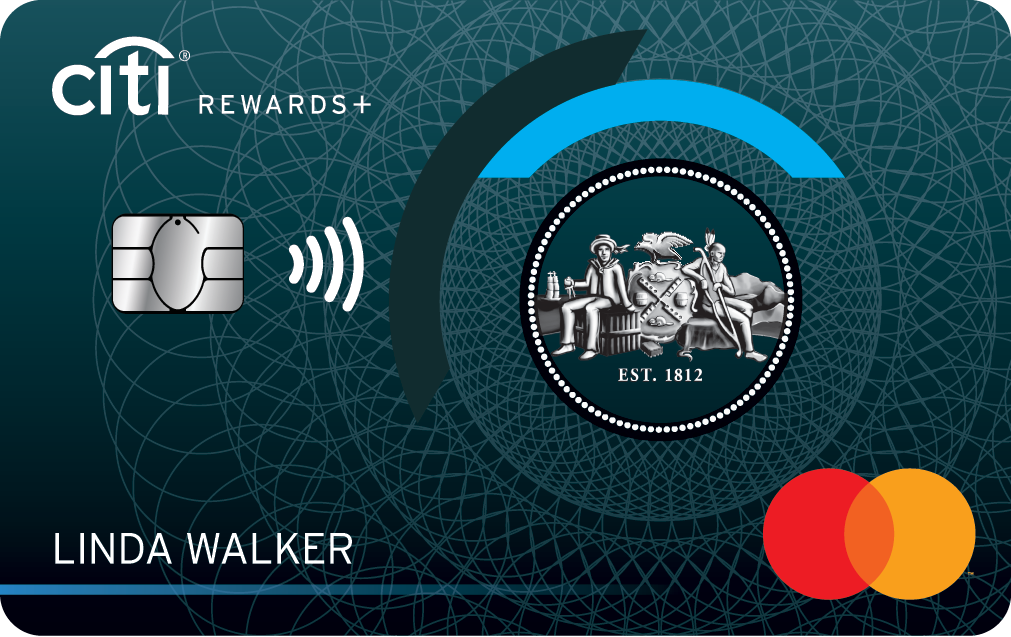 Citi Rewards+℠ Card
Card Details
Intro Apr:
0% for 15 months on Purchases
---
Ongoing Apr:
13.49% - 23.49% (Variable)
---
Balance Transfer:
0% for 15 months on Balance Transfers
---
---
Credit Needed:
Excellent-Good
Snapshot of Card Features
The Citi Rewards+℠ Card - the only credit card that automatically rounds up to the nearest 10 points on every purchase - with no cap.
Earn 15,000 bonus points after you spend $1,000 in purchases with your card within 3 months of account opening; redeemable for $150 in gift cards at thankyou.com
0% Intro APR on balance transfers and purchases for 15 months. After that, the variable APR will be 13.49% - 23.49%, based on your creditworthiness. Balance transfer fee — either $5 or 3% of the amount of each transfer, whichever is greater.
Earn 2X ThankYou® Points at Supermarkets and Gas Stations for the first $6,000 per year and then 1X Points thereafter. Plus, earn 1X Points on All Other Purchases.
The standard variable APR for Citi Flex Plan is 13.49% - 23.49%, based on your creditworthiness. Citi Flex Plan offers are made available at Citi's discretion.
Card Details +