8 Comments
[UPDATE: Some offers mentioned below have expired and/or are no longer available on our site. You can view the current offers from our partners in our credit card marketplace. DISCLOSURE: Cards from our partners are mentioned below.]
What is a credit limit and how is it determined? A credit limit is the maximum amount of credit you're allowed, and it is determined by a financial institution (bank, credit union, retailer, etc.).
Essentially, when you apply for a credit card and you get approved, the issuer decides how high (or low) your limit will be. The average credit card limit is $16,737, but this varies depending on your credit score and where you live.
We know how it goes: first you cross your fingers hoping you'll get approved for the credit card you want. Then you cross them again hoping the credit limit will be generous enough to get you what you want. Maybe you need it to pay for some expensive dental work or perhaps you are applying for a 0% balance-transfer offer so you can transfer debt from another, higher-interest card. Either way, the credit limit is often a few hundred or a few thousand dollars short of what you need — and you have no idea why. How did they even come up with that number?
Credit card issuers will tell you what factors they consider when they assign a credit limit, but exactly how they calculate it remains proprietary. Not a single card issuer we reached out to for this story could (or would) give us specific information about how they determine credit limits.
In every case, your credit score and income level will have a great deal to do with whether you are approved, and for how much. If you've had credit before and handled it well, a card issuer is more likely to approve your application. But that is not the whole story.
Your income comes into play, and so do your current financial obligations, such as rent, a car loan, and the amount of credit available to you through other cards. Part of the equation is behavioral: What do they think you are likely to do if you have more credit extended? In this guide, our Credit.com experts present the top cards with high credit limits that match your financial health and history, and help you understand all that goes into determining your credit limit.
Credit Cards With High or Unlimited Credit Lines
Did you know there are credit cards with unlimited credit lines? Well, there are—and you've probably heard of them. Although credit limits are determined by various factors, as we discussed (such as income and credit score), it is possible to find cards with high limits. Here are some of our favorites, from our trusted partners*:
Chase Freedom®—If you want a high credit limit and 0% APR for the first 15 months, this card is great. You can earn 5% cash back on up to $1,500 in combined purchases quarterly. If you have good credit, it will be easy to get a high limit.
Credit Cards for Building Credit
You've checked your credit score, and it's not as high as you'd like — in fact, it's quite low. Don't worry, you can rebuild your credit score. It will take time, so be patient (and diligent about paying your monthly bills on time) and eventually, you could be qualified for an unlimited credit limit. Until then, consider these credit cards, which will help you continue to build your credit:*
The Secured Visa from Merrick Bank—With this card, the amount you deposit ultimately determines your credit line. You could go up to $3,000, plus increase your credit line with additional deposits. And because this card reports to all three major credit bureaus, this is a great card to help build your credit. But be careful—this card does have a $36 annual fee due in full for the first year, and then billed at $3 monthly thereafter.
Why Your Credit Limit Matters So Much
While it feels great to get approved for a new account, pay attention to the credit limit. If you're given a limit of $2,000 and you regularly spend $1,500 per month, then you'll be using 75% of your credit, which can really hurt your credit score. Balances higher than 20% to 25% of your available credit can hurt your credit scores.
In the case of a balance transfer, you'll have to weigh that against the interest you'll save by getting out from under a high interest rate. And in the case of essential bills, like dental or medical, you may have to accept a temporary hit to your credit in order to pay the bill and avoid having an account turned over to collections.
So getting a high credit limit is ideal. There is no credit limit calculator that determines exactly what limit you'll get, unfortunately, but we'll help you figure out what factors may go into the decision.
What Should Your Credit Limit Be?
Having a high credit limit comes with many perks, and if a company offers you a high credit limit when you apply, it means they consider you a reliable customer. This is a good thing. But if you look at the flip side, what if you're an overspender? It can be tempting to want to spend as much credit as you're given, but doing so can really hurt your credit score.
Keeping your limit low could prevent you from spending more than you have (but to avoid this, you should consider using financial apps to better manage your spending habits and/or debt). Ideally, a high limit is both preferable and recommended, if you want to improve your credit. To improve your credit, you can apply for credit cards with high limits. If you maintain a high limit and a very low or no monthly balance, the better for your credit score.
Should I Ask For a Higher Credit Limit?
If you believe the credit limit you were assigned is too low, you can call the credit card issuer and ask for a higher one. It helps if you can justify your request with some information the issuer did not have when you applied ("I just mailed in my last car payment" or "My spouse has returned to work, and now our household income is higher than the number on the application"). It's smart to consider that your credit limit can also be lowered if you give your lender reason to believe you may not be able to handle your current limit.
Sometimes, however, you can get them to change their mind simply by sweetening the pot and letting them know you'll bring over a balance from another card or charge a significant purchase to the new card. Issuers want cardholders who pay interest on balances. After all, that's how they make money.
When Should You Ask For a Credit Increase?
If you already have a credit card and feel you deserve a credit limit increase, you should ask yourself the following questions:
Am I paying off my balance each month?
Has my income changed significantly to justify the credit increase?
What should my credit limit be?
Do I have good credit?
You should wait for at least one year after opening your credit card to ask for an increase. When you do ask, be prepared. The credit card company may make a hard inquiry on your credit reports — and this, of course, can impact your score (minimally, though).
If you feel you have built up good credit, are financially responsible and capable of taking on a higher credit limit, then you should consider asking.
What If My Limit is Raised Without Asking?
Sometimes your credit card issuer may raise your limit without your requesting it, too. That can happen after a period of paying on time and keeping balances low. Some people worry that perhaps there is a downside to this, and wonder if they should ask that the lower limit be reinstated. Generally the answer is no.
Assuming your credit card usage stays the same, you'll be using a smaller percentage of your available credit, and that can only help your score. Remember, it's a good idea to keep your credit utilization to less than 20–25% of your credit limit; less than 10% is ideal. Credit utilization refers to the ratio of your credit card balance(s) to your credit limit. The lower, the better for improving your credit, earning rewards, and saving money.
So, sadly, it's generally not possible to know exactly what your credit limit will be ahead of time. In the meantime, you can control some factors that may affect the issuer's decision. It's important to maintain (or work toward) good credit.
You can check your progress with a free credit report summary, updated every 14 days, on Credit.com, or you may find free scores on your monthly credit card statement. You should be sure you are comparing the same score from month to month, because many scoring models are used, and you want to be sure you look at the same one so that changes are meaningful.
The other thing you can do is to check your free annual credit reports to make sure the information there is accurate (and to dispute any that is not). Because your scores are calculated from information in your credit reports, you want to make sure it's correct and that your information has not been mixed in with anyone else's.
What Factors Go Into Selecting Your Credit Limit?
When credit card issuers determine your application status and your credit limit, they use a variety of factors, all of which may weigh differently to the issuer. Here's what could impact their decision:
Your monthly income—If your income changes drastically from year to year, this could change the issuers decision. Again, if you salary changes (or if your marital status changes and impacts your income), the issuer should be notified.
Your credit history and worthiness—Have you had low or high credits before? Have you kept zero or low balances on previous credit cards? This could impact the application status.
You relationship to the issuer—If you've been banking with them for years or have another card from them, this could help get you approved and issued a high credit line (but only if you've proven to be a reliable customer).
Your employment status—This may or may not make a difference, but the issuer would like to know if you are part-time, full-time, self-employed, or unemployed, as this could affect your ability to pay off your future balances.
Your residential status—If you own a home and pay a monthly mortgage, you will likely be able to pay monthly credit card bills, too.
What type of card you're applying for—Are you applying for the card with the highest rewards, but you have low credit? Make sure you're being realistic when you apply for a credit card, but don't sell yourself short either.
Managing Your Credit and Personal Finances
We're all aiming for financial stability, and whether that means owning a home, paying off your mortgage, paying for your kids' colleges, or retiring early, the ultimate goal is to lower your debt-to-income ratio and become debt-free. To determine your credit, limit calculators are available online.
Use Credit.com's debt-to-income calculator to evaluate how much combined debt you currently have (ex. student loan debt plus car loan payments plus credit card payments, etc.) and how long it will take to pay off based on your current income and your monthly rent.
If you're struggling to pay off the balances on the credit cards you currently have, check out Credit.com's credit card payoff calculator to determine how much you still owe and when you'll likely be debt-free. Just remember, credit repair takes time (and credit repair services are available to those who need them), but when your credit score improves, likely so will your credit limit.
Note: It's important to remember that interest rates, fees and terms for credit cards, loans and other financial products frequently change. As a result, rates, fees and terms for credit cards, loans and other financial products cited in these articles may have changed since the date of publication. Please be sure to verify current rates, fees and terms with credit card issuers, banks or other financial institutions directly.
*Note: At publishing time, the Capital One, Chase, Credit One Bank, and Discover credit cards are offered through Credit.com product pages, and Credit.com is compensated if our users apply and ultimately sign up for this card. However, this relationship does not result in any preferential editorial treatment. This content is not provided by the card issuer(s). Any opinions expressed are those of Credit.com alone, and have not been reviewed, approved or otherwise endorsed by the issuer(s).
More on Credit Cards:
Image: iStock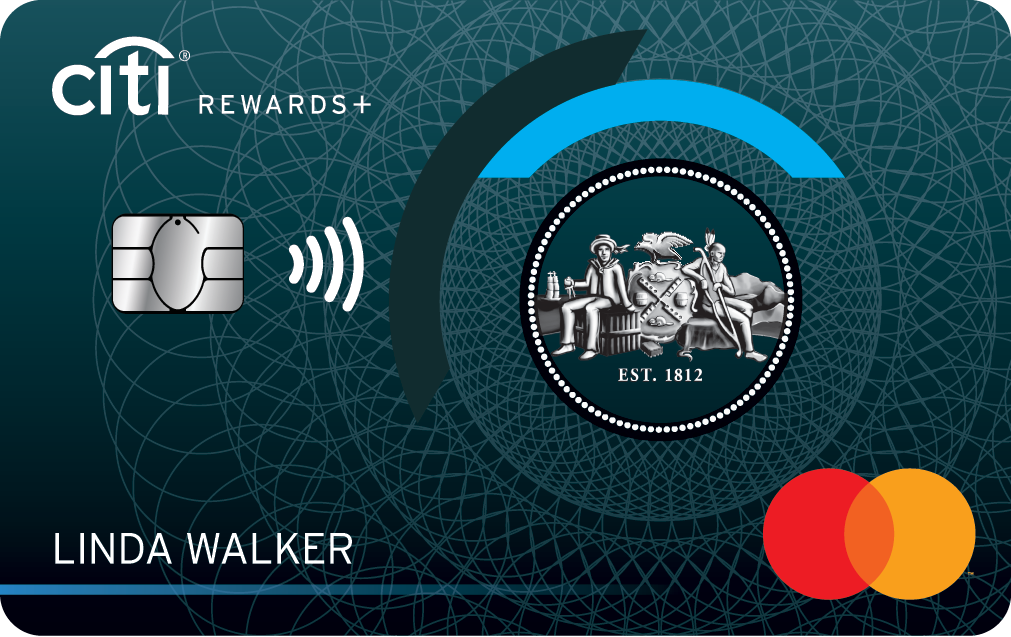 Citi Rewards+℠ Card
Card Details
Intro Apr:
0% for 15 months on Purchases
---
Ongoing Apr:
13.49% - 23.49% (Variable)
---
Balance Transfer:
0% for 15 months on Balance Transfers
---
---
Credit Needed:
Excellent-Good
Snapshot of Card Features
The Citi Rewards+℠ Card - the only credit card that automatically rounds up to the nearest 10 points on every purchase - with no cap.
Earn 15,000 bonus points after you spend $1,000 in purchases with your card within 3 months of account opening; redeemable for $150 in gift cards at thankyou.com
0% Intro APR on balance transfers and purchases for 15 months. After that, the variable APR will be 13.49% - 23.49%, based on your creditworthiness. Balance transfer fee — either $5 or 3% of the amount of each transfer, whichever is greater.
Earn 2X ThankYou® Points at Supermarkets and Gas Stations for the first $6,000 per year and then 1X Points thereafter. Plus, earn 1X Points on All Other Purchases.
The standard variable APR for Citi Flex Plan is 13.49% - 23.49%, based on your creditworthiness. Citi Flex Plan offers are made available at Citi's discretion.
Card Details +