1 Comment
It's always frustrating to come across a bill and realize it was due yesterday… or last week. If you're late on a payment or if you miss it completely, you could end up paying late fees and negatively impacting your credit score. It can be especially difficult if you want to apply for a loan or credit and are about to make a big purchase like a house or a vehicle.
If you're a reliable customer and have only missed this one payment (slip-ups happen, we know), then you shouldn't have a problem and you can likely avoid a late fee. But if you wait too long, it might not be possible — and you should prepare for a minor headache. Just know, a late payment isn't the worst thing to happen. So long as you're diligent about paying your bills, you'll be fine.
Either way, we're going to help answer some of your biggest questions: How late can a car payment be before it affects your credit? Is there a late car payment grace period? What about for rent? What happens if you miss a payment completely? Who should you notify? How will it impact your credit score?
Read on to learn how late a credit card payment can be before it affects your credit score and what to do if it does.
Repairing Your Credit Score
If you missed a payment and couldn't get it removed from your credit history or you simply want to improve your score, we're here to help. Get your credit scores for free at Credit.com.
Unhappy with the number on your report? We've partnered with CreditRepair.com to help ensure that your score is accurate and to offer you the right guidance to increase your score and improve your overall personal finances. We want you to get on the right path to good credit, no matter how many late (or missed) payments you have. View the best credit cards for rebuilding your credit at Credit.com and get back on track to achieving your financial goals.
How Late Can a Credit Card Payment Be?
People often ask us how late a payment has to be before their creditors report it to the credit bureaus. Here are some of the most popular questions from readers:
From Ig08: Hi, I have [had] my credit card for the last 6 years and have never missed any payments, but my last payment was due on May 4th and I paid it on 6th. … Does being one/two days late affect credit score?
From INVNOONE: Today [my bill] is 30 days late. When I called my bank they stated, "We cannot tell if it has been reported to the credit bureau." Should I pay the loan today not knowing if they already reported it late to the credit bureau? This will leave me with very little money, but I do care about my credit report.
From Stephen: I have perfect credit and a small business and my credit is very important to me. I had a credit card … I thought it was completely paid off, but there was a $6 remaining balance. I paid it in full and it was 31 days late, and they put it on my report. What kind of options do I have?
First, know that even if a late payment does make its way onto your credit report, it's not necessarily the end of the world. There are many, many worse things, and there are degrees of lateness. Ninety days late is worse than 60 days, and 60 is worse than 30, for example. One late payment among years of on-time payments is far less serious than a late payment and limited credit history. (Of course, if you are in the middle of applying for a mortgage, one late payment could be a serious setback.)
When Is a Credit Card Payment Considered Late?
Chi Chi Wu, a staff attorney with the National Consumer Law Center, said 30 days is the magic number.
"Late payments generally don't show up until the payment is 30 days ​past due," she said in an email. "This is the standard reporting guideline for the credit bureaus."
Think of this 30 days as a late credit card payment grace period, but don't take advantage of it. It's always best to pay your bills on time, but, of course, we all make mistakes — and forget — so don't stress if you miss this window. If you go past 60 days, you could receive a penalty rate (which means your interest will increase) and this affects your entire balance. So do your best to pay that late payment as soon as you can.
Is There an Auto Loan Grace Period?
One of our readers says she was just 14 days late on a car payment, and it showed up on her credit reports. She hasn't been able to get it removed. Rod Griffin, director of public education for Experian, said that because it was a car payment (rather than a revolving account, like a credit card), "the '30-day grace period' doesn't necessarily apply." He added that the payment was late as of the due date, "so the lender may have reported it immediately. You should always be sure to understand the lender's policy for reporting late payments for the account."
"The commenter should review their contract with the lender to determine what it says regarding when late payments will be reported, or contact the lender. The lender should be able to explain its policy. The 30-day period is specific to revolving accounts, not installment loans," Griffin said.
How many days late can you be on a car payment, before the lender notifies a credit bureau? Typically, the grace period on auto loans is 10 days, but this depends on the lender and the answer should be listed under the terms and conditions of your loan. This is where you'll also find the details of the loan, including your loan balance, your interest rate, the term of the loan, and the fees associated with a late or missed payment.
If you can afford to pay, but simply forgot, you'll want to pay it as soon as possible. If, however, you feel you can't afford the car payment, you should get in touch with your lender and see if they would be willing to negotiate the terms of the loan.
You can also look into deferring your payment, if you know your car payment is going to be late, but you know you'll have the money at a later time. If you and your lender agree on a deferment (meaning the due date has been changed), then know this does not affect your credit score negatively. However, you shouldn't struggle with car payments. In order to ensure that you're getting the best (and most affordable) deal for your financial situation, visit Credit.com to learn more about the auto loans or auto insurance policies that are available to you.
What If I'm Late on Paying My Rent or Mortgage?
If you're a few days late paying your rent check, you shouldn't have to worry about this affecting your credit score. However, mortgage lenders and landlords can report late payments to credit bureaus. If you know your landlord, chances are they'll say something if you continue to submit late payments. If you're paying a Property Management Company, they likely won't be as lenient on late payments.
Our best advice: pay your rent within the week it's due. If you wait longer than that, it could be problematic. Different mortgage lenders have different grace periods, but paying within seven days should help you avoid decreasing credit scores.
The best way to stay on top of this payment: set up a monthly reminder for a few days before the first of the month or, if possible, set up an automatic payment so you don't have to stress about it. The good thing is that you know how much you're paying each month, so you should calculate that into your personal finances.
Can a Late Credit Card Payment Made Under 30 Days Still Affect My Score?
If you make a credit card payment within the 30-day period, it generally should not be reported negatively or have any effect on your credit score. Beyond that time, however, there's a distinct possibility that it will. You can check your own credit scores for free at Credit.com, with updates every 14 days, and get an explanation of your credit score — including the effect of late payments. In addition, you can get a free annual credit report from each of the three major credit reporting agencies. Your credit report will show whether you have had late payments reported.
If it turns out your late payment has been reported, know that its impact on your score will diminish with time (especially if it's an isolated event), and that other on-time payments can help counter the negative effects of late payments. And, as with almost any other mistake, the sooner you realize you've made it and try to fix it, the less likely it is to turn into a big problem.
A Late Fee vs. An Overdue Payment
Late fees are essentially fees charged by lenders to borrowers, if a payment is received after its due date. So if your payment is sent three days late (or is not above the minimum payment), you could be charged a late fee. Most credit card payments are due within a minimum of 21 days after the billing cycle, but remember, the grace period is only 30 days so you'll want to pay them off as soon as possible. Credit card late fees vary, depending on your lender, but know that the late fee amount will not be more than the minimum payment (for example, if the minimum is $20, you won't have to pay a late fee that is over $20).
An overdue payment, however, is a payment that was not paid by the due date. If you miss a due date, then on your next billing cycle, you will see the minimum balance plus the overdue payment. The overdue payment may be the full amount or a partial amount, if you paid part of your minimum but not all of it.
If you have missed multiple payments and aren't sure what's outstanding, you'll want to request an aged creditors report. Essentially, this report will show a total list of all bills you still need to pay and to whom they are owed. Best of all, these reports list the payments by due dates so you'll see how late your payments are (30 days, 30–60 days, etc.).
Removing Late Payments from Credit History
If you miss the late credit card payment grace period, it's possible that the lender still has not reported it to the credit bureaus. Some credit card issuers don't report late payments until they are 60 days past due, especially if you are a reliable customer who typically pays them on time.
If you do pay late, it can be challenging (if not impossible) to have the late payment removed from your credit report. However, if you feel a mistake has been made, you'll want to request to have it removed. Here's what you need to do:
If there is an error on your credit history, file a dispute with the lender. You'll want to explain exactly what happened and demand the error be fixed. Technically, the lender or servicer has 30 business days to respond to the error, but they can extend that. If they don't respond, you will need to follow up with them and a credit bureau.
The Fair Credit Reporting Act requires the credit reporting agencies to respond to a credit report dispute, so if you have contacted the lender or servicer but not received a response, you should also contact a credit bureau. This can be a lengthy process. If you are trying to secure a mortgage loan, you may want to expedite the process and send the dispute to both right away or you can do a rapid rescore (but note: this costs money and you need to go through a lender or mortgage credit reporter).
If the error on your credit report information is accurate, you can still contact the lender and dispute it. If you have been diligent on paying your bills on time, you can ask for a goodwill adjustment. Essentially, you are asking the lender or servicer to forgive your late fee. Explain what happened (you went on vacation and forgot, you had to pay a large unexpected cost such as medical fees), and offer to enroll in automatic payments so this doesn't happen again. If you feel you need an expert's advice or assistance, consider working with one of our trusted partners, such as Lexington Law, who can help you eliminate inaccurate or negative items on your credit report.
Maintain all records associated with these errors and keep track of your credit score to make sure it's accurate. Get a free credit score from Credit.com, no credit card required. You can also view your payment history through your credit report. If there are multiple errors, you'll want to send separate letters disputing them. If you're feeling overwhelmed or if you effort isn't working, you can work with a credit repair agency.
How Long Does it Take for a Missed Payment to Come Off My Credit Report?
Unfortunately, if there is a missed payment or a negative item on your credit history — and you are not able to have it removed — it can stay on there for up to seven years. If the account is still open at that time, then the late payment will be removed.
Here's the good news: if the item occurred five years ago and you're applying for a loan, it will have less effect than if it occurred last week. So the more time passes after the missed payment occurred, the better. Why? Because credit scores are based on financial behavior so if you only miss one payment (and not multiple), eventually, your credit score will take your frequent on-time payments into account. Again, check your credit score every so often to make sure it is accurate and to see where you're at.
How To Prevent Late Payments in the Future
It's hard to keep track of everything — grocery lists, kids' schedules, work to-do lists, and of course, bill due dates — but there are ways to manage your personal finances better to ensure that you never miss a payment.
Go paperless—If you haven't ditched the paper yet, you should consider it. Some banks allow you to receive a mailed copy of your credit card bill, as well as a PDF copy with online banking.
Set up reminders—You can do this with a calendar notice (to be repeated every month) or you can sign up for text and email reminders from your bank (so long as that option is available). You want to do everything you can to avoid a late fee and a negative mark on your credit history.
Enroll in automatic payments—The best way to beat payment due dates is to set up an automatic payment for every month. You can decide when that payment is made.
Whether it's the first of the month or the fifteenth of the month, it's good to know what day that payment will be made. Paying on the same day every month will help you track and help you avoid late or missed payments in the future.
If you're in the market for a new credit card that can help you build up credit quicker, check out our recommended credit cards from our trusted partners. It's never too late to rebuild your credit, no matter how long the process may be.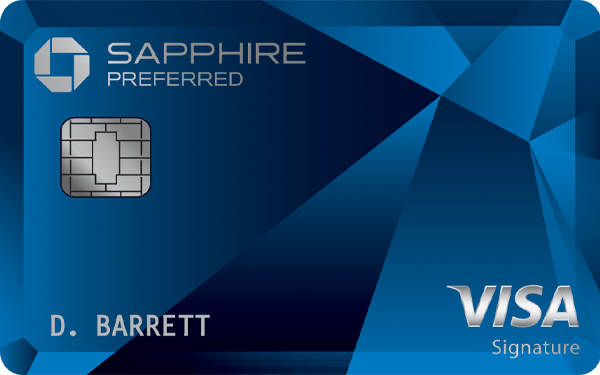 Chase Sapphire Preferred® Card
Card Details
---
Ongoing Apr:
15.99% - 22.99% Variable
---
Balance Transfer:
15.99% - 22.99% Variable
---
---
Credit Needed:
Excellent-Good
Snapshot of Card Features
Earn 60,000 bonus points after you spend $4,000 on purchases in the first 3 months from account opening. That's $750 toward travel when you redeem through Chase Ultimate Rewards®
2X points on travel and dining at restaurants worldwide & 1 point per dollar spent on all other purchases.
Get 25% more value when you redeem for airfare, hotels, car rentals and cruises through Chase Ultimate Rewards. For example, 60,000 points are worth $750 toward travel
Get unlimited deliveries with a $0 delivery fee and reduced service fees on orders over $12 for a minimum of one year on qualifying food purchases with DashPass, DoorDash's subscription service. Activate by 12/31/21.
Earn 5X points on Lyft rides through March 2022. That's 3X points in addition to the 2X points you already earn on travel.
Card Details +
More on Credit Reports & Credit Scores:
Image: GoldStock