5 Comments
Bankruptcy deals a major blow to your credit and hurts your ability to qualify for credit cards and loans. Depending on the type of bankruptcy you file, it can stick on your credit report for up to 10 years. But that doesn't mean you can't rebuild your credit andaccess certain loans in the meantime.
Can You Get a Loan After Bankruptcy?
Yes, you can legally get a loan after bankruptcy. Depending on where your bankruptcy is filed, you may not be able to get credit during the bankruptcy without permission from the court. But once your bankruptcy is completed, your ability to get credit depends on your credit score and other factors. Unfortunately, your score is probably pretty low following a bankruptcy.
How to Get a Loan After Bankruptcy
Understanding how to build your credit and responsibly use the financial tools at your disposal can help you build your credit as you wait for a bankruptcy to fall off your report. That lets you access financial products now and create a potentially great foundation for the future. Here are some steps you can take to get yourself on the right track and qualify for a loan after bankruptcy.
1. Check Your Credit Reports
If you don't get yourself into further hot water, you can immediately start rebuilding your credit after a bankruptcy. To begin the healing process, ensure the bankruptcy has been reported correctly to the three major credit bureaus. Pull your credit reports and make sure that all bankruptcy-related accounts have been zeroed out and labeled as discharged.
If your credit reports don't reflect a discharged bankruptcy, contact the credit bureaus and have that information corrected before attempting to open new lines of credit. You may need to send a credit dispute letter and attach documentation demonstrating that an account was fully discharged in bankruptcy.
For many people who enter bankruptcy, credit situations are already complex. That can make this process of cleaning up your report more time consuming. If there are mistakes on your credit reports or creditors have not reported obligations as discharged, you might find it helpful to bring in professionals such as CreditRepair.com or Lexington Law.
2. Use a Credit Card Wisely
There are a few ways you can use credit cards to build credit following a bankruptcy. Secured credit cards are a great option for rebuilding credit, in part because you may be able to get approved for one with bad credit.
Secured credit cards start with a monetary deposit you make. If you deposit $500, the credit line is $500. Lenders can afford to approve higher-risk borrowers—such as those with bad credit or a recent bankruptcy—because the deposit stands as collateral in case you don't pay your bills. Typically, if you manage your secured credit card responsibly and regularly pay on time, the lender raises your credit limit. Many also eventually return to your deposit and convert your card to an unsecured account.
Another benefit to managing your secured credit card appropriately is that your timely payments get reported to the credit bureaus. That can help increase your score. When choosing a secured credit card, keep your goals in mind. Choose a card that reports to all three credit bureaus, such as the OpenSky Secured Visa.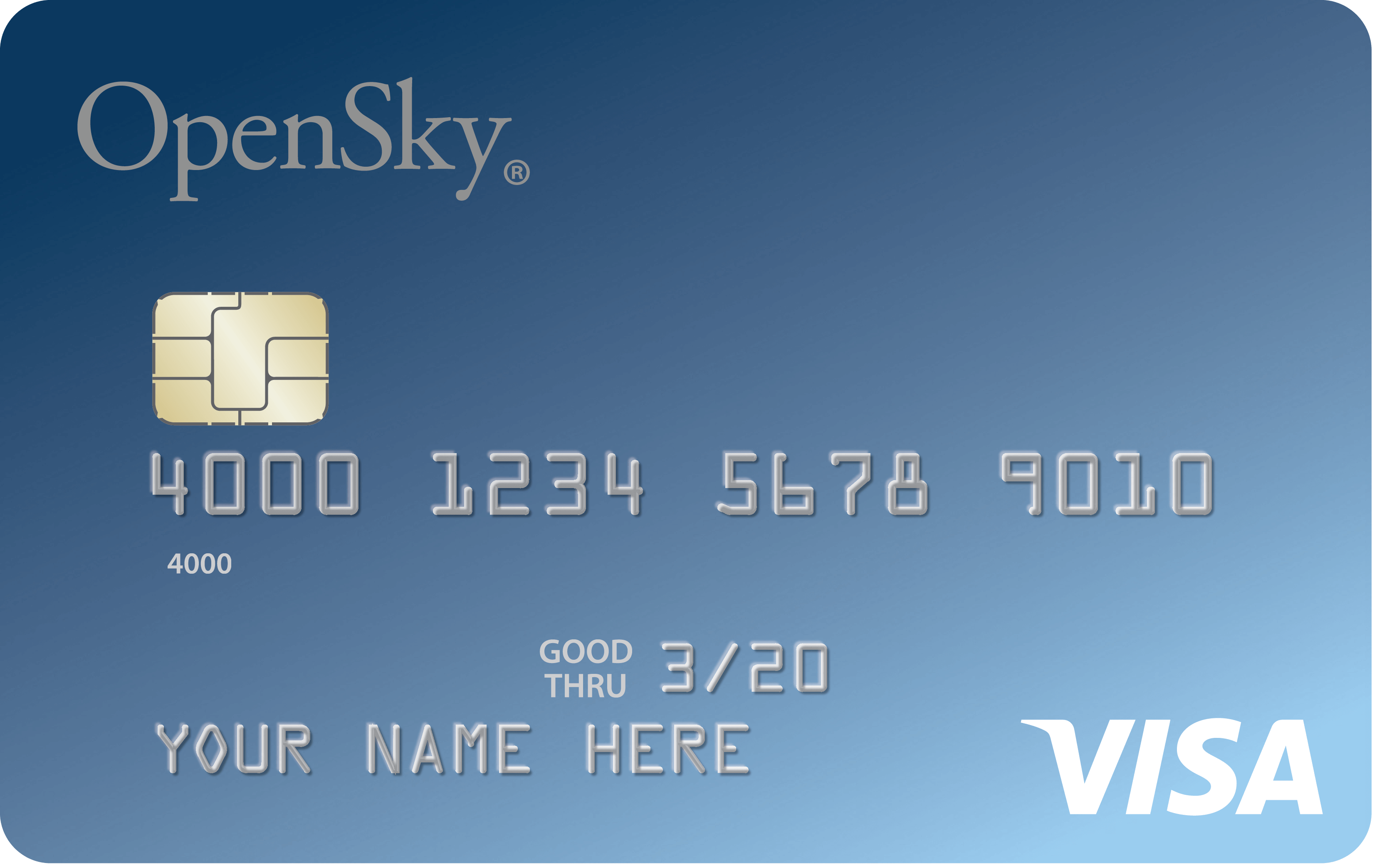 OpenSky® Secured Visa® Credit Card
Card Details
---
Ongoing Apr:
17.39% (variable)
---
---
---
Credit Needed:
Fair-Poor-Bad-No Credit
Snapshot of Card Features
No credit check necessary to apply. OpenSky believes in giving an opportunity to everyone.
The refundable* deposit you provide becomes your credit line limit on your Visa card. Choose it yourself, from as low as $200.
Build credit quickly. OpenSky reports to all 3 major credit bureaus.
99% of our customers who started without a credit score earned a credit score record with the credit bureaus in as little as 6 months.
We have a Facebook community of people just like you; there is a forum for shared experiences, and insights from others on our Facebook Fan page. (Search "OpenSky Card" in Facebook.)
OpenSky provides credit tips and a dedicated credit education page on our website to support you along the way.
*View our Cardholder Agreement located at the bottom of the application page for details of the card
Card Details +
You can also enlist the help of others. A trusted friend or family member can add you as an authorized user to their card, letting you piggyback off their good credit. Alternatively, they could co-sign your credit card application.
When using a credit card to rebuild credit and help you get a loan after bankruptcy, keep your running balances low. Try to pay your balance off each month and don't roll over more than 10% or so of your total credit limit. Remember, credit cards can only help your credit score if you pay them on time and maintain a low balance.
3. Loans After Bankruptcy to Build Your Credit
Sometimes, the answer to how to get a loan after bankruptcy is to start with a smaller loan. Certain loan types can help you build credit after bankruptcy. Some credit unions and banks offer credit-builder loans for borrowers with poor credit. These loans let you borrow a small amount that is put into a CD or savings account.
You make fixed monthly payments until the loan is paid off. Then, you can access the previously deposited funds.
Similarly, your bank or credit union may offer passbook or CD loans. These let you use funds you already have in a savings or CD account to secure a loan. Once you pay the loan off, you regain access to those funds.
Car loans are another option. Because they're secured—which means the lender can repossess the vehicle to recover some loss if you don't make your payments—you may be able to get a vehicle loan with less than stellar credit. However, you typically end up paying more for these loans because of higher interest. Start with a smaller loan on a less expensive car to build your credit.
4. Establish a Positive Payment History
Payment history accounts for more of your credit score than any other factor. You must make all your payments on time to rebuild your credit after bankruptcy. That goes for credit cards, loans, utilities and any other debts you hold. A late payment on your credit report could drop your score even further.
5. Take Your Time
Once you've spent some time building credit, you can start shopping for bigger or better loans, but this should be a slow process. Applying for a bunch of loans or credit cards within a short time period can result in numerous hard inquiries on your credit score. That can lead to a lower score or a loss of the increases you worked so hard for. It also raises red flags for potential lenders.
You can build up decent credit over time, even with a bankruptcy on your credit report. After seven to 10 years, the bankruptcy will disappear, and you'll be in a much better situation as long as you managed your finances wisely in the meantime.
Disclosure: Credit.com and CreditRepair.com are both owned by the same company, Progrexion Holdings Inc. John C Heath, Attorney at Law, PC, d/b/a Lexington Law Firm is an independent law firm that uses Progrexion as a provider of business and administrative services.