If you're looking to add new plastic to your wallet, and are debating between a charge card and a credit card, it's important to understand the differences between the two so you can decide which one you want.
The key differences a charge card vs. credit card are:
A charge card typically requires that you pay the balance in full each month, whereas you can carry a balance from month to month on a credit card.
Charge cards don't typically give you a credit limit, where the majority of credit cards do.
Carryover Balance or Not?
Difference one is whether the card lets you carry a balance from month to month. A charge card requires that you pay your statement in full each time month. This means you don't have an interest rate, because you don't carry a revolving balance.
Not having to pay interest on a balance can be a good thing. It can help you foster good payment habits, ultimately helping you maintain your credit score or improve it if needed. Payment history is the biggest influencer of your credit score, accounting for 35% of your scores.
It's important to note that most charge cards do charge late fees. And if you don't make your required payment on time, you'll pay for it. For the specifics on any fees a card you're considering charges, read the fine print in the card's terms.
With a credit card, there are only minimum monthly payments. You can carry over balances that exceed that minimum. Having a balance you can take time to pay off can help you buy larger items you can't pay for in full immediately.  The big but, you'll pay interest on any balance you carry over. And you'll ultimately spend more because of those interest charges. The one exception is if the card you have offers an introductory 0% APR. If it does, you can avoid interest for a time.
The Capital One® Savor® Cash Rewards credit card is a credit card. It carries an APR and includes a credit limit. For example, the Capital One Savor Cash Rewards credit card's APR is 15.99% - 24.99% (Variable).
A Credit Limit or Not?
Difference two is whether or not the card gives you a credit limit. A credit limit is also known as revolving credit or a revolving account. It gives you an upper limit on the total credit you can use.
More often than not, credit card issuers give cardholders a credit limit. Charge card issuers don't.
The limit is usually determined by your credit score—more on that later. Credit limits can be both a good and bad thing, as they limit what you can spend on the card. If you need to make a large purchase—one you can afford, of course—and it exceeds your card's credit limit, you either need to pay part in cash, use a different card, get the issuer to increase your credit limit or find an alternative solution—like not buying that item now.
You really should never use your full credit limit—or even half of it. Using your credit limit is called credit utilization, which measures how much credit you've used against how much you have available. Credit utilization makes up 30% of your credit score. Creditors see someone with a high credit utilization as someone who is a credit risk. And the credit bureaus see it too. High credit utilization—above 30%—can ding your credit score. Ideally, you want your credit utilization to be no more than 10% and never more than 30%.
To put that 10% into perspective, if you have a credit card with a $1,000 credit limit. You don't ever want a carry-over balance on the card of more than $100.
The Platinum Card® from American Express is a charge card. It has no APR and must be paid in full each month.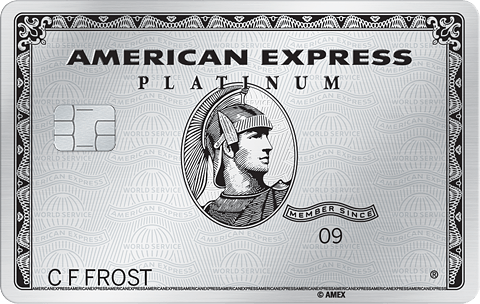 The Platinum Card® from American Express
Card Details
---
---
---
---
Credit Needed:
Excellent-Good
Snapshot of Card Features
Earn 60,000 Membership Rewards® points after you use your new Card to make $5,000 in purchases in your first 3 months.
Enjoy Uber VIP status and free rides in the U.S. up to $15 each month, plus a bonus $20 in December. That can be up to $200 in annual Uber savings.
5X Membership Rewards® points on flights booked directly with airlines or with American Express Travel.
5X Membership Rewards points on prepaid hotels booked on amextravel.com.
Enjoy access to the Global Lounge Collection, the only credit card airport lounge access program that includes proprietary lounge locations around the world.
Receive complimentary benefits with an average total value of $550 with Fine Hotels & Resorts. Learn More.
$200 Airline Fee Credit, up to $200 per calendar year in baggage fees and more at one qualifying airline.
Get up to $100 in statement credits annually for purchases at Saks Fifth Avenue on your Platinum Card®. Enrollment required.
$550 annual fee.
Terms Apply.
Card Details +
What Is a Store Credit Card?
Many retailers have their own credit cards, most of which can only be used at those stores—think Home Depot, Macy's or Lowes. However, there are some that can be used wherever that brand of card—Visa or MasterCard, for example—is accepted. Most stores offer actual credit cards and give you a credit limit. If you frequently shop at the particular store, and the card offers a reward program or some sort of discount, a store card can be worth considering.
What Is a Store Charge Card?
A store charge card is a charge card that has no APR and requires that you pay off the balance in full each month. Like a store credit card, most store charge cards can only be used at the store that issues the card.
Generally speaking, these types of cards are easier to get, so if you have a thin credit profile or are working on rebuilding your credit, this may also be a good option. Just like with any other type of card, it's important you use this card responsibly, or else it could end up doing more harm than good.
How Do Charge Cards and Credit Cards Affect My Credit?
When you apply for either type of card, a hard inquiry is made on your credit profile. And a hard inquiry dings' your score slightly. Because of this, it's a good idea to review your credit scores ahead of time to get an idea of where your credit stands and what types of cards you may qualify for. You can see your Experian credit score for free on Credit.com.
Once you have a card, the way you use it is also affects your score. Payment history is the largest influencer of your score. From there, that credit utilization discussed earlier has the next largest impact. These are much greater dings to your score if not managed properly. So, whatever card you get, use it wisely or not at all.
Advantages of Charge Cards
Charge cards have no preset spending limit. Don't confuse no spending limit with unlimited spending, though or a credit limit. Charge card limits change often, and the limits are typically based on your spending habits and how you use the charge card. If you need to know what your charge card limit currently sits at, you can simply log into the mobile app or call the number on the back of the card.
When you use a charge card responsibly, it can help your credit rating. According to credit score models, charge cards don't apply to certain criteria, such as your credit utilization rate. Since there's no limit that's preset for the cardholder, your utilization ratio can't be determined by the scoring models. They do apply to your payment history though. And late payments on a charge card will hurt your credit score.
Annual Fees for Each Card
Credit cards may or may not have annual fees. Some have no annual fee—ever. Others have an introductory zero annual fee. Others have annual feels all the time.
Charge cards, on the other hand, tend to have high annual fees. Some higher-end charge cards carry fees that range from $500 to $550, because of all the perks that come along with them.
Is Credit Needed?
You have to a credit history to qualify for most charge and credit cards. And you usually need a good or better credit score to get a credit card with a low-interest rate. Charge cards also require a good or excellent credit rating to qualify. Charge card issuers want to see a FICO score of at least 690 before you approving you for a charge card. Other credit cards though have options available for people with lower credit scores.
How Do I Choose Which Is Right for Me?
There's no one right card for everyone. You have to decide what matters most to you. It is a low-interest rate with the option to carry a balance from month to month? Is it a low or no annual fee? It is a rewards program that gives you cash back or points for your purchases? It is a prime benefits program that's worth a higher annual fee? Even though they can be costlier than credit cards, you'll find you have access to many of the same, or better, benefits—including access to a rewards program—that lets you earn rewards points to cash in for discounts and other perks. Always review the terms and conditions of your card to see what benefits it offers.
To help make it easier to wade through your options, check out the Credit.com credit card search tool that lets you search by credit card type, rewards option, preferences, credit level and issuer.
[DISCLOSURE: Cards from our partners are mentioned here.]
This article was last published December 16, 2016, and has since been updated by another author.