UPDATE: Some offers mentioned below have expired and/or are no longer available on our site. You can view the current offers from our partners in our credit card marketplace.
If you find yourself on the road all the time and constantly filling up on gas, then now may be the time to consider getting a credit card that offers rewards for doing so – the rewards can really add up and benefit you by helping you save or earn cash back. Nowadays, most gas chains offer their own credit cards, so if you have a particular brand of gas that you're loyal to, you can check if they offer a credit card, and see what kind of incentives you'd receive with that card.
One gas chain that offers credit cards to help you save on gas is BP. BP offers two credit cards to help their loyal customers stay on budget at the pump. Of course, whether you should add one of these fuel cards to your wallet ultimately depends on how often you're filling up at your local BP station, as well as whether adding a new credit card to your wallet will benefit you. Here's what you need to know about the BP Credit Card and BP Visa Credit Card.
BP Credit Card vs. BP Visa Credit Card: What's the Difference?
BP offers two credit cards–the BP card and the BP Visa card. There are a few key similarities between BP's credit cards. Each carries a variable 29.99% purchase APR and no annual fee (as of 12/19/2019). But there are a few differences in how you can use the cards and what kinds of rewards you earn.
BP Credit Card with Driver Rewards
Cardholders earn 25 cents off a gallon for the first 90 days after the account is opened for every $100 spent. After the introductory offer expires, cardholders earn 10 cents off per gallon at BP locations for every $100 you spend. The card can only be used at BP stations and is not accepted anywhere else.
BP Visa Signature Credit Card
BP Visa Credit cardholders have the same introductory bonus as BP Credit Card holders of 25 cents off a gallon for every $100 spent. Unlike the BP Credit Card, this card can be used anywhere that Visa is accepted, and isn't just limited to just BP locations. BP Visa card holders also earn additional rewards. After the introductory period expires, cardholders earn 25 cents off per gallon at for every $100 spent at BP locations, 15 cents off per gallon per $100 spent on eligible groceries, dining and travel purchases, and 5 cents off per gallon for every $100 spent everywhere else Visa is accepted (excluding non-BP branded gas stations).
The Pros & Cons of BP Credit Cards
Big spenders can easily rack up rewards with the BP Visa Credit Card, and even 10 cents back per gallon can be useful for people who fill up often at BP — particularly when gas prices are low. BP Visa credit cardholders have some options when it comes to redeeming rewards, since in addition to doing so at the pump, they can cash them in for statement credits. (The total amount of your rewards gets multiplied by 15 and then applied to your bill. That means if you have a 10-cent discount available, you'll get a $1.50 statement credit.)
It's important to note that there are some limitations when it comes to rewards. For starters, you can only use rewards accrued on up to 20 gallons each time you fill up your tank. Plus, your rewards have an expiration date: 365 days after the end of the month they are earned, with any unused rewards being forfeited.
On top of that, cardholders do have that 29.99% variable APR to contend with, which is pretty high as far as credit card APRs go. These are definitely not cards for someone prone to carrying a balance. Of course, rewards credit cards in general aren't the best option for people who don't pay their purchases off in full each month, since any points you earn become useless when you start accruing interest.
Should You Get the Card?
People who fill up frequently at BP could certainly benefit from earning gas rewards there — particularly if they can qualify for the BP Visa. Gas, after all, is not exactly an expense those on the road a lot can skip. Plus, the cards don't carry an annual fee, so you won't have to do a cost-benefit analysis to figure out if you're going to come out ahead, like you would with general purpose rewards credit cards that carry an annual fee. (Note: This assumes, of course, you're not carrying a balance.)
Looking at the cards side by side, it may seem like a no-brainer regarding which you should opt for if you're in the market for a BP card. The BP Visa clearly offers more flexibility and extra rewards. But, remember, cards with better terms and conditions generally require good credit to qualify, so if your credit is not so hot, you may only be able to qualify for the BP Credit Card. (You can see where your credit currently stands by viewing two of your credit scores for free on Credit.com.)
BP Credit Card Alternatives to Consider
Keep in mind that if you don't live near any BP stations or fill up at a variety of places, there are credit cards that let you earn points on most gas purchases. We've reviewed some alternatives below for you.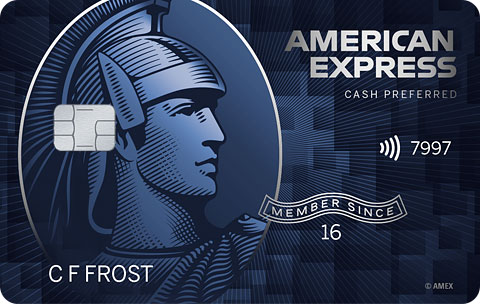 Blue Cash Preferred® Card from American Express
Card Details
Intro Apr:
0% for 12 months on purchases
---
Ongoing Apr:
13.99%-23.99% Variable
---
---
---
Credit Needed:
Excellent-Good
Snapshot of Card Features
Earn a $250 statement credit after you spend $1,000 in purchases on your new Card within the first 3 months.
6% Cash Back at U.S. supermarkets on up to $6,000 per year in purchases (then 1%).
6% Cash Back on select U.S. streaming subscriptions.
3% Cash Back at U.S. gas stations and on transit (including taxis/rideshare, parking, tolls, trains, buses and more).
1% Cash Back on other purchases.
Low intro APR: 0% for 12 months on purchases from the date of account opening, then a variable rate, 13.99% to 23.99%.
Plan It® gives the option to select purchases of $100 or more to split up into monthly payments with a fixed fee.
Cash Back is received in the form of Reward Dollars that can be redeemed as a statement credit.
$95 Annual Fee.
Terms Apply.
Card Details +
Why We Picked It: Cardholders earn 3% cash back at U.S. gas stations. They can also earn 6% cash back on their first $6,000 of qualified spending per year at U.S. supermarkets (1% after that threshold is met) and 1% cash back everywhere else. For the rates and fees of the Blue Cash Preferred Card, please click here. 
At publishing time, the Blue Cash Preferred from American Express credit cards are offered through Credit.com product pages, and Credit.com is compensated if our users apply and ultimately sign up for these cards. However, this relationship does not result in any preferential editorial treatment. This content is not provided by the card issuer(s). Any opinions expressed are those of Credit.com alone, and have not been reviewed, approved or otherwise endorsed by the issuer(s).
Note: It's important to remember that interest rates, fees and terms for credit cards, loans and other financial products frequently change. As a result, rates, fees and terms for credit cards, loans and other financial products cited in these articles may have changed since the date of publication. Please be sure to verify current rates, fees and terms with credit card issuers, banks or other financial institutions directly.
This article was last updated on April 25, 2019.