UPDATE: Some offers mentioned below have expired and/or are no longer available on our site. You can view the current offers from our partners in our credit card marketplace.
Unless you're driving an electric car or rely on mass transportation for all your traveling and commuting needs, chances are you're routinely buying gasoline. And while gas prices are relatively low right now, there's always a little room for extra savings. That's where gas rewards cards come in. Gas cards offer the convenience of keeping your gasoline budget separate from your other expenses and being able to track your spending more easily. A lot of gas companies offer branded gas cards, which can be great for loyal customers who rely on one brand of gasoline to fuel their travel, but there are also banks who offer cards with cash back rewards for any brand of gas, so it's important to try to compare as many cards as possible to find the best option for your driving and spending habits. (It's also wise to check your credit before applying for any credit card to make sure you qualify for the card. You can get a free credit score at Credit.com.
What's the Exxon Mobil Smart Card?

If you're a loyal Exxon Mobil customer, there's a gas card made especially for you: The Exxon Mobil Smart Card issued through Citibank. In this Exxon Mobil credit card review, we'll go over its major terms and conditions. (For full details, please read the card agreement.) Plus, we'll offer some alternatives if you're looking for a more flexible gas rewards credit card. (Full Disclosure: Citibank advertises on Credit.com, but that results in no preferential editorial treatment.)
The Exxon Mobil Smart Card

Rewards Details: Cardmembers save six cents on every gallon of gas purchased with no minimum purchase or savings cap. Savings are reflected on each billing statement.
Annual Fee: None
APR: Variable 27.99% on purchases (as of 12/18/2019)
The Pros of the Exxon Mobil Smart Card
In a nutshell, the Smart Card offers cardholders a savings of six cents on every gallon of gas purchased. There is no minimum purchase or savings cap, and the savings are automatically applied every time you use your card to purchase gasoline. The card also rewards holders with double "Plenti" points on every purchase of Exxon Mobil's new Synergy gasoline, engineered with fuel detergents, a corrosion inhibitor and other additives. Plenti is a multi-retailer loyalty program powered by American Express.
The Smart Card also offers monthly fuel cost itemizations for every cardholder on the account, and it can be used like a credit card for cash advances at more than 200,000 Cirrus ATMs. A cash advance fee of $10 or 5% of the amount of each cash advance (whichever is greater), as well as the cash advance APR, will apply, however, so using the card this way will be costly. Plus, cash back rewards cards that offer 3% or more on gasoline purchases can end up putting more money in your pocket when prices are above the $2 per gallon mark, particularly as gasoline prices increase.
The Cons of the Exxon Mobil Smart Card
There are no discounts or points for purchases other than gasoline, though the card can be used in all Exxon Mobil convenience stores to buy snacks, beverages and incidentals. And, unlike a cash back rewards card like the Chase Freedom card (see full review here), for example, it can't be used for purchases at other retailers. Finally, if you do wind up carrying a balance or taking out a cash advance on the Exxon Mobil Smart Card, you're going to pay handsomely in interest.
Alternatives to the Exxon Mobil Smart Card
The Exxon Mobil Smart Card could be a good wallet addition to frequent Exxon Mobil shoppers, particularly if they're trying to keep an eagle eye on their gas budget. However, there are gas credit cards out there that might be a better fit for someone who's looking for more flexibility at the pump — and when it comes to where they can make purchases in general. Here are some alternatives to the Exxon Mobil Smart Card you can consider.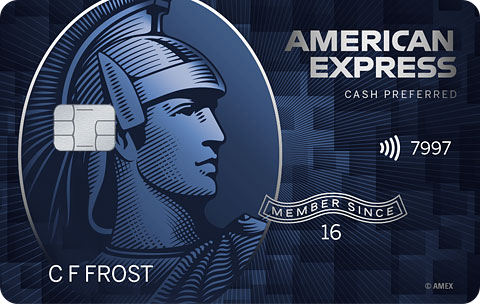 Blue Cash Preferred® Card from American Express
Card Details
Intro Apr:
0% for 12 months on purchases
---
Ongoing Apr:
13.99%-23.99% Variable
---
---
Annual Fee:
$0 introductory annual fee for the first year, then $95.
---
Credit Needed:
Excellent-Good
Snapshot of Card Features
Earn a $300 statement credit after you spend $3,000 in purchases on your new Card within the first 6 months.
$0 introductory annual fee for one year, then $95.
6% Cash Back at U.S. supermarkets on up to $6,000 per year in purchases (then 1%).
6% Cash Back on select U.S. streaming subscriptions.
3% Cash Back at U.S. gas stations and on transit (including taxis/rideshare, parking, tolls, trains, buses and more).
1% Cash Back on other purchases.
Plan It® gives the option to select purchases of $100 or more to split up into monthly payments with a fixed fee.
Cash Back is received in the form of Reward Dollars that can be redeemed as a statement credit.
Terms Apply.
Card Details +
Why We're Mentioning it: Because cardholders can get 3% cash back at all U.S. gas stations, plus a whopping 6% cash back at U.S. supermarkets (up to $6,000 in purchases per year, then 1%) and 1% cash back everywhere else. For the rates and fees of the Blue Cash Preferred Card, please click here.
At publishing time, the Blue Cash Preferred from American Express credit cards are offered through Credit.com product pages, and Credit.com is compensated if our users apply and ultimately sign up for these cards. However, this relationship does not result in any preferential editorial treatment. This content is not provided by the card issuer(s). Any opinions expressed are those of Credit.com alone, and have not been reviewed, approved or otherwise endorsed by the issuer(s).
Note: It's important to remember that interest rates, fees and terms for credit cards, loans and other financial products frequently change. As a result, rates, fees and terms for credit cards, loans and other financial products cited in these articles may have changed since the date of publication. Please be sure to verify current rates, fees and terms with credit card issuers, banks or other financial institutions directly.