[Disclosure: Cards from our partners are reviewed below.]
Merrick Bank is a financial institution, lender and one of the top 20 Visa card issuers in the United States. Despite not having the huge name recognition of other American banks, Merrick counts over 2.4 million customers as its cardholders.
Merrick may fly under the radar because they serve a very specific niche of consumer — namely, someone who is trying to improve their bad credit or build credit for the first time. If that describes you, Merrick Bank may count you as a potential customer for their line of Visa cards. But many competing banks offer credit cards that fulfill that same need. How does Merrick Bank stack up?  
Who They Serve
Merrick Bank's focus is consumers who have suboptimal or nonexistent credit. Their credit cards are designed to be basic solutions for consumers grappling with their credit.
Credit requirements, therefore, may be a bit on the lax side. The approval process is quick, and applicants can easily check online for prequalification without damaging their credit score. Some Merrick cards require you receive an invitation for you to access the card.
It is still possible for your application to be rejected, so don't assume you're a shoo-in.
Features for All Cardholders
Features vary between cards, but some apply to all Merrick Bank cardholders.
Cardholders can use Merrick Bank cards to make purchases and access cash at ATMs. The first year's annual fees are applied to the balance of the card, so the fee can cut into your available credit limit. And Merrick Bank reports card activity to all three major credit bureaus, which is great if you're trying to build or rebuild your credit — as long as you make timely payments and don't run up significant balances.
Cardholders get free online and mobile account access. They also have a $0 fraud liability for unauthorized charges.
Merrick Bank's Card Options
Merrick Bank offers a few different card options to customers:
The Merrick Bank Double Your Own Line Visa Card
The Double Your Own Line Visa Card comes with one major hook for improving your credit. If you make your minimum payment on time for the first seven months of the card, they'll automatically double your credit limit.
One drawback: Merrick Bank is not transparent on the annual percentage rate (APR) or annual fee associated with this card, which should raise healthy skepticism. Presumably, that information will be shared during the application process.
The good news is, if you find the APR to be reasonable (keep in mind that anything over 24% is very high) Merrick's automatic doubling of your credit limit is very rare. Some card issuers may increase your limit by request, but few make it an automatic feature. By doubling the limit, Merrick Bank is giving you the opportunity to maintain a healthier credit utilization ratio, which is a major factor in calculating your credit score (most experts recommend keeping that ratio below 30%, though 10% is even better). In other words, doubling your credit limit won't help your credit score if you double your balance as well.
Merrick Bank will not impose a penalty rate on this card in the event of a late payment.
The Merrick Bank Secured Visa Card
Secured credit cards require a security deposit, which sets a line of credit equal to your deposit. Just like any other credit card, you make monthly payments and your card activity is reported to the credit bureaus. In this way, secured credit cards reduce the risk to the card provider and can help you build or improve upon your credit.
For their secured card, Merrick Bank requires an initial security deposit of $200 – $3,000. The requirement for approval is pretty low for the secured card. As long as you can provide a security deposit, have no pending bankruptcies or outstanding tax obligations and meet a few other minimum qualifications, you can access this card.
The card has a purchase APR of 17.95%. There's an annual fee of $36 up front the first year, with $3 charged per month in subsequent years.
Other Offers
The Classic Visa Card
Merrick Bank offers other cards as well, including the Merrick Bank Classic Visa Card – but these offers usually come by mail and potential applicants will have to enter a code online to get more details. Merrick Bank does not publicly list the APR on their website, and states that the APR is available in the mailed offer and will be displayed when you accept the offer online. There are no other significant details publicly listed by Merrick on their mail offer cards.
The Verdict
Merrick Bank cards appear to be simple, no-frills cards designed for consumers with poor credit or nonexistent credit. Their biggest "wow" factor is the automatically doubled credit line on the Double Your Own Line card.
That said, the fact that they don't publicly list APR or annual fees for many of their cards sets off alarm bells. These offers come by the mail only – so if you've received an offer, you'll be better poised to judge the cost of the card. Just remember you'd do best to pay off any balance in full each month. Also, remember that your initial annual fee can eat into your credit limit.
With little public information and no big features, we can only determine that Merrick Bank cards can help you improve or build your credit. But you may be better off hunting down some options that are more upfront, include better features and are overall better deals.
Alternatives
If you need an unsecured or secured card to help you build credit, there are a few great options on the market. Here are two of our favorites.
First Progress Platinum Prestige Mastercard®  Secured Credit Card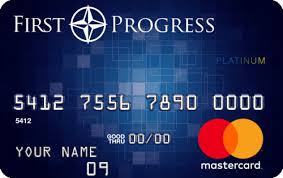 First Progress Platinum Prestige Mastercard® Secured Credit Card
Card Details
---
Ongoing Apr:
10.74% Variable APR for Purchases
---
---
---
Credit Needed:
Bad-No Credit
Snapshot of Card Features
Receive Your Card More Quickly with New Expedited Processing Option
No Credit History or Minimum Credit Score Required for Approval
Quick and Complete Online Application
Full-Feature Platinum Mastercard® Secured Credit Card
Good for Car Rental, Hotels; Anywhere Credit Cards Are Accepted!
Monthly Reporting to all 3 Major Credit Bureaus to Establish Credit History
Credit Line Secured by Your Fully-Refundable Deposit of $200 -- $2,000 Submitted with Application
Just Pay Off Your Balance and Receive Your Deposit Back at Any Time
24/7 Online Access to Your Account
Nationwide Program though not yet available in NY, IA, AR, or WI * See Card Terms.
Card Details +
Why We're Mentioning It: First Progress requires no credit history and no minimum credit score for approval. You get a full featured credit card that that you can use anywhere Mastercard is accepted. And First Progress reports your timely payments to all three major credit bureaus each month, so you build better credit while you use this card. You can deposit anywhere from $200 to $2,000 for this secured card and the ongoing APR is a low 10.74% Variable APR for Purchases .
Purchase APR: 10.74% Variable APR for Purchases
Annual Fee: $49
Credit One Bank Unsecured Visa Credit Card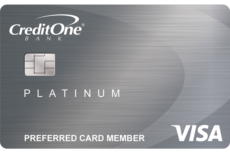 Credit One Bank® Unsecured Platinum Visa®
Card Details
---
Ongoing Apr:
19.99% to 25.99% Variable
---
---
---
Snapshot of Card Features
See if you Pre-Qualify without harming your credit score
This unsecured card requires no deposit and can help build your credit
Track your progress with free online access to your Experian credit score, terms apply
Build your credit history—we report to the credit bureaus monthly
Accounts are automatically reviewed for credit line increase opportunities
Enjoy the flexibility to choose your payment due date, terms apply
Receive 1% cash back rewards on eligible purchases, terms apply
No need to fret—you're covered by $0 Fraud Liability
Card Details +
Why We're Mentioning It: This is a basic card with standard credit card features, including online access and email text alerts. The bonus is that it also gives you 1% cash back on gas and groceries.
Annual Fee: $0 - $99
APR: 19.99% to 25.99% Variable
At publishing time, the Discover it® Secured and Credit One Bank Unsecured Visa credit cards are offered through Credit.com product pages, and Credit.com is compensated if our users apply and ultimately sign up for these cards. However, this relationship does not result in any preferential editorial treatment. This content is not provided by the card issuer(s). Any opinions expressed are those of Credit.com alone, and have not been reviewed, approved or otherwise endorsed by the issuer(s).
Note: It's important to remember that interest rates, fees and terms for credit cards, loans and other financial products frequently change. As a result, rates, fees and terms for credit cards, loans and other financial products cited in these articles may have changed since the date of publication. Please be sure to verify current rates, fees and terms with credit card issuers, banks or other financial institutions directly.