UPDATE: Some offers mentioned below have expired and/or are no longer available on our site. You can view the current offers from our partners in our credit card marketplace.
Whether you're headed out on a fun road trip or you're simply driving to work, filling up your car with gas is an expense you have to factor into your budget. And, while it may not be the most exciting line item, it's a necessity if you want to get around, so you might want to consider using a gas rewards credit card to help you save.
Valero is one of the top independent refiners, refining approximately 3 million barrels every day. The company, which is headquartered in San Antonio, has more than 5,600 stations throughout the country and offers its customers rewards through its Valero credit card. (While we are going to review the Valero credit card here, it's a good idea to read over the card agreement for all details.)
What Is the Valero Credit Card?

The Valero credit card, issued by DSRM National Bank, is a credit card you can use when you fill up your gas tank at any Valero gas station throughout the country. You can also use your card to purchase any other merchandise or services at a Valero convenience store, Beacon or Shamrock store, or any other retailers that accept DSRM National Bank credit cards.
Rewards: With this card, loyal Valero customers can earn a rebate of either four or eight cents per gallon of gas you purchase depending on how much you buy each billing cycle. Meaning, if you fill up with 50 to 74.9 gallons in a billing cycle, you'll receive a 4-cent rebate per gallon. And an 8-cent per gallon rebate will be given to you if you purchase 75 to 110 gallons during a billing cycle. The rebate is given in the form of a statement credit.
APR: 29.99% (as of 12/19/2019)
Annual Fee: None
How Do You Apply for the Valero Credit Card?
Before applying for any type of credit card, it's always a good idea to review your credit. (Note: Doing so will not harm your credit scores.) You can see a snapshot of your credit reports, which includes two of your credit scores, for free on Credit.com. Knowing where your credit stands will give you an idea of what types of credit cards you qualify for. Remember, credit cards with some of the best rewards typically require good or excellent credit scores.
Once you know where your credit stands, you'll want to consider your options for getting new plastic. If you decide the Valero gas credit card is right for you, you can fill out an online application on the Valero website to apply for the card.
Who Is the Valero Credit Card Right For?
Are you wanting to simply build your credit? Or are you looking to garner rewards for the money you spend? If you're looking for a card that offers you rewards for purchases no matter where you shop, getting one that limits you to certain purchases or stores like a gas card does may not be the best route.
Also, with the Valero gas card, you'll want to think about the practicality of the card. If you have Valero gas stations near your home that you frequently visit, getting a Valero gas credit card may save you a lot of cash, especially if gas prices are low. However, if you have more BP gas stations or Chevron stations that you frequent instead, a Valero credit card probably isn't right for you.
It's also important to think about your spending habits, and how you pay off those credit card bills. If you tend to carry a balance, a card with a high interest rate (like the Valero's 23% variable APR noted above), can cause you to lose more in those interest charges than you're gaining with the rebates. However, if you are in the habit of paying on time and in full each month, having this card with no annual fee could be beneficial to your budget.
Alternative Rewards Credit Cards
If you like the idea of getting a gas credit card, but want one that you can use (and get rewards) wherever you shop, you do have other options.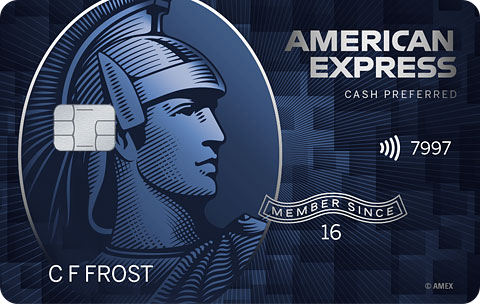 Blue Cash Preferred® Card from American Express
Card Details
Intro Apr:
0% for 12 months on purchases
---
Ongoing Apr:
13.99%-23.99% Variable
---
---
Annual Fee:
$0 introductory annual fee for the first year, then $95.
---
Credit Needed:
Excellent-Good
Snapshot of Card Features
Earn a $300 statement credit after you spend $3,000 in purchases on your new Card within the first 6 months.
$0 introductory annual fee for one year, then $95.
6% Cash Back at U.S. supermarkets on up to $6,000 per year in purchases (then 1%).
6% Cash Back on select U.S. streaming subscriptions.
3% Cash Back at U.S. gas stations and on transit (including taxis/rideshare, parking, tolls, trains, buses and more).
1% Cash Back on other purchases.
Plan It® gives the option to select purchases of $100 or more to split up into monthly payments with a fixed fee.
Cash Back is received in the form of Reward Dollars that can be redeemed as a statement credit.
Terms Apply.
Card Details +
Why we're mentioning it: This credit card offers 3% back at U.S. gas stations. The biggest reward with this card comes at U.S. supermarkets, however, where cardholders can earn 6% cash back on purchases, up to $6,000 each year (drops to 1% after that). Any other purchases earn 1% cash back and all cash back is redeemed as a statement credit.
Note: It's important to remember that interest rates, fees and terms for credit cards, loans and other financial products frequently change. As a result, rates, fees and terms for credit cards, loans and other financial products cited in these articles may have changed since the date of publication. Please be sure to verify current rates, fees and terms with credit card issuers, banks or other financial institutions directly.
At publishing time, the Costco Anywhere Visa Card by Citi and Blue Cash Preferred Card from American Express are offered through Credit.com product pages, and Credit.com is compensated if our users apply and ultimately sign up for this card. However, this relationship does not result in any preferential editorial treatment. This content is not provided by the card issuer(s). Any opinions expressed are those of Credit.com alone, and have not been reviewed, approved or otherwise endorsed by the issuer(s).