Unfortunately, you can't really boost your credit score overnight. There's no instant fix or magic formula for skyrocketing your score to the good or excellent range. But you can learn some tips for how to raise your credit score over time.
9 Potential Credit Booster Tips
---
Understand What Impacts Your Credit Score
Before you learn how to increase your credit score, you need to understand what factors impact that number. Each credit scoring model uses a different formula—and slightly different information—to arrive at your credit score. But there are the five major factors that are used by most scoring models:
9 Potential Credit Booster Tips
Now that you know the factors that affect your credit score, you may be able to think of some ways to improve your credit score over time based on your situation.
Remember, though, that there's never a guarantee of improving your credit. You could pay off debt and see your credit score drop if you're not also paying other bills on time or keeping your credit card balances low. Use the tips below as a general guide to managing your credit in a responsible and proactive way for potential positive benefits.
1. Add Rent and Utility Payments to Your Credit Profile
Your credit report and score are meant to help demonstrate whether you can manage money in a responsible manner. But not every bill you manage gets reported to the credit bureaus.

Lenders have to pay to send information to the credit bureaus, so landlords and utility providers have little incentive to report your on-time payments. But you can invest in services that ensure your rent and utility payments do get reported.
For example, ExtraCredit lets you link rent and utility payments as trade lines to be reported to the credit bureaus. You can access this perk via the service's Build It function. As you make payments you're already making, you can help establish your credit by increasing your history of timely payments.
2. Pay Down Current Debt
Paying down certain types of debt is potentially one of the best things you can do for your credit. That's because when you pay down revolving credit, you reduce your credit utilization.
Revolving credit includes credit cards, lines of credit, and home equity lines of credit. Your credit utilization is a ratio of your total revolving credit balance compared to your total revolving credit limit.
For example, imagine you have two revolving credit accounts:
A credit card with a credit limit of $5,000 and a balance of $2,000
A line of credit with a limit of $5,000 and a balance of $1,000
You would have a total credit limit of $10,000 and a total balance of $3,000. That's a credit utilization of 30%.
Credit utilization accounts for around 30% of your credit score. Keeping your credit utilization as low as possible—ideally below 30%—helps positively impact your scores.
3. Check Credit Reports for Errors and Challenge Them
Inaccurate items, such as a late payment reported when you never missed a payment, could unfairly bring your score down. Reviewing your reports and challenging errors may help improve your score. You can get a free credit report from each of the three bureaus every year at AnnualCreditReport.com. (These are available weekly for a limited time due to COVID-19.)
In addition to rent and utility reporting, ExtraCredit shows you 28 of your FICO® scores and your credit reports from all three credit bureaus. You can check what's showing up on your reports and what's affecting your credit scores so you can follow up as necessary.
If you do find an error on your credit report during your investigation, be sure to challenge the accuracy of the error. Under law, you have a right to a credit report that is fair and free of errors, so if information can't be proved by the reporter, the credit bureaus may have to remove it.
4. Get a Credit Card
Getting a credit card—and using it responsibly—can be a great way to boost your credit without actually going into debt. It might seem like a contradiction, but remember that a credit card doesn't automatically mean debt. If you pay your balance off each month, you're never in debt.
But you do still get some of the potential credit-boosting benefits of holding a credit card. The first is that your credit mix may be improved. Creditors like to see that you can manage multiple types of credit, and your credit score benefits when you have both installment and revolving credit. (Credit cards are revolving credit.)
Having a credit card also lets you address your credit utilization. If you have a credit card and you pay off the balance every month, you'll have a lower credit utilization with a responsible payment history, which is good for your score.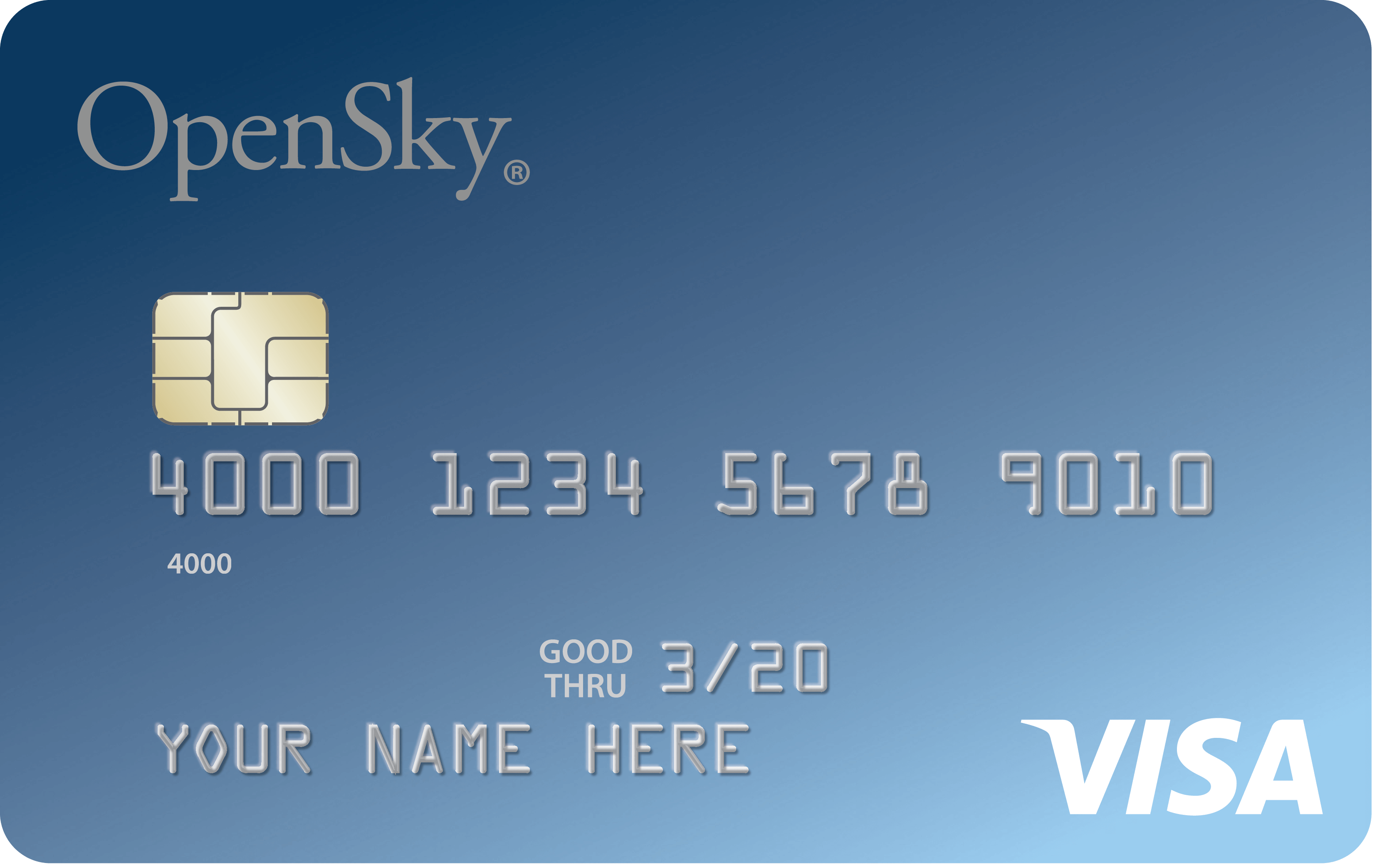 OpenSky® Secured Visa® Credit Card
Card Details
---
Ongoing Apr:
17.39% (variable)
---
---
---
Credit Needed:
Fair-Poor-Bad-No Credit
Snapshot of Card Features
No credit check necessary to apply. OpenSky believes in giving an opportunity to everyone.
The refundable* deposit you provide becomes your credit line limit on your Visa card. Choose it yourself, from as low as $200.
Build credit quickly. OpenSky reports to all 3 major credit bureaus.
99% of our customers who started without a credit score earned a credit score record with the credit bureaus in as little as 6 months.
We have a Facebook community of people just like you; there is a forum for shared experiences, and insights from others on our Facebook Fan page. (Search "OpenSky Card" in Facebook.)
OpenSky provides credit tips and a dedicated credit education page on our website to support you along the way.
*View our Cardholder Agreement located at the bottom of the application page for details of the card
Card Details +
5. Get a Credit-Builder Loan
If you already have a credit card, your credit mix might be suffering from lack of an installment loan. Any type of installment loan—from a car loan to a personal loan—might benefit your credit score if you make your payments regularly and on time.
But for those who don't have the credit history or score for a traditional installment loan, a savings-secured or credit-builder loan might be a good option. These loans often require deposits or savings accounts that you get back when you're done paying for the loan, so they're not loans designed specifically to provide for a financial need. They're specifically for the purpose of getting an installment loan and positive payment history on your report.
>> Check Out Self Credit Builder Accounts
6. Become an Authorized User
If you don't feel ready for your own credit card or can't qualify for one, see if a family member will add you as an authorized user to their credit card account. Many banks and issuers report account activity to both the cardholder's and authorized user's credit report.
You do need to make sure you consider this option carefully. First, make sure the person you ask is responsible with their bills. If they pay their credit card bill late, you could end up with negative marks on your report.
Second, make sure the credit card company reports on authorized users. If the information doesn't get added to your credit report, it can't have an impact on your credit score.
7. Negotiate Higher Credit Limits or Lower Interest Rates—or Both
If you're currently a cardholder in good standing, ask your credit card company for an increase in your credit limit, a decrease in interest, or both. An increased credit limit automatically lowers your credit utilization—assuming you don't run up more debt. And a lower interest rate makes it easier to pay off debt for better credit utilization. Some cards will automatically increase your credit limits, but it never hurts to ask.
8. Invest in Credit Monitoring
Invest in credit monitoring to take a proactive approach to protecting your score. By understanding exactly what's going on with your report, you can address errors quickly and learn how your own actions impact your score. That helps you make potentially score-boosting decisions in the future.
Credit.com's free Credit Report Card provides a snapshot of your credit report with information about how you're doing in the five critical areas for your score. Knowing how you're doing can help you pinpoint areas that might need some help.
9. Sign Up for ExtraCredit
ExtraCredit offers a number of services that can help you manage your credit history. That includes:
Getting rent and utility payments reported
28 FICO scores and credit reports from all three credit bureaus so you know what is affecting the credit scores that lenders see
Alerts about potential errors on your report
You can also get rewards for actions that manage your finances, such as signing up for loans or credit card accounts.
You Can't Boost Your Credit Score Overnight, But You Can Manage Your Credit Responsibly
Ultimately, the best way to positively impact your credit score is to make good money and credit management decisions long term. Building credit is more of a marathon than a sprint, but you can use some of the tips above to start working to boost your credit.
---