1 Comment
[UPDATE: Some offers mentioned below have expired and/or are no longer available on our site. You can view the current offers from our partners in our credit card marketplace. DISCLOSURE: Cards from our partners are mentioned below.]
Many credit card users find it absurd to pay a fee to use their credit card, especially when they realize how profitable the products are to the banks that issue them. And between interest charges, foreign transaction fees, cash advance fees, and late fees, it is understandable that some cardholders will wish to avoid paying an annual fee when there are plenty of cards offered at no cost. In fact, there are so many cards on the market without annual fees, it can be difficult to find the best ones.
How to Choose the Best Card With No Annual Fee
The most important factor in choosing a credit card with no annual fee is to recognize how the cardholder will use the card. Those who tend to carry a balance on their credit cards should be looking to save the most money on interest rates and fees. Cardholders who pay interest can seek out the lowest standard interest rates, or look for a promotional financing offer with 0% APR interest on balance transfers or new purchases.
Alternatively, credit card users who avoid interest charges by paying each month's balance in full can look for a no-fee card that offers rewards for their spending. Most no-fee reward cards will offer cash back, but there are just a few that return airline miles or loyalty points in hotel programs. As with all reward cards, the goal is to earn the most valuable rewards per dollar spent.
But beyond rewards, both types of credit card customers should also consider any other perks and benefits offered by a credit card. Some cards feature purchase protection and travel insurance policies, and many offer some type of rental car insurance that can be extremely valuable. You can research and compare no annual fee credit cards on Credit.com to find one that meets your needs.
A Few Good Credit Cards With No Annual Fee
Chase Slate
For those who already have credit card debt, the Chase Slate is a basic card with one outstanding feature — it is the only card that offers a 0% APR promotional balance transfer with no balance transfer fee. It also features Chase's Blueprint program which contains useful budgeting and goal setting tools. Using Blueprint, cardholders can even avoid interest by paying some charges in full while carrying a balance on others.
Discover it
Earlier this year, Discover replaced all of its existing products with their new "it" card. This no-fee product combines popular features from many of its earlier products. For example, it comes with one of two promotional financing offers; 18 months of interest-free financing on balance transfers and six months on new purchases, or 14 months for both. In addition, it is also a rewards card. All purchases earn 1% cash back, while those from select categories of merchants can earn 5% back. The eligible merchants change each quarter, and only the first $1,500 of qualified spending each quarter will earn the bonus.
American Express Blue Cash Everyday
With this no-fee card, customers earn 3% cash back rewards at supermarkets (on up to $6,000 spent annually), 2% on gasoline purchases and at select major department stores, and 1% back on all other purchases. This is one of the most competitive rates of return for a reward card with fixed bonus spending categories. This card also includes travel accident, purchase protection, and extended warranty policies.
Image: iStockphoto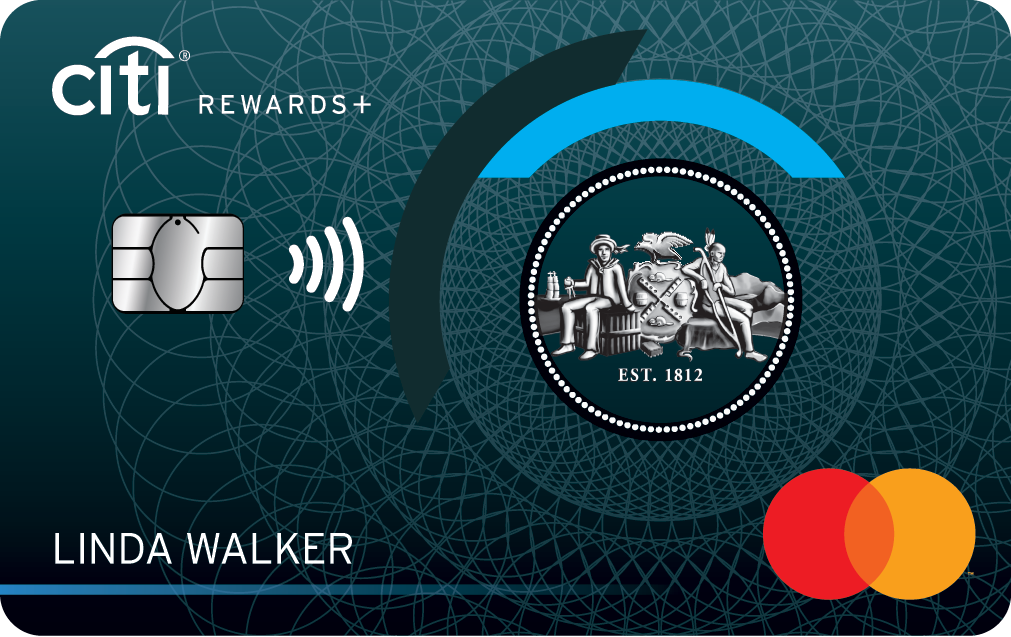 Citi Rewards+℠ Card
Card Details
Intro Apr:
0% for 15 months on Purchases
---
Ongoing Apr:
13.49% - 23.49% (Variable)
---
Balance Transfer:
0% for 15 months on Balance Transfers
---
---
Credit Needed:
Excellent-Good
Snapshot of Card Features
The Citi Rewards+℠ Card - the only credit card that automatically rounds up to the nearest 10 points on every purchase - with no cap.
Earn 15,000 bonus points after you spend $1,000 in purchases with your card within 3 months of account opening; redeemable for $150 in gift cards at thankyou.com
0% Intro APR on balance transfers and purchases for 15 months. After that, the variable APR will be 13.49% - 23.49%, based on your creditworthiness. Balance transfer fee — either $5 or 3% of the amount of each transfer, whichever is greater.
Earn 2X ThankYou® Points at Supermarkets and Gas Stations for the first $6,000 per year and then 1X Points thereafter. Plus, earn 1X Points on All Other Purchases.
The standard variable APR for Citi Flex Plan is 13.49% - 23.49%, based on your creditworthiness. Citi Flex Plan offers are made available at Citi's discretion.
Card Details +