Let's say you have poor to bad credit. That means that it's basically impossible to get a credit card. But, ironically, you need a credit card to actually improve your credit score. So what can you do?
It might be time to think about a secured credit card. Typically, when we think of credit cards, we're thinking of unsecured credit cards. All you have to do is apply and, if you have the right credit score, you'll get approved.
Secured credit cards, on the other hand, are a little different. In order to get a secured credit card, you need to put down a security deposit. It's that security deposit that'll act as your credit line.
Does this sound like the right card for you? Then you're in the right place. We've put together a list of the best secured credit cards for 2020. You'll find a variety of secured credit cards for poor, bad and even no credit score.
The Best Secured Credit Cards for 2020
Before we dive in, let's make something clear—there's isn't one "best" credit card for everyone. You're not going to find a secured credit card that's perfect for everyone because everyone's financial needs are different. Instead, you want to find the best secured credit card for you—which is one that helps you manage money in a positive way and improve your credit.
Now that we've gotten that over with, here's a quick list of the best secured credit cards of 2020:
First Progress Platinum Prestige Mastercard: A variable APR of 9.99% for purchases makes this one of the best-rate cards in this category, and you may still be approved even if you have bad credit.
OpenSky Secured Visa Credit Card: You don't need a bank account to open this card and the lender doesn't run a credit check. You can also increase your credit limit overtime with good account management.
How Do Secured Credit Cards Help Credit?
Secured credit cards can help you increase your credit if you make on-time payments and keep your credit utilization rate at 30%. If you use your card responsibly, you could even get your security deposit back! Here's how secured credit cards work:
You put up a deposit, which secures your line of credit. You can use up to that amount on your card.
You make payments as you would on a regular credit card, and they're reported to the credit bureaus.
As you demonstrate a responsible payment history, the card issuer may extend credit beyond your deposit.
Eventually, you are able to request your security deposit back.
Before you choose a secured credit card, make sure you understand your financial situation. Don't just dive into applying for a card—find out more about own credit first. You can sign up for your free Credit Report Card to see exactly where you stand and whether a secure credit card might be right for you.
Best Secured Credit Cards to Consider
Find out more about the cards on our best secured credit cards list. The pros of each card—why it's included on this list—are detailed below along with any cons that you should be aware of before you apply.
First Progress Platinum Prestige Mastercard® Secured Credit Card
Card Details
---
Ongoing Apr:
9.99% Variable APR for Purchases
---
---
---
Credit Needed:
Poor-No Credit
Snapshot of Card Features
Receive Your Card More Quickly with New Expedited Processing Option
No Credit History or Minimum Credit Score Required for Approval
Full-Feature Platinum Mastercard® Secured Credit Card
Good for Car Rental, Hotels; Anywhere Credit Cards Are Accepted!
Monthly Reporting to all 3 Major Credit Bureaus to Establish Credit History
Credit Line Secured by Your Fully-Refundable Deposit of $200 -- $2,000 Submitted with Application
Just Pay Off Your Balance and Receive Your Deposit Back at Any Time
Apply in just a few moments with no negative impact to your credit score; no credit inquiry will be recorded in your credit bureau file
Nationwide Program though not yet available in NY, IA, AR, or WI * See Card Terms.
Card Details +
Benefits: Approval for a First Progress Platinum Prestige Mastercard doesn't depend on credit history, making this one of the best secured credit cards for bad credit. You can choose to fund it with $200 to $2,000 in security deposit, so use is flexible, and the lender reports to all three credit bureaus. The card has an impressive 9.99% Variable APR for Purchases, which is among the lowest for this type of card.
Drawbacks: Like most secured credit cards, this card has a pretty steep annual fee of $49. The card is also not available in all states.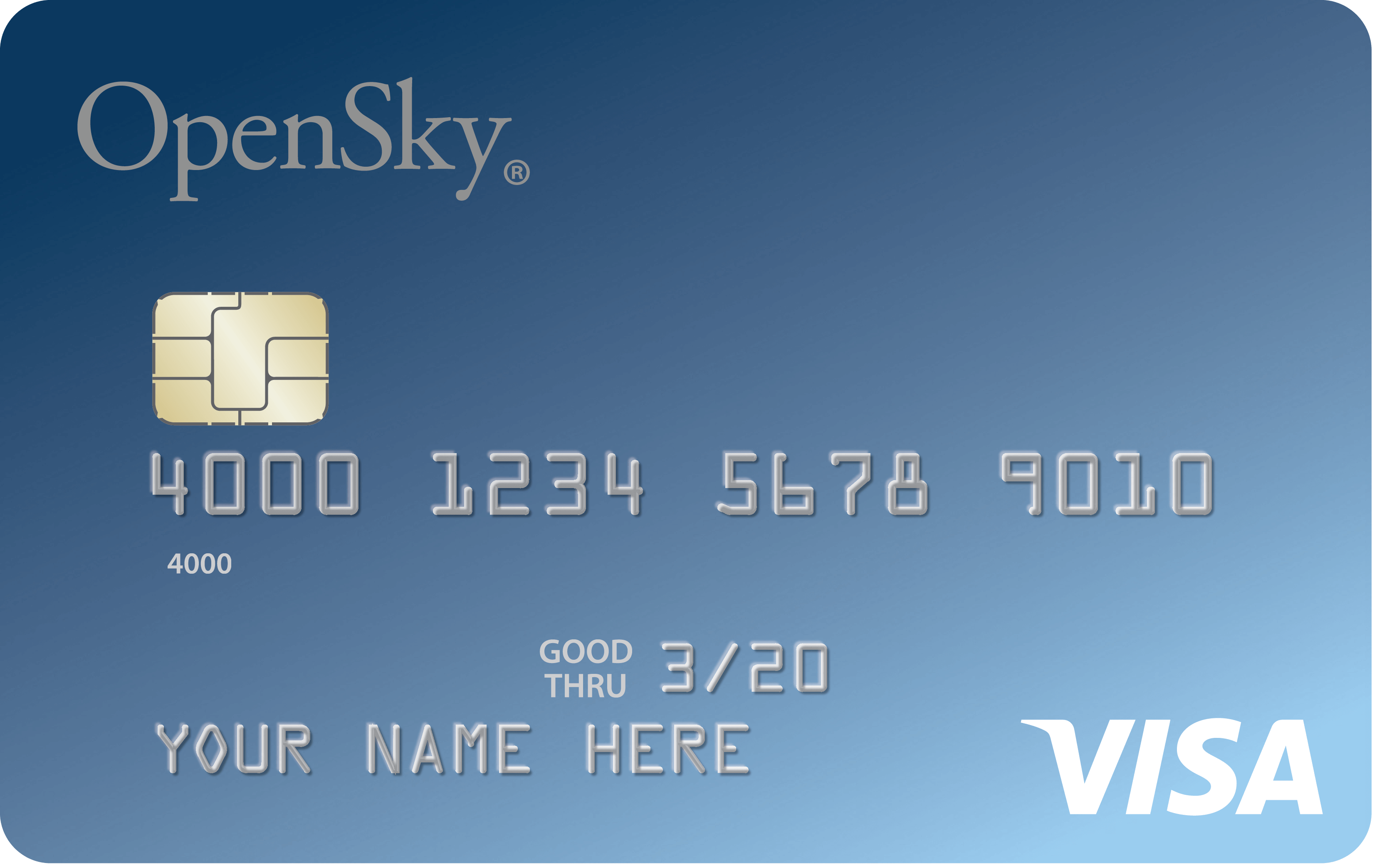 OpenSky® Secured Visa® Credit Card
Card Details
---
Ongoing Apr:
17.39% (variable)
---
---
---
Credit Needed:
Fair-Poor-Bad-No Credit
Snapshot of Card Features
No credit check necessary to apply. OpenSky believes in giving an opportunity to everyone.
The refundable* deposit you provide becomes your credit line limit on your Visa card. Choose it yourself, from as low as $200.
Build credit quickly. OpenSky reports to all 3 major credit bureaus.
99% of our customers who started without a credit score earned a credit score record with the credit bureaus in as little as 6 months.
We have a Facebook community of people just like you; there is a forum for shared experiences, and insights from others on our Facebook Fan page. (Search "OpenSky Card" in Facebook.)
OpenSky provides credit tips and a dedicated credit education page on our website to support you along the way.
*View our Cardholder Agreement located at the bottom of the application page for details of the card
Card Details +
Benefits: Open the account with a minimum $200 security deposit without a credit check or bank account. Timely payments can help your credit score since the lender reports to all three major bureaus. Plus, you can access free financial education through your online account. Account holders in good standing may be able to increase their credit limit over time up to $5,000.
Drawbacks: The card comes with a $35 annual fee and a relatively high variable APR of 17.39% (variable).
Alternatives to a Secured Credit Card
Secured credit cards aren't the only option if you have no credit history, bad credit or poor credit. A variety of unsecured cards cater to folks with lower or no credit scores. A few unsecured card offerings to consider include:
Apply for a Secured Credit Card Today
Once you've checked your credit and determined that a secured credit card is the right path for you, do your research. Look for a card with a low annual fee and a security deposit you can afford. And always make sure the card you apply for reports to the credit bureaus. If you don't get the boost of positive credit reporting, you're missing one of the primary benefits associated with secured credit cards.
---
Editorial disclosure: Reviews are as determined solely by Credit.com staff. Opinions expressed here are solely those of the reviewers and aren't reviewed or approved by any advertiser. Information presented is accurate as of the date of the review, including information on card rates, rewards and fees. Check the issuer's website for the most current information on each card listed.
Note: It's important to remember that interest rates, fees and terms for credit cards, loans and other financial products frequently change. As a result, rates, fees and terms for credit cards, loans and other financial products cited in these articles may have changed since the date of publication. Please be sure to verify current rates, fees and terms with credit card issuers, banks or other financial institutions directly.