A secured credit card is a bit different than an unsecured credit card. It's an unsecured card that most of us think of as a traditional credit card. The difference between a secured card and an unsecured card is that a secured card requires a security deposit to get. That deposit is either a down payment on your credit line or your entire credit line.
And because building credit requires having credit to use, secured credit cards are a fabulous way to fill the gap for those that don't have a credit history or who've ended up with a bad or poor credit rating. And roughly 30% of Americans have bad credit or poor credit, which is almost 70 million people
And with poor credit, you can find it difficult or even impossible to get a car loan or mortgage. It can even make getting an apartment lease tough. And it can make getting a traditional credit card tough too. And even if you can get a loan, lease or credit card, your bad credit will cost you in higher interest rates and monthly payments.
There's no instant cure for bad credit, but you can improve your score with work and careful planning. One of the ways you can improve that score is with a secured credit card.
Are you asking: "What is a secured credit card?" Keep reading for an explanation of what one is and how it can help build or rebuild your credit score and/or credit history.
What Is a Secured Credit Card?
Some credit card issuers offer secured credit cards. These cards are an option for those with less-than-perfect credit scores or no credit history. But, they have a catch. That catch is a required deposit.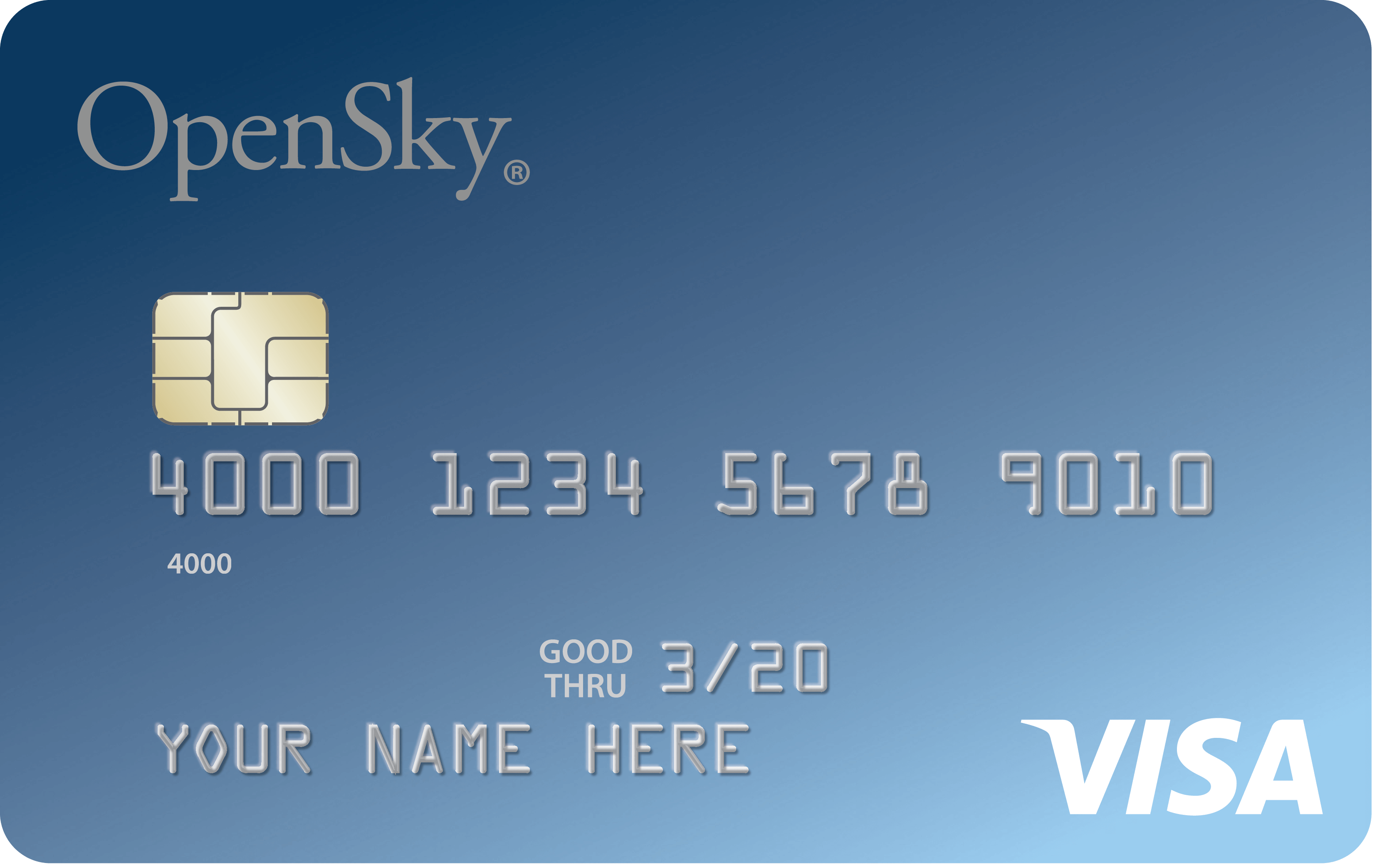 OpenSky® Secured Visa® Credit Card
Card Details
---
Ongoing Apr:
17.39% (variable)
---
---
---
Credit Needed:
Fair-Poor-Bad-No Credit
Snapshot of Card Features
No credit check necessary to apply. OpenSky believes in giving an opportunity to everyone.
The refundable* deposit you provide becomes your credit line limit on your Visa card. Choose it yourself, from as low as $200.
Build credit quickly. OpenSky reports to all 3 major credit bureaus.
99% of our customers who started without a credit score earned a credit score record with the credit bureaus in as little as 6 months.
We have a Facebook community of people just like you; there is a forum for shared experiences, and insights from others on our Facebook Fan page. (Search "OpenSky Card" in Facebook.)
OpenSky provides credit tips and a dedicated credit education page on our website to support you along the way.
*View our Cardholder Agreement located at the bottom of the application page for details of the card
Card Details +
When you apply for a secured credit card, the credit card issuer takes a refundable security deposit. That deposit gets you approved for the card and for a small credit line. The credit line is usually small like $200 or $500. But some cards offer higher credit lines—even up to $3,000.
With most secured cards, your security deposit is your credit limit. Your deposit acts as collateral against any payments you might miss and your poor or absent credit rating. Since your deposit equals your total credit limit in most cases, the issuer won't lose money if you miss a payment.
Secured Vs. Unsecured Credit Cards
The other main form of credit card is an unsecured credit card. Credit card issuers don't require a deposit when for traditional unsecured credit cards.
You can have a good credit score and still get turned down for an unsecured credit card based. For example, they may turn you down if your annual income isn't high enough or if you have several other credit cards near their limit
Who Are Secured Credit Cards For?
Secured credit cards are intended for two types of cardholders:
Those who want and need to improve bad credit or poor credit scores
Those who need to start building on a limited or nonexistent credit history
Both of these types of cardholders are challenged with low credit scores.
If you fit into either of the above categories and as a result, you're having trouble qualifying for a traditional credit card, secured credit cards could be a good solution.
Keep in mind that it's still possible to be turned down for a secured credit card, particularly if you have a blemish like bankruptcy on your credit history.
How Secured Cards Help You Build Credit?
The major credit bureaus calculate your credit scores. They use many factors in modeling that score. While a secured card can't fix all the issues that go into your score, like payment history, debt usage, credit history, account mix and credit inquiries, it can help you with most.
One of the big factors in your credit score is the percentage of on-time payments. The higher the percentage the better with 100% being ideal. Issuers that offer secured cards report your payments to the credit bureaus each month the same way they report unsecured credit card payments.
The best way to build your credit with a secured card is to use the card responsibly and make your monthly payments on time, every time. That way, you'll build a positive payment history on your credit.
There are other ways to use your card to build your credit too.
The credit bureaus also look at how much of your credit you use—called debt usage. If you keep the balance on your secured card low, it helps boost your score. As a general rule, don't use more than 30% of your credit limit if possible. Even better, use no more than 10%. Thirty percent of $500 is $150. Ten percent is $50. Following that guideline shows you can use credit wisely by not maxing out your card or cards.
Another factor credit bureaus look at is your account mix. You want a healthy mix of accounts. Long-term accounts increase your available credit limit, so they lower your debt usage. They also add to your account mix. Keeping your secured card—even if you're not using it—is a good idea.
Note though, if you apply for too many credit cards, it can hurt your score. Each application puts a hard inquiry on your credit report. So, find one card and apply and only apply for another if you're declined. Also, consider applying to cards that don't check your credit history like the OpenSky® Secured Visa® Credit Card or one that prequalifies you with a credit check like the The Secured Visa® from Merrick Bank.
Tips for Using a Secured Card Wisely
Getting a secured card is only the first step. You must use the card in a smart manner to get the most benefit from it.
You might find yourself tempted to put the card away and never use it. That approach provides limited value for your credit score. It just shows up on your credit report as available credit.
You want to use the credit, a little, to prove you can use it responsibly. One way you can do that is through occasional small purchases.
For example, you can buy a parent or sibling a small gift they need, such as a blender or microwave. Then you pay that off over the course of a few months or in full at the end of the month.
Pay for minor car maintenance with it, like an oil change. Most oil changes come in under $75, which makes it something you can reasonably pay off in a month or two. You also get something useful and necessary out of the deal.
Don't use your card for impulse purchases. Your credit limit might cover the cost of a video game or new jacket you want. Give yourself a two-day cooling off period and then ask: "Is that the best use of my credit card?" In most instances, the answer is no. Those kinds of purchases eat up credit you might need for an emergency, without providing much value in return.
Is There a Downside to Secured Cards?
Secured cards can have higher interest rates—dubbed annual percentage rate or APR—than other credit lines, though APRs vary a lot from card to card. There are many secured cards that have better APRs than traditional credit cards—especially rewards credit cards that charge higher interest rates to make up for the rewards you earn.
For example, the Applied Bank® Secured Visa® Gold Preferred® Credit Card at publication time has an ongoing APR of just 9.99% Fixed and the First Progress Platinum Prestige Mastercard® Secured Credit Card an ongoing APR of 9.99% Variable APR for Purchases.
Like any credit card, secured credit cards may charge an annual fee. Fees tend to range from $29 to $50. But, like traditional credit cards, there are secured cards that have no annual fee.
If you're dreaming of earning points or cash-back with a secured card, you're out of luck. These cards don't come with added perks outside of helping you build credit. But, if you use it right and do build your credit, you'll be on your way to qualifying for a rewards credit card before you know it.
Always make sure you understand exactly what the company offers before you apply. That way you can get a card that better suits your situation.
Parting Thoughts on Secured Credit Cards
You can answer the question, what is a secured credit card, by saying it's an opportunity to build your credit.
When you can't get an unsecured credit card, it makes rebuilding your credit more difficult. A secured credit card lets you establish that you can use credit responsibly, make on-time payments and keep an account in good standing.
Credit.com helps consumers by providing practical information about getting and using credit. To help you track your quest for better credit, and to find out where you stand before applying for a new credit card, get your free Experian credit score, right here on Credit.com. Your score includes a free credit report card that helps you track where you stand on payment history, debt usage, credit history, account mix and credit inquiries and how you can improve each area.