Filing for bankruptcy comes with a serious credit score sting. And while bankruptcy is a last-resort financial move, it does come with a potential light at the end of the tunnel. If you follow through with financial responsibility after a bankruptcy, you can find yourself in a better credit situation in the long run. Find out more about how to build credit after bankruptcy below.
How to Rebuild Credit After Bankruptcy
If you're in the middle of or just coming out of bankruptcy, you know how complicated debt, credit and other financial matters can get. Don't worry—while filing for bankruptcy can affect your credit, you can improve your credit if you're careful.
Once you have a good picture of your credit score, you can start working toward rebuilding credit after bankruptcy. Focus on keeping your accounts current and not taking on more debt that you can't afford.
Quick Steps to Rebuild Credit After Bankruptcy
Keep in mind that what helps you rebuild your credit score might not work for someone else. It depends on a lot—your financial situation, your current credit score, your goals, etc. But there are a few general steps you can take to get your score back in shape:
Keep all accounts current and check your credit report and score frequently to ensure everything is accurate.
Get a secured credit card if you don't have a credit card already so you can start rebuilding your credit history.
Don't take on additional debts or loans unless you're sure the payments, including the higher interest amount you'll likely pay with a bankruptcy on your report, are well within your budget.
Step-by-Step Guide to Rebuilding Credit After a Bankruptcy
Looking for a more in-depth plan to help bump up your credit score? Here's a breakdown of each step, plus a little extra information to keep in mind.
1. Monitor Your Credit Closely
Monitoring your credit following the bankruptcy process is critical. You can track your progress to see if your efforts are having a positive effect on your credit. If you see any incorrect information in your report, take steps to report and address it. You don't want your score to go down because of an error.
How Long Does It Take to Rebuild Credit After Chapter 13?
Bankruptcy can stay on your credit report for up to 10 years depending on the type of bankruptcy you file. There's a good chance your credit score might be lower than you'd like until your bankruptcy is discharged. However, if you're making payments on time and keeping your credit utilization low, you might start seeing an improvement sooner than you thought.
Will My Credit Score Increase After a Bankruptcy Discharge?
A discharged bankruptcy isn't the same as a bankruptcy that has fallen off your credit report. As long as the bankruptcy appears on your report, it will have a negative effect. However, you can take steps to increase your credit score while the bankruptcy is still showing up, such as lowering debt and making consistent, on-time payments.
2. Consider a Secured Credit Card or a Retail Card
How long do you have to wait before you can get a credit card after bankruptcy? If you have a lot of other negatives on your report or you started off with an already poor score, it could put you out of the running for a traditional credit card. However, opening a secured card or getting a retail credit card could be an option.
If you're currently in a Chapter 13 bankruptcy, consult your attorney before you apply for a card. There are some limitations on what type of debt or credit you can take on while you're in the repayment portion of a Chapter 13 bankruptcy. You might need permission from the court first.
Secured Credit Cards
A secured credit card requires a deposit to secure the original line of credit. The credit limit on a secured card is typically the amount of the deposit minus any fees. For example, if you make a $300 deposit on a secured card with an annual fee of $29, your credit limit starts at $271.
To use your secure credit card, and possibly raise your credit score, only make small purchases and pay the account on time every month. It's important to keep your balance low, which means carrying a balance that's less than around 15% of your credit line.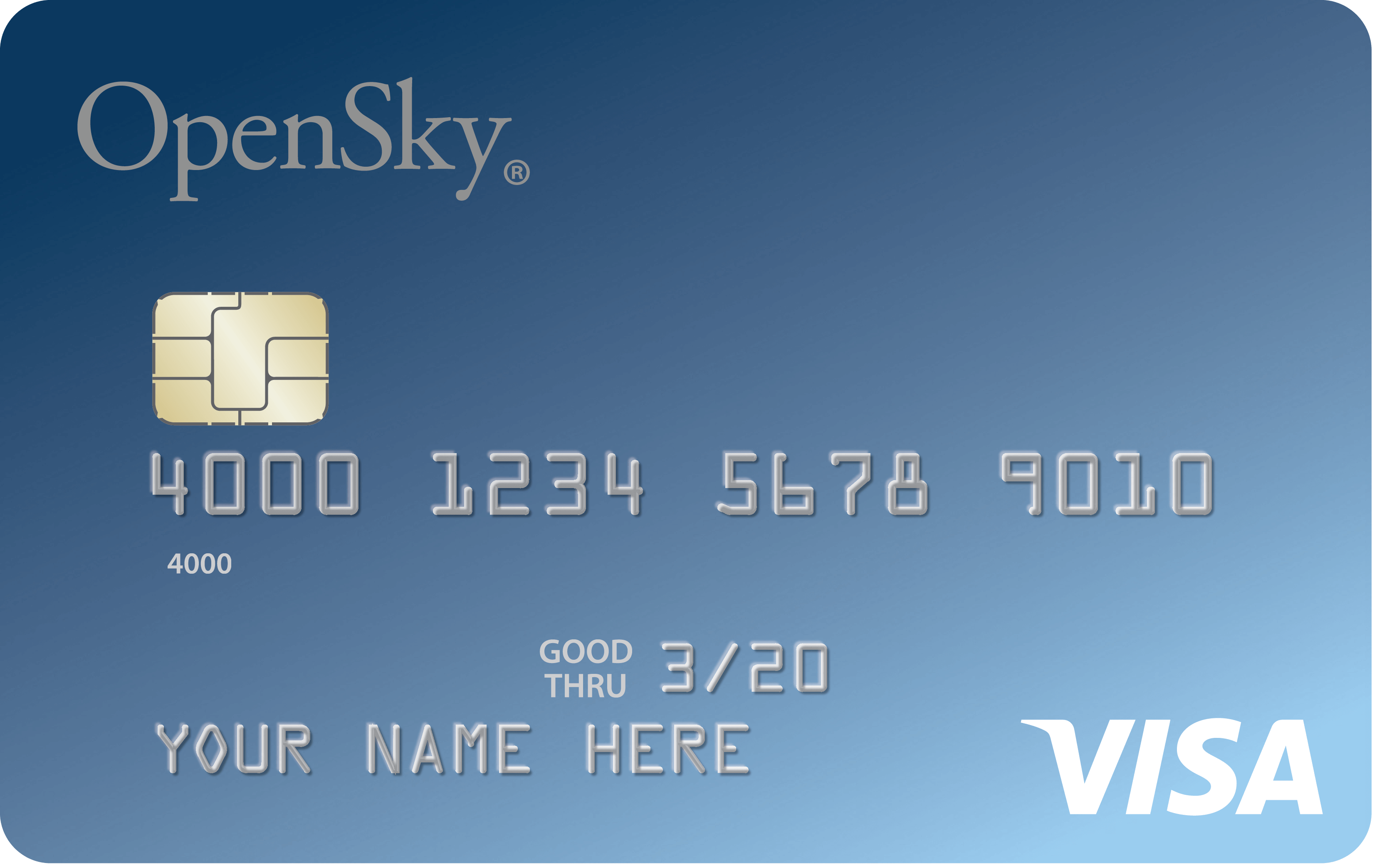 OpenSky® Secured Visa® Credit Card
Card Details
---
Ongoing Apr:
17.39% (variable)
---
---
---
Credit Needed:
Fair-Poor-Bad-No Credit
Snapshot of Card Features
No credit check necessary to apply. OpenSky believes in giving an opportunity to everyone.
The refundable* deposit you provide becomes your credit line limit on your Visa card. Choose it yourself, from as low as $200.
Build credit quickly. OpenSky reports to all 3 major credit bureaus.
99% of our customers who started without a credit score earned a credit score record with the credit bureaus in as little as 6 months.
We have a Facebook community of people just like you; there is a forum for shared experiences, and insights from others on our Facebook Fan page. (Search "OpenSky Card" in Facebook.)
OpenSky provides credit tips and a dedicated credit education page on our website to support you along the way.
*View our Cardholder Agreement located at the bottom of the application page for details of the card
Card Details +
Make sure to choose a secured card from a company that reports to all three major credit bureaus. This way, your on-time payments get reported on your credit reports, maximizing your credit rebuilding efforts.
Retail Cards
Retail cards and department store cards sometimes have relatively lenient credit approval requirements. Once you have several months of payments with a secured card behind you, you might qualify for a retail card even after a bankruptcy. Retail cards have higher interest rates, but a couple of small charges a month combined with on-time payments can help you reboot your credit.
3. Don't Repeat Past Mistakes
You might think that filing for bankruptcy equals a clean financial slate, but this isn't exactly true. Learn from the mistakes that brought you to bankruptcy—if you don't, you won't be any better off in the long run. Take an honest look at your spending habits and budget, and figure out where you need to cut back or exercise more self-control.
4. Diversify with a Loan or Credit Builder Account
If you're trying to rebuild your credit after a bankruptcy, the type of credit accounts you have also matter. A small personal loan is one way to diversify. The loan money can be used for anything, including home repairs, investing and making your payments on time. Having more than one type of account can help you positively impact your credit score.
A Self Lender Credit Builder Account is another way to build credit, and you can get one with poor or no credit history. This is essentially a secured installment loan combined with a CD that has a 12- or 24-month term length. Rather than put down a lump sum into a CD, you're opening one in installments. You put money in but can only take it out at the end of the CD term.
For a Self Lender Credit Builder Account, you pay a small administration fee and pick how much to put into the account each month. You pay interest on the account as you would a loan, but you also earn interest on it as a CD.
The CD earns interest at a lower rate than what you pay for the loan, so you won't actually make any money on it. However, Self Lender reports your timely payments to all three credit bureaus to help you rebuild your credit after bankruptcy.
Building Credit After Bankruptcy is Possible—But Be Careful
Simply following the steps above isn't a guaranteed way to build your credit score. It's important to be responsible—make your payments on time, don't open a new credit line that you don't necessarily need and make smart financial decisions.
For an overview and explanation of your credit standing after bankruptcy, check out your free Credit Report Card. It provides a look at your credit scores and helps you track the areas of your credit that are improving—or not—so you can understand how to best rebuild credit after bankruptcy.