Student loans—two dreaded words whether you're a parent, student or college grad. It's not news to you that over the past decade, college tuition prices have steadily increased and so has student debt. In the first quarter of 2019, student loan debt rose to $1.49 trillion—that's more than the national totals for auto loan debt (1.28 trillion) and credit card debt (850 million). [1][2]
Here's a Snapshot of Student Loan Debt
Average student loan debt total per person:

$31,172

Average monthly student loan payment for graduates:

$393

Total student loan debt in the U.S.

: $1.52 trillion

Time to pay off student debt

: 10 to 30 years
While student loans are a huge issue for college graduates and the economy, the news is not all grim. For instance, two-thirds of high school graduates now pursue higher education, and student loans make college accessible to students at all income levels.
In order to get a complete picture of what college debt looks like, Credit.com has compiled the most recent student loan debt statistics.
Total Student Debt
What Is the Total Student Loan Debt in America?
Student loans are now the second largest debt category in the U.S., trailing only mortgage debt. As of early 2019, total student loan debt is approximately 1.52 trillion and growing. In 2018, total student loan debt rose by $79 billion and in the first quarter of 2019, the number rose by $29 billion.
There are currently 44.7 million student loan borrowers in the U.S. and, among graduates, 71% of students with loans leave college with debt to pay. [1]
Tuition Costs Are Rising
On average, students today are paying over twice what their parents paid to attend college. In 1971, when the College Board began collecting data on higher education costs, the average cost for tuition, fees and room and board for a four-year public university was $8,730 in today's currency.
The most recent data, from the 2018–2019 school year, shows cost at $21,370. That's a 145% increase! Median household income has only increased 28% in the same time period, making it impossible for many families to afford tuition costs without loans. [3][10][11]
Two Thirds of High School Graduates Enroll in College
One positive in the conversation about student loan debt might be the high enrollment rates, especially among low-income and middle-income populations. In 2017, the number of high school graduates enrolled in college was 66.7%. Even more exciting, between 1975 and 2016, college enrollment increased from 31% to 65% among low-income populations.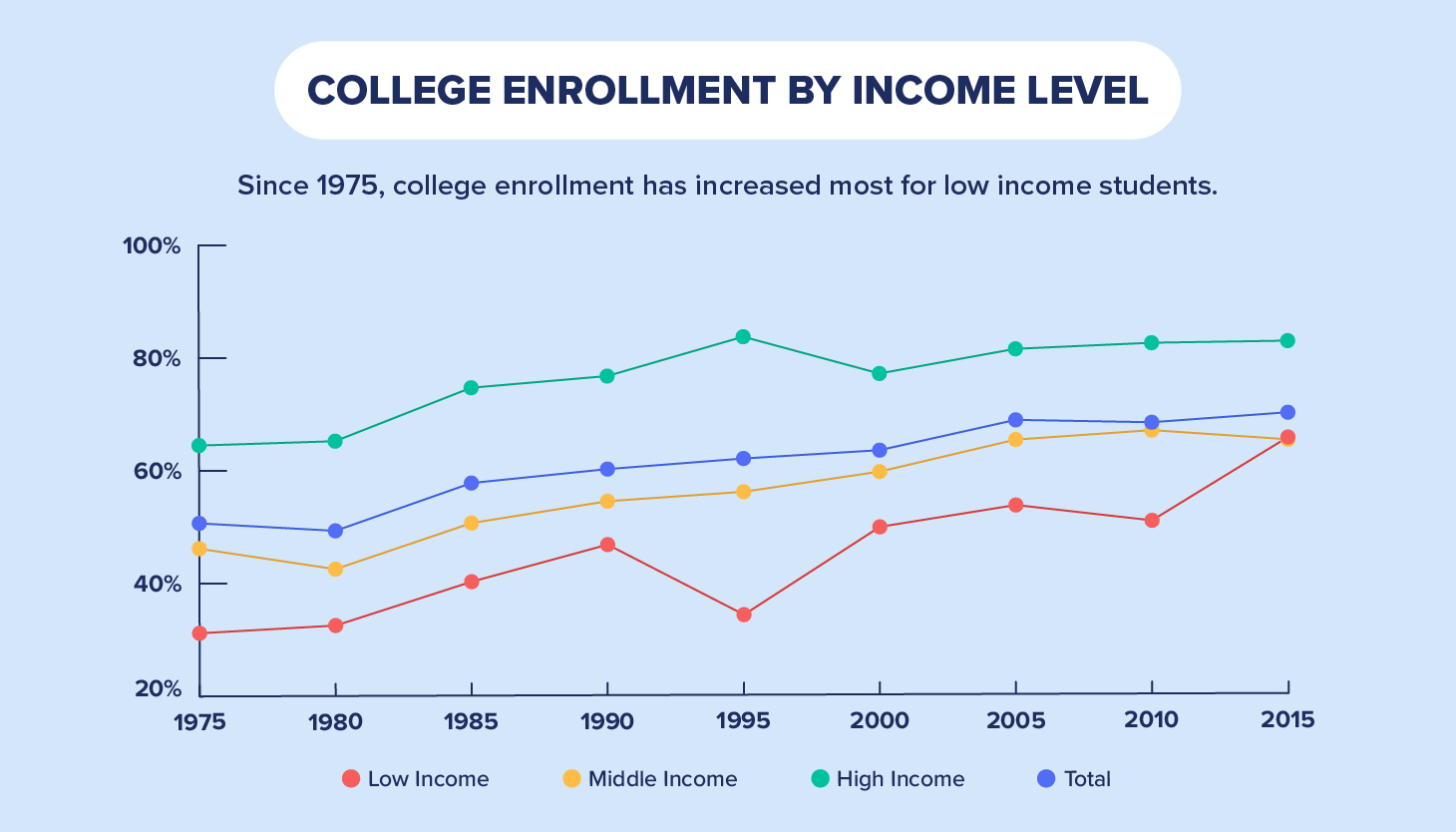 Average Student Loan Debt
What's the Average Student Loan Debt in America?
It's as much as a new car. The most recent data available shows that the current average outstanding student loan debt, including accrued interest and principal amount owed, is an estimated $32,731.
How much debt can young borrowers expect to owe upon graduating? In 2016, graduates left college with an average of $37,172 to pay off. [2]
What's the Average Student Loan Monthly Payment? 
Can you believe that from 2005 to 2016 the average monthly student loan payment rose 60%?
The most recent data from 2016 shows graduates leaving college with an average $393 monthly student loan payment. That's $166 more than graduates paid per month in 2005. [4]
Total Student Debt by Age
In 2019, student loan debt, including principal amounts and accrued interest, was highest for those aged 35 to 49. With the exception of borrowers under the age of 24, for whom outstanding debt dropped in 2019, all other age groups experienced steady increases in debt amount. [9]
Current Outstanding Student Loan Debt
24 and younger: $

120.1 billion

25 to 34: $494.2 billion

35–49: $548.4 billion

50–61: $224.1 billion

62 and older: $67.8 billion
Many Americans pay student loan debt even after they've retired. The current outstanding student debt for borrowers 62 and older is $67.8 billion. Usually people over 62 aren't borrowing for their own education, but taking out loans and/or cosigning on a loan for a child or grandchild.
A collaborative report released by the Association of Young Americans (AYA) and AARP, showed that 31% of baby boomers, ages 54 to 72, were forced to stop saving for retirement in order to pay off student loans. [8]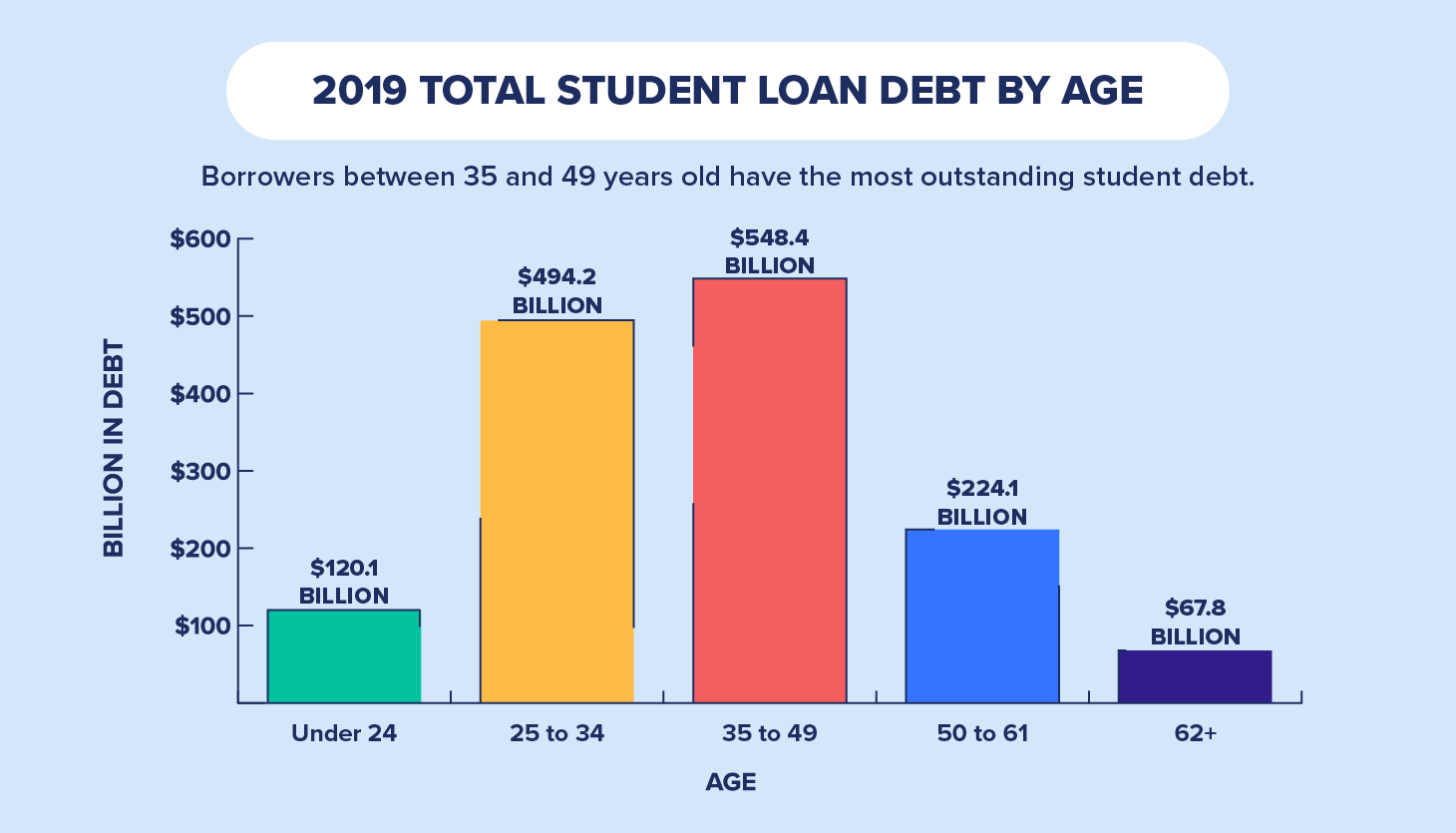 The Demographics of Student Loan Debt
Available data shows that for African American and Hispanic borrowers, as well as first-generation college students, loan debt is more of a burden than for others.
For instance, first-generation college students are more likely to be behind on payments than borrowers whose parents attended college. And, on average, black and Hispanic borrowers are more likely to be behind on loan payments and less likely to have paid off loans their student loans in full. [2]
Delinquency Rates on Student Loans
If you default on your student loans, you'll face serious consequences. Make sure you know about repayment options. Contacting your lender can help ensure your loan does not get sent to a debt collector, negatively affect your credit and more if you are having trouble making payments.
If you are struggling to pay your student loans on time, you're not alone. The inability to make timely payments on student loans is a problem for many borrowers. According to a Federal Reserve study, 19% of surveyed student loan recipients said they were behind on payments. [5]
Currently, student loans have a higher delinquency rate than credit cards, auto loans and mortgages. The delinquency rate (90 days or more overdue) for student loans is 10.85%. Comparatively, the delinquency rates for auto loans is 4.69% and 8.32% for credit cards. [1]
How Long Does It Take Borrowers to Pay Off Student Debt?
Wondering how long you'll be making student loan payments? The answer depends on a number of factors, including repayment terms, loan type and more. For federal student loans, provided by the government, a standard repayment plan allows borrowers up to ten years to pay off their debt. Graduated repayment plans for federal student loans give borrowers 30 years, and extended repayment plans offer eligible borrowers terms of 10 to 30 years.
Repayment terms for private student loans, administered by banks and other financial institutions, vary. Ten years is most common, but many borrowers take more than twice that long to pay off their loans. A 2014 study from One Wisconsin Institute found that borrowers surveyed took an average of 21.1 years to pay off their loans—though the study had limitations. [6]
There is evidence that borrowers who graduate are more likely pay their loans off on time. A study by the National Center for Education Statistics found that 36% of borrowers with a degree paid off their debt in 12 years, where only 18.7% of college dropouts did the same. The study also showed that dropouts were eight times more likely default. [7]
Repaying Your Student Loans
Paying back student loans can be overwhelming, whether you're a recent grad, a parent or retiree. But understanding your repayment options will empower you to make the best decisions for your financial health. Student loans can impact your credit, so it's always a good idea to check your credit score regularly.
Sign up for the free Credit Report Card to see your Experian VantageScore 3.0. You can also sign up with ExtraCredit to get access to 28 of your FICO scores—something you won't find anywhere else. ExtraCredit does cost around $25 a month, but in addition to your FICO scores, you'll get dark web and account monitoring, $1 million in identity theft insurance, cash back offers, and discounts for credit repair services.
---