In many cases, applying for a credit card is quick and easy. With the introduction of instant-approval cards, it's now possible to visit a website, type in a few details, and find out immediately if you qualify. But getting approval can be a double-edged sword — particularly when you apply for a credit card with poor or bad credit. Poor credit can exclude you from certain products and services and make you ineligible for the best offers. Plus, if you do qualify, you may not score the issuer's best credit card terms, including their lowest rates or highest rewards program.
To illustrate: When it comes to credit card annual percentage rates (APRs), you'll generally see a range quoted in the Schumer Box when you apply. For instance, it might say "Variable APR: 13.24% to 23.24% depending on creditworthiness". If your credit is so-so, you may qualify for the card, but at that 23.24% APR, instead of the much more affordable 13.24%.
Recommended Rewards Credit Card

Snapshot of Card Features
Card Details +
Getting the Best New Credit Card
Fortunately, there are steps you can take before you apply for credit cards to improve your chances of premium acceptance. Here's how to get the best terms on a new credit card.
1. Learn & Understand Your Credit Score
Your credit score is a three-digit number (in most cases) derived from your credit report. There are several scoring systems used by lenders throughout the United States, but choosing one score and checking it regularly will give you an idea of where your credit stands. Once you know your scores, you'll get an idea of whether you'll be able to qualify and what terms you're looking at. You can see two of your credit scores for free at Credit.com.
2. Improve Your Credit Score
If your scores are low, you may want to work on improving them before you apply for a credit card. That way, you'll have a better chance of securing a card without an annual fee, for instance, or a credit card with at least some rewards attached. If you simply don't have a credit history, or have a very thin credit history, there are cards designed to help you build a score. These secured credit cards can help you establish a stronger credit history and raise your credit scores.
Recommended Secured Credit Card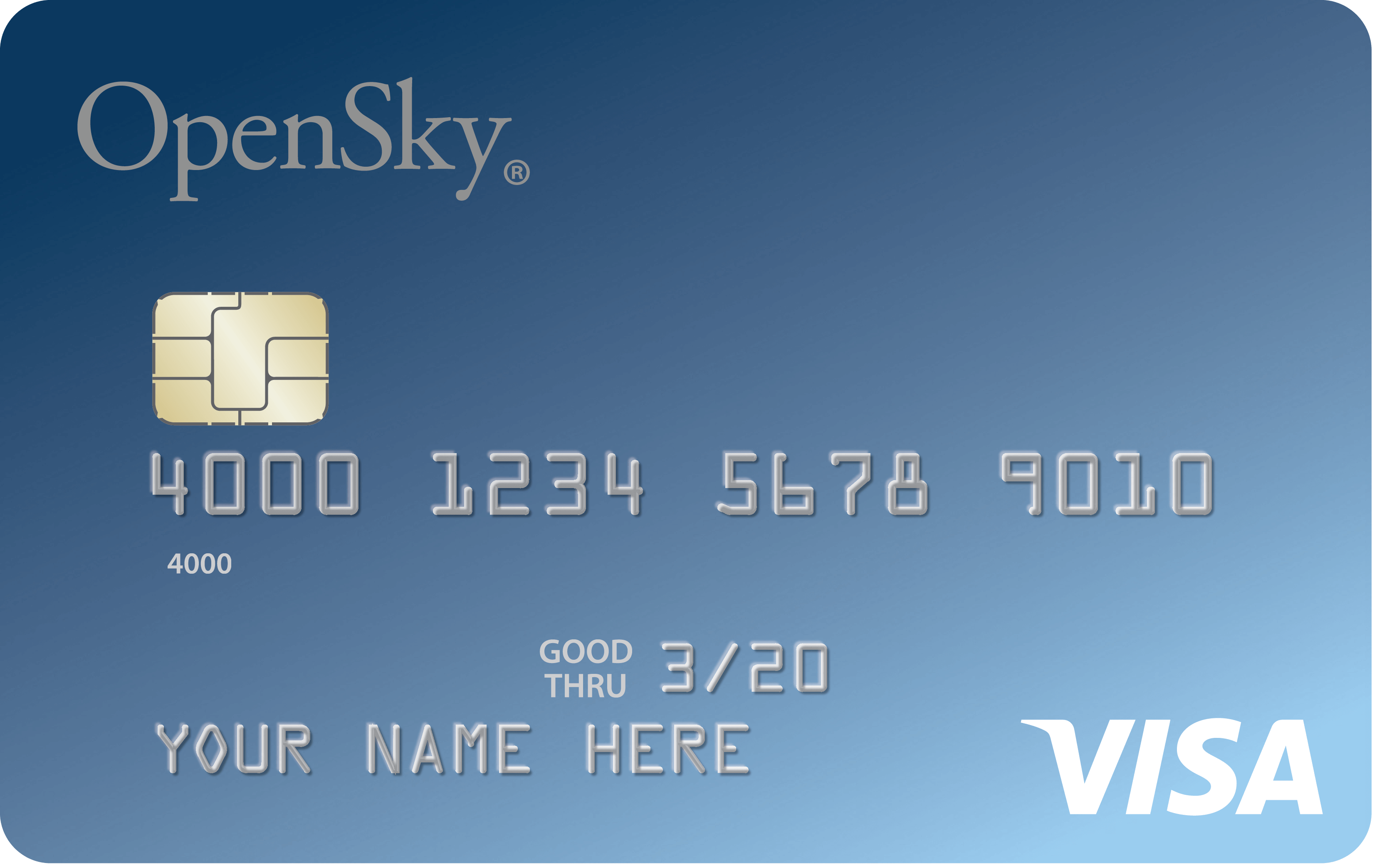 OpenSky® Secured Visa® Credit Card
Card Details
---
Ongoing Apr:
17.39% (variable)
---
---
---
Credit Needed:
Fair-Poor-Bad-No Credit
Snapshot of Card Features
No credit check necessary to apply. OpenSky believes in giving an opportunity to everyone.
The refundable* deposit you provide becomes your credit line limit on your Visa card. Choose it yourself, from as low as $200.
Build credit quickly. OpenSky reports to all 3 major credit bureaus.
99% of our customers who started without a credit score earned a credit score record with the credit bureaus in as little as 6 months.
We have a Facebook community of people just like you; there is a forum for shared experiences, and insights from others on our Facebook Fan page. (Search "OpenSky Card" in Facebook.)
OpenSky provides credit tips and a dedicated credit education page on our website to support you along the way.
*View our Cardholder Agreement located at the bottom of the application page for details of the card
Card Details +
Keep in mind, though, that improving your credit score takes time and dedication, especially if you have negative marks on your credit report. A good place to focus your attention is on any amounts you already owe. That's because your outstanding balances on things like credit cards and loans makes up roughly 30% of your score, so paying down existing debt is a good way to watch your scores tick up. Of course, you'll also want to be sure to keep making timely payments. Not doing so can ding your scores.
3. Do Your Research
Comparison-shopping really counts when it comes to credit cards. So, for example, just because you received a pre-approved card offer in the mail doesn't mean it's the right card for you. First of all, being "pre-approved" doesn't really mean much except that you've been targeted by the card issuer as a potential customer. Second, it might not be the best card for your needs.
If you're in the market for a new credit card, it's worth your time to compare cards and research terms and conditions ahead of time. Remember, every time you apply for a credit card, the lender performs a "hard inquiry" on your credit report, so it's not a good idea to apply for multiple cards just to see which terms you can get. If you're in doubt about whether you're eligible for a particular card or if you'll net its best offer, you can always contact the issuer and discuss what credit scores are generally required for their best rates and products.
4. Negotiate
If you're approved for a card, but aren't satisfied with the offer – say your credit limit is too low, for instance — you can call the issuer and ask if they'll reconsider. There's no guarantee they'll bump you to a lower interest rate (particularly if your credit is the issue), but it doesn't hurt to ask. Remember, you can also call your issuer and ask if they'll amend a term on a card you've had a while. Just keep in mind, they may pull your credit to see if your credit warrants an upgrade.
5. Wait it Out
If you know your credit is an issue and you can't currently secure the best terms, but still need or want a credit card, you can apply for a lower-tier product you're more likely to qualify for. Once you have a card, focus on using it responsibly for a while: Make all your payments on-time and keep your debt levels low (below at least 30% and ideally 10% of your total credit limit). After six months or so, you can call your issuer up to see if you qualify for better terms or, even, a better credit card.
For instance, some issuers have two versions of the same brand of card. Maybe one has an annual fee, but the other doesn't. If you qualified for annual fee card, but having been using it responsibly (and know your credit has improved as a result), you can call your issuer to see if you can upgrade to the no-annual-fee version. (Again, just be aware this may result in a credit inquiry, which could ding your score.)