[DISCLOSURE: Cards from our partners are mentioned below.]
If you're wondering what the average credit score is, you're probably really wondering how your credit score compares to others. You may also be wondering if it's good enough to get approved for a loan or a credit card account. While the average credit score sounds like a simple enough figure to pin down, it's a little more complicated than you may realize.
See, there are a lot of different credit scoring models out there. Most follow a range of 300 to 850, but there are some exceptions, and, even if ranges are similar, the scores each model generates based on what's on someone's credit report can vary as well. So, pinning down a true average credit score can be downright impossible, but there are some markers out there that can give you an idea of where it may fall.
For instance, according to Experian's eighth annual State of Credit report, the nation's average credit score was a 675 in 2017. That's based on the VantageScore 3.0 model, which follows the 300 to 850 range. And the national average FICO score, which also follows a 300 to 850 range, hit 704 in fall 2018, an all-time high.
How can you find out if you have an average credit score? Well, let's break it down.
What's My Score?
First things first. If you want to know how strong your credit is, you'll need to know your credit score. You can find out by using Credit.com's free credit report snapshot.
A credit score is calculated by using information that is contained in each of your credit reports from the three major credit bureaus: Equifax, Experian, and TransUnion.
Which Score?
Another thing you'll need to know when comparing your number to others is which credit score model is being used to calculate the score, and what credit score range is being used. To reiterate, there are many different credit score models, including versions of VantageScore, FICO scores and even educational credit scores.
Our free Credit Report Card, for example, shows you your Experian VantageScore 3.0. For a more complete picture, you can sign up for ExtraCredit. With ExtraCredit's Track It feature, you can see 28 of your FICO scores from all three major credit bureaus. A membership costs about $25 per month, but comes with unique features that offer cash back rewards, exclusive discounts, and more—including $1 million in identity theft insurance.
What's a Good Score?
Again, different models have different ranges, and lenders make their own decisions about what they consider acceptable. The scores typically range from 301 to 850, with categories from bad to excellent. Here's how the VantageScore credit tiers break down:
Excellent credit: 750+

Good credit: 700-749

Fair credit: 650-699

Poor credit: 600-649

Bad credit: below 600
Ultimately, what's considered a good credit score or a fair credit score depends on how the lender views it, but you can get an idea of how lenders are likely to view your applications by checking your score and seeing how it compares to others.
Moreover, you can build good credit by focusing less on the numbers and more on what's weighing them down. Most credit scores consider the same five major factors:
Payment history

Amount of debt you owe

Length of credit history

Mix of credit accounts

New credit inquires
So, for instance, if you're carrying a lot of debt, you may want to focus on paying some of your credit card balances down. If you've got a lot of credit inquiries on your credit report, you may want to hold off on applying for new credit for six months to a year.
And, of course, you can always improve an average credit score by making all payments on-time, keeping debts low and adding new accounts as you can handle them.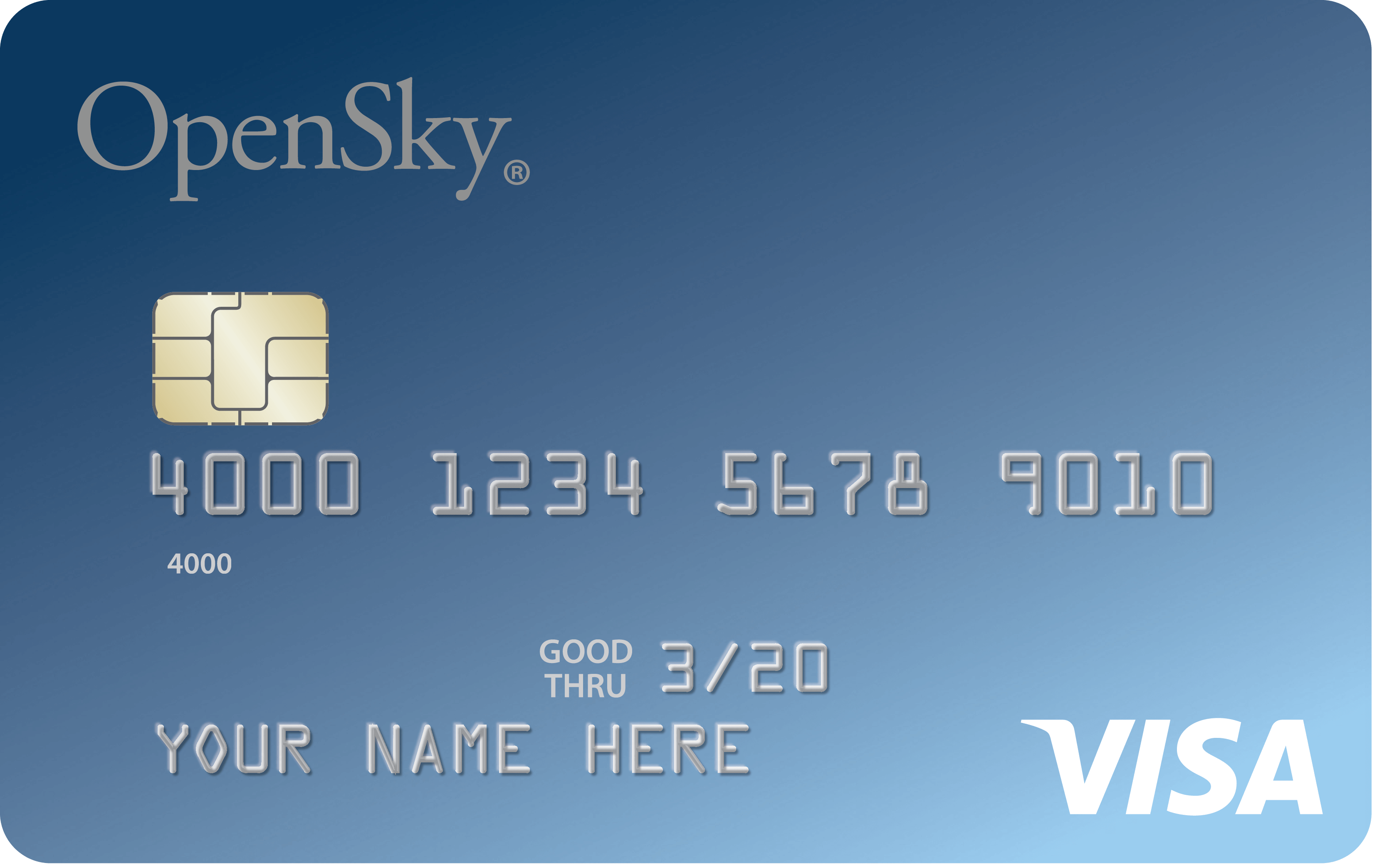 OpenSky® Secured Visa® Credit Card
Card Details
---
Ongoing Apr:
17.39% (variable)
---
---
---
Credit Needed:
Fair-Poor-Bad-No Credit
Snapshot of Card Features
No credit check necessary to apply. OpenSky believes in giving an opportunity to everyone.
The refundable* deposit you provide becomes your credit line limit on your Visa card. Choose it yourself, from as low as $200.
Build credit quickly. OpenSky reports to all 3 major credit bureaus.
99% of our customers who started without a credit score earned a credit score record with the credit bureaus in as little as 6 months.
We have a Facebook community of people just like you; there is a forum for shared experiences, and insights from others on our Facebook Fan page. (Search "OpenSky Card" in Facebook.)
OpenSky provides credit tips and a dedicated credit education page on our website to support you along the way.
*View our Cardholder Agreement located at the bottom of the application page for details of the card
Card Details +
What Factors Play a Role in the Average Credit Score?
When examining your credit score, several factors are in play. It is essential to understand what can potentially harm an average credit score and turn it into an inferior credit score.
Failure to repay your debt as you originally agreed to do can negatively impact your scores. From missed and late payments to charge-offs, collections, and settled accounts, you'll find many things that can impact you if you aren't careful.
Missed payments and late payments of 30 days or more are reported to each of the three major credit bureaus and can even remain on your credit report for up to seven years from the original date of delinquency.
A charge-off is when the lender decides that you will be unable to pay them the money that you owe, so they write the amount off as a loss. Many times these charge off accounts will then be sold to a collections office. Either way it happens, however, it will definitely leave a negative mark on your credit score, and even a collection can stay on your credit file for seven years.
Average Credit Score by Age
The average FICO score actually improves with age. If you are under the age of 30, then your scores may be much lower than those of someone who's older.
Consumers in their thirties are also showing an average credit score lingering around the 620 mark because this age group is more likely to need credit for major expenses and other debt that they started to accumulate.
All these factors play a role in the average credit of those between the ages of 18 and 21 who are just beginning to build their credit. This age group is finding it harder and harder to gain any kind of credit initially at all.
Average Credit Score by Income
When you start analyzing the average credit score in relation to an individual's income, you can see that the higher the income level, the higher their average score may be. Likewise, a lower income level may be indicative of a lower average credit score.
The biggest factor in play when it comes to an average credit score and income is credit utilization. Credit utilization should always remain at under 30% to maintain a good credit score.
Simple Ways to Improve Your Credit Score
If you're looking for simple ways to effectively improve a bad credit score, focus on paying your bills on time, maintain positive payment history with your lenders, pay down your debt to help improve the credit utilization ratio and only apply for a credit account when you really need it. Try to keep the hard inquiries on your credit files to a minimum. Too many can have a negative impact on your credit scores.