0 Comments
Fingerhut is an online shopping website offering more than 450,000 products. The have products from popular brands such as Samsung and KitchenAid. What makes this store Fingerhut great is that they offer credit to customers who may not qualify elsewhere. Their products are also affordable. The idea is to allow customers to get credit accounts with low monthly repayment options and buy products that they love.
How Does the Fingerhut Credit Account Work?
WebBank issues Fingerhut credit accounts which are available to people with less-than-perfect credit. Getting a Fingerhut Credit account can help you build your credit. One of the main reasons Fingerhut has become so popular is because they often extend a line of credit to people who have been denied credit elsewhere.
Once you're given a Fingerhut Credit Account, Fingerhut will report your payment history to the three major credit bureaus – Equifax, TransUnion and Experian. If you make your payments on time each month, you can establish a positive credit history which can boost your credit score.
There are two types of Fingerhut credit accounts:
The Fingerhut Advantage Credit Account
The Fingerhut FreshStart Installment Loan
WebBank issues both lines of credit and you won't know which one you qualify for until after you apply. If you don't qualify for the Advantage Credit Account, then you'll be automatically considered for the FreshStart Installment Loan. Either account allows you to buy products through Fingerhut's website. The accounts have low monthly payments, no application fee, no annual fee, no over-limit charges, and access to 24/7 customer service.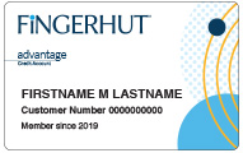 Fingerhut Credit Account
Card Details
---
---
---
---
Credit Needed:
Fair-Poor-Bad
Snapshot of Card Features
Get $25 off your order of $100 or more**. Enter promo code: NC256 at checkout.
Find out quickly if you're pre-approved for a WebBank/Fingerhut Credit Account
Shop Great Brands at Fingerhut.com
With a WebBank/Fingerhut Credit Account, buy favorite brands with low payments.*
Apply for a WebBank/Fingerhut Credit Account today. Fill out our easy online application.
Card Details +
Differences Between FreshStart and Advantage
The Fingerhut FreshStart credit account has a credit limit of $125 – $230. This account requires a $30 down payment. The installment loan is good for one purchase and accountholders pay it off in 6-8 months. Users also have the chance to be issued a revolving account with a higher credit limit. This type of account is for people with no credit or damaged credit.
The Fingerhut Advantage Credit Account is a revolving account instead of an installment account. It offers a credit limit of $200-$800. Accountholders have opportunities for future credit line increases and deferred payment offers. They can also choose their due date. The account also has low monthly payments and depending on their credit, may have to make a $30 down payment on their first purchase. The Fingerhut Advantage Credit Account is for people with fair to good credit.
Fingerhut is an excellent option for people with subprime credit who want to shop online while building good credit. If you've been turned down for credit in the past, you may still be able to qualify for a Fingerhut account.
If this sounds like a good fit for you, then you can easily apply for a Fingerhut Credit Account today and start building a positive credit history.
What are the Advantages of Using a Service Like Fingerhut?
A Fingerhut Credit Account has a lot of advantages:
No membership fees. There are no membership fees or annual dues that you need to pay to participate in this program.
You can get special offers. Sometimes Fingerhut gives its members special offers. When you first sign up, you can get $25 off your first $100 or more purchase.
Low monthly payments. One of the greatest advantages of being a Fingerhut credit account holder is the low monthly payments. It gives you access to financing that you may not be eligible for elsewhere.
You get the decision in a matter of seconds. Applying online for a Fingerhut Credit Account is quick. You'll get a decision in a matter of seconds. The website automates the application process, making it quick and easy.
Fingerhut reports to the three major credit bureaus. Fingerhut reports your payment history to all three major consumer credit bureaus. Some creditors only report to one or two of the credit bureaus.
Fingerhut accepts people with average credit scores. Even if you don't have a good credit score, you may still qualify for a Fingerhut credit account.
There are lots of advantages to a Fingerhut account. But before you sign up, you may want to be aware of some of the disadvantages of a Fingerhut account:
You can only use the credit account to purchase Fingerhut merchandise. Some credit cards are more versatile and can be used at different places. However, Fingerhut does offer a huge variety of products, so you shouldn't have any problems finding something you want.
The prices you end up paying for those products may be a little higher than you would pay for the same products at other stores. If you're making a big purchase though, you may find it easier to qualify for financing than you would somewhere else, so you can pay it off over time, rather than trying to save money to buy a product outright.
If you're trying to improve your credit or can't qualify for other lines of credit, then a Fingerhut Credit Account may be worth considering.
How Can You Get a Fingerhut Credit Account?
The application process is simple. You can do it online. In order to apply, you need to provide the following:
Your name, date of birth and contact information
Your income
Social Security number
Does this sound like a good idea to you? You can easily apply and know immediately whether or not you qualify. Remember that when applying for a credit account you'll want to consider your finances and your budget. If you want to know where your credit stands, check your credit for free today at Credit.com. We offer a free credit score and a credit report summary, as well as tips to help you improve your credit.
At publishing time, the Fingerhut Credit Account is offered through Credit.com product pages, and Credit.com is compensated if our users apply and ultimately sign up for these cards. However, these relationships do not result in any preferential editorial treatment. This content is not provided by the card issuer(s). Any opinions expressed are those of Credit.com alone, and have not been reviewed, approved or otherwise endorsed by the issuer(s).
Note: It's important to remember that interest rates, fees and terms for credit cards, loans and other financial products frequently change. As a result, rates, fees and terms for credit cards, loans and other financial products cited in these articles may have changed since the date of publication. Please be sure to verify current rates, fees and terms with credit card issuers, banks or other financial institutions directly.
Citi Rewards+℠ Card
Card Details
Intro Apr:
0% for 15 months on Purchases
---
Ongoing Apr:
13.49% - 23.49% (Variable)
---
Balance Transfer:
0% for 15 months on Balance Transfers
---
---
Credit Needed:
Excellent-Good
Snapshot of Card Features
The Citi Rewards+℠ Card - the only credit card that automatically rounds up to the nearest 10 points on every purchase - with no cap.
Earn 15,000 bonus points after you spend $1,000 in purchases with your card within 3 months of account opening; redeemable for $150 in gift cards at thankyou.com
0% Intro APR on balance transfers and purchases for 15 months. After that, the variable APR will be 13.49% - 23.49%, based on your creditworthiness. Balance transfer fee — either $5 or 3% of the amount of each transfer, whichever is greater.
Earn 2X ThankYou® Points at Supermarkets and Gas Stations for the first $6,000 per year and then 1X Points thereafter. Plus, earn 1X Points on All Other Purchases.
The standard variable APR for Citi Flex Plan is 13.49% - 23.49%, based on your creditworthiness. Citi Flex Plan offers are made available at Citi's discretion.
Card Details +