[DISCLOSURE: Cards from our partners are reviewed below.]
This article updated February 16th, 2018
Getting a new line of credit after filing for bankruptcy may sound like an impossible task — and, yes, scoring new financing will be difficult, but it also can be done. In fact, if you're wondering how to build credit after bankruptcy, you'll want to put getting a credit card on your to-do list. Making on-time payments on that new piece of plastic will (in the long term, of course) bolster your payment history, the most important factor when it comes to credit scores. Plus, managing your credit limit responsibly — that is, keeping the amount you owe on the card very, very low or, better yet, nonexistent — will help your credit utilization, the second major credit score component. But we're getting ahead of ourselves. After all, in order to use a credit card after bankruptcy, you'll have to get one. And getting one will take a little work. You'll need to make sure the bankruptcy is being reported correctly on your credit reports, for instance, and you'll also need to research what cards you can qualify for. Let's break down how to get a credit card after going through bankruptcy.
1. Pull Your Credit Reports
You probably know that bankruptcy is really, really bad for your credit. In fact, according to a FICO study, someone with an average credit score (around 680) could see their number plummet up to 150 points. Plus, bankruptcy can stay on your credit report for some time — up to 10 years from the filing date, though most Chapter 13 filings drop off after seven years. However, you won't necessarily be stuck with subprime credit for that entire timeframe. And you may see your score improve as soon as the bankruptcy hits your credit report. That's because the debts discharged in bankruptcy are technically ones you no longer owe — and your aforementioned credit utilization rate should improve.
Tip: Your credit utilization rate is how much debt you owe versus how much credit has been extended to you. It's generally suggested you keep the amount of debt you owe below at least 30% to ideally 10% of your total credit.
Of course, for your credit utilization to improve — and, subsequently, for your odds of getting a new credit card to improve — you'll need to be sure the bankruptcy has been reported correctly to the credit bureaus. That is, you'll want to be sure all the accounts involved in your bankruptcy are marked as discharged and have a $0 balance. You can pull your credit reports from each major credit reporting agency (Equifax, Experian and TransUnion) for free every year at AnnualCreditReport.com. You can also view your credit report snapshot for free on Credit.com.
2. Dispute Any Errors
If you discover that your bankruptcy is being reported incorrectly, you'll want to dispute the error(s) with the appropriate credit bureau. (You can go here to learn more about how to do so.) Remember, if there are inaccuracies on all three of your major credit reports, you'll have to file a dispute with each bureau separately, since they're independent of one another.     
Making sure all the applicable debts are marked as "discharged" and "$0" on your credit reports is doubly important ahead of your credit card search, since, exact scores aside, some issuers may not lend to consumers with unresolved or non-discharged bankruptcies. For instance, the fine print of the Discover it® Secured requires applicants to "represent that there are no current lawsuits or bankruptcy proceedings that might affect our interest in the Security Deposit Account or the Funds." Capital One similarly notes on the application for its Capital One Secured Mastercard that applicants may not be eligible for the card if they have a "non-discharged bankruptcy (one that is still unresolved)".       
3. Know Which Cards You Can Qualify for
Once you're sure your bankruptcy has been reported correctly, you can apply for your new starter credit card — but you won't want to go out and just fill out applications willy-nilly. Credit inquiries (read: applications for new credit) are another major factor of credit scores, and too many in a short time period can do some harm to your already fragile credit. That's why it's important to look into credit cards designed for people looking to rebuild their credit, since these are the cards you stand the best chance of qualifying for. People recovering from bankruptcy are generally looking at secured credit cards, which require a cash deposit as collateral. (This cash deposit serves as your credit limit.) There are, however, a few unsecured credit cards geared to people with bad credit.  
Tip: Be sure to ask your prospective issuer if they report your card use to the credit bureaus as most (but not all) secured credit cards do.  
Of course, the right credit card for you will vary, depending on how bad your score is post-bankruptcy and how disciplined you feel you can be with some new plastic. Something else to note: If you had credit card debt that was discharged in bankruptcy, it's highly unlikely the issuer you owed that debt to will approve you for another card — at least not right away. Having said all that, here are some credit cards for bad credit to consider during your post-bankruptcy search. (Note: For the full fine print, please see the cardholder's agreement.)
Capital One Secured Mastercard 
Why We're Mentioning it: Because you can potentially get a credit limit that's higher than your security deposit. Capital One offers cardholders an initial $200 credit line after making a security deposit of $49, $99 or $200, based on their credit. Plus, the no annual fee is .
Card Details: You're also eligible for a higher credit line after making your first five monthly payments on time, no additional deposit needed.
Cons: There are no rewards — but, again, that can be a pro for people afraid the prospect of earning cash back will cause them to overspend.
Annual Fee:
APR:
Indigo Mastercard for Less than Perfect Credit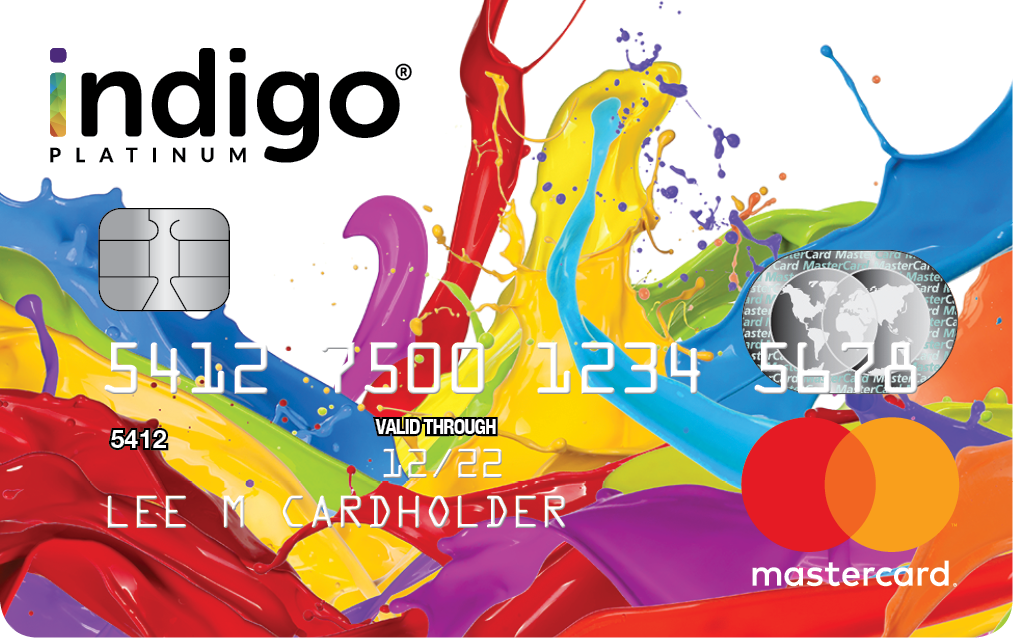 Indigo® Mastercard® for Less than Perfect Credit
Snapshot of Card Features
Less than perfect credit histories can qualify, even with prior bankruptcy!
Choose your card design with chip technology at no additional cost
Quick pre-qualification available with no impact to your credit score
Easy pre-qualification process with fast response
24/7 access to your account, even on mobile!
Protection from fraud, if your card happens to be lost or stolen
Accepted nationwide wherever Mastercard is accepted
Card Details +
Why We're Mentioning it: Because you can apply for this card even with a prior bankruptcy, helping you rebuild your credit. You can also see if you're pre-qualified for the card before actually applying for it, so your credit won't take a hit for the inquiry if you're not already pre-qualified. You can also choose your own card design for free.
Card Details: Once you're approved, you'll have a $300 unsecured credit limit to begin with.
Cons: Based on your credit rating, you'll have an annual fee to contend with that can eat up to about one third of your credit limit (up to $99).
Official NASCAR® Credit Card from Credit One Bank®
Snapshot of Card Features
Card Details +
Why We're Mentioning it: An option for someone with bad credit who's looking for an unsecured credit card (meaning no deposit required), the Official NASCAR® Credit Card from Credit One Bank® offers 1% cash back on eligible purchases. Plus, you can see if you qualify for the card without hurting your credit score.  
Card Details: Choose your monthly payment due date for added convenience (terms apply).
Cons: At $99, your annual fee could wind up being a doozy — and there are other fees to consider, like a $19 fee for authorized users. Plus, the prospect of rewards could prompt you to overspend — not the best idea post-bankruptcy.  
4. Apply at a Small Bank or Credit Union
If your credit is in really rough shape and you think a major issuer or big bank is going to turn you down, you may want to look into doing business with a community bank or credit union. These smaller financial institutions tends to have less stringent underwriting requirements and may even offer more favorable terms.
5. Wait it Out
If you're having a hard time qualifying for any cards, you may want to wait awhile for your score or, more pointedly, your overall financial standing to improve. Remember, having a credit card after bankruptcy is only going to help you if you use it responsibly. If you miss payments or bump up against your credit limit, your score could be at further risk. That's why it's important to not get ahead of yourself and to only re-enter the credit sphere when you can literally and figuratively afford it.   
6. Use Your Card Responsibly
Once you do get approved for a credit card, you'll want to demonstrate responsible spending habits. That means you'll want to make all your payments on time and keep your balances low. (Since the credit limit on your new card will likely be low, it's a good idea to pay your purchases off in full.) Using your new card responsibly will help your credit score recover. It'll also help you qualify for a better credit card down the line. As you can see, many issuers of cards for bad credit offer to review an applicant's standing over time and will increase your credit limits or bump you up to a more traditional line credit card once you prove you can handle your plastic. If you qualify for a card that doesn't have reviews automatically built in, you can call your issuer after some time (usually six months) to see if you can move onto a better product.
Again, just be sure you're ready to up your credit: The last thing you want is to run up debts you can't afford again. Note: You can only receive a Chapter 7 discharge once every eight years.     
At publishing time, the Discover it® Secured, Capital One Secured Mastercard and Official NASCAR® Credit Card from Credit One Bank® credit cards are offered through Credit.com product pages, and Credit.com is compensated if our users apply and ultimately sign up for these cards. However, these relationships do not result in any preferential editorial treatment.
Note: It's important to remember that interest rates, fees and terms for credit cards, loans and other financial products frequently change. As a result, rates, fees and terms for credit cards, loans and other financial products cited in these articles may have changed since the date of publication. Please be sure to verify current rates, fees and terms with credit card issuers, banks or other financial institutions directly.