Typically, a bad credit score is anything below 600. Bad or even fair credit can limit your options when it comes to loans and credit cards. Unless they provide credit card options for bad credit, credit card companies are less likely to give credit cards to those who don't have good credit. But you can get a credit card with bad credit. Follow these six steps to open a new credit card account and start working on improving your credit.
1. Check Your Credit Score
A few dozen points in either direction can make a huge difference in which cards you can get approved for. Begin this journey by arming yourself with knowledge. Get your free credit score from Credit.com so you know where you stand.
Is it important to know your credit score before you apply for credit cards? Yes. Here's why:
It lets you apply more strategically, which increases your chances of approval.
It reduces the chance you'll apply blindly for cards you can't get approved for, which causes wasted hard credit pulls. Each hard pull can reduce your score as much as 10 points. A few in a row can drag you down to bad credit score levels.
You gain an understanding of your credit score and whether you should try to improve it before you apply for cards.
2. Take Actions to Raise Your Score
If there are errors on your credit reports, you could work with a credit repair firm to get incorrect negative items removed.
Educate yourself about what factors are involved in your credit score so you can understand how you could improve it. You may be able to increase your score enough to get a better credit card deal by making timely payments or reducing your credit utilization.
3. Become an Authorized User on Someone Else's Card
If your score is so low you're certain you won't be approved for a card—or you've already been denied—consider other options to build credit. You can gain positive credit history if someone agrees to add you as an authorized user on their card, as long as they pay their bill on time. Choose someone who uses credit wisely, though. You don't want to be impacted negatively if they miss payments or run up high credit card debt.
4. Opt for a Secured Credit Card
What is the easiest credit card to get with bad credit? Many times, it's a secured credit card. That's because these cards are less risk for the bank.
The way secured credit cards work varies. However, some common factors include:
You pay an up-front security deposit. It may be equal to your credit limit, though it isn't always.
This security deposit is used to cover your payments if you don't make them in a timely manner.
You're usually approved for a relatively low credit amount, though it can increase as you manage the account well over time.
The card company reports to the credit bureaus, so using your card and making timely payments could help increase your score.
5. Find Out What Kind of Credit Card You Can Get with a Bad Credit Score
In addition to secure credit cards, you may also be able to qualify for store credit cards. Other options can include general or secured credit cards that come with low credit limits—such as $200, like the credit line offered by the OpenSky Secured Visa credit card—for those trying to rebuild their credit score.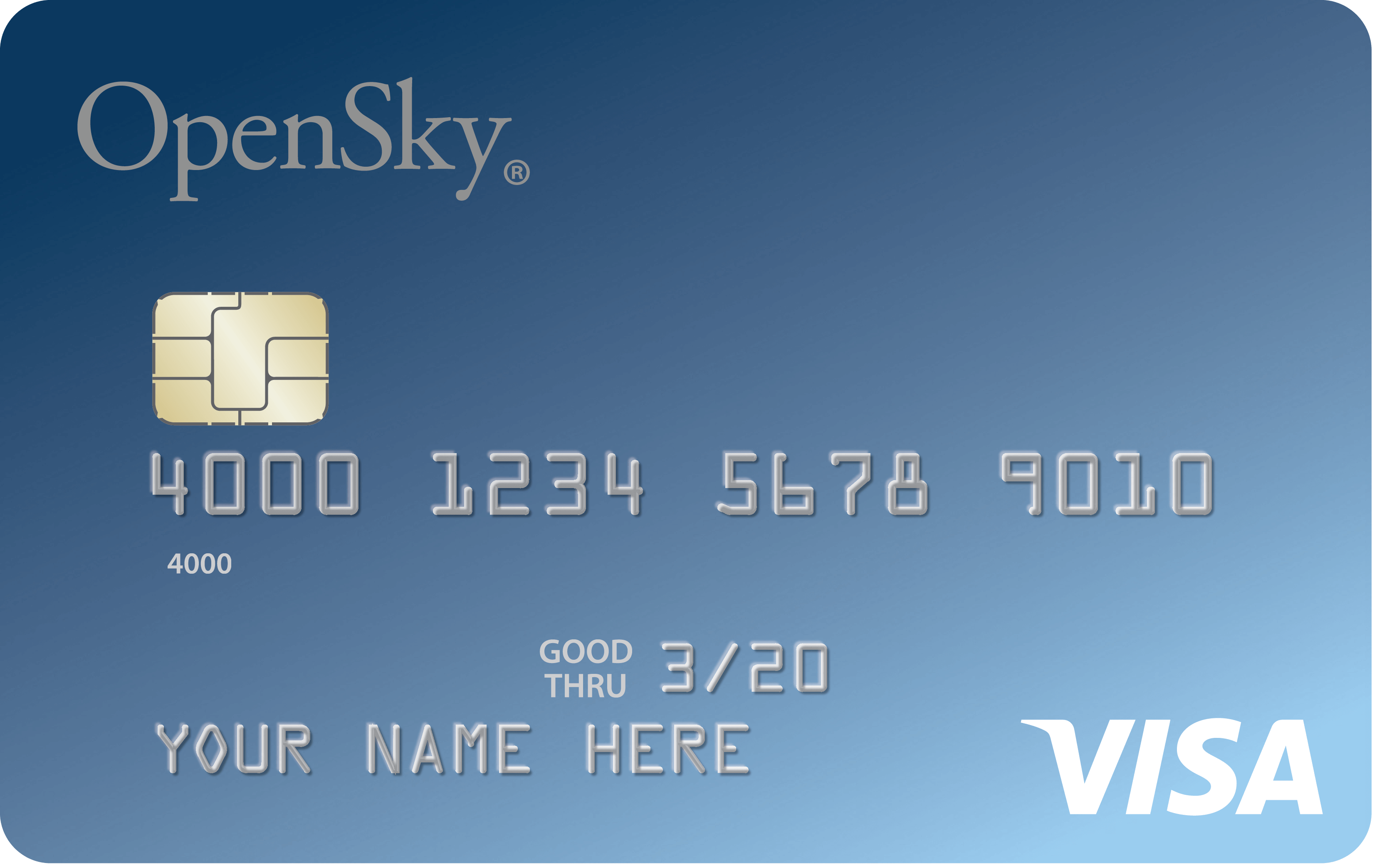 OpenSky® Secured Visa® Credit Card
Card Details
---
Ongoing Apr:
17.39% (variable)
---
---
---
Credit Needed:
Fair-Poor-Bad-No Credit
Snapshot of Card Features
No credit check necessary to apply. OpenSky believes in giving an opportunity to everyone.
The refundable* deposit you provide becomes your credit line limit on your Visa card. Choose it yourself, from as low as $200.
Build credit quickly. OpenSky reports to all 3 major credit bureaus.
99% of our customers who started without a credit score earned a credit score record with the credit bureaus in as little as 6 months.
We have a Facebook community of people just like you; there is a forum for shared experiences, and insights from others on our Facebook Fan page. (Search "OpenSky Card" in Facebook.)
OpenSky provides credit tips and a dedicated credit education page on our website to support you along the way.
*View our Cardholder Agreement located at the bottom of the application page for details of the card
Card Details +
It's important to research the best credit cards for those with a bad credit score to ensure you understand all the fine print. Compare factors such as interest rates, annual fees and available perks. Also make sure to check the card's intro APR and regular APR–those can make a big difference.
Can you get a credit card with a 550 credit score? Yes, but you probably won't get approved for cards with the lowest fees and interest rates. And the cards with the best rewards perks, such as cash back or travel points, are typically reserved for those with better credit scores.
Once you understand what your options might be, apply for a credit card that best meets your needs and your credit history situation. Options are available from a wide range of companies, including Capital One.
6. Manage Your New Credit Card Responsibly
Credit cards that are available to those with a bad credit scores are designed to help create better credit fitness strategies, rather than offer perks. For many, the purpose of applying for and getting one of these cards is to improve credit so they can get approved for a higher credit tier card one day. If you're climbing the credit score ladder, make sure to do things that can help improve your credit score:
Only charging what you can pay for
Paying the balance off each month
Making payments before the due date
Not carrying over a balance that's a large percentage of the credit limit
Whether this is your first credit card or you've had many in your wallet before, applying for and getting approved for a card after your credit score has dipped very low is a big deal. Take a little time to follow these steps to ensure you succeed with this new financial tool.