4 Comments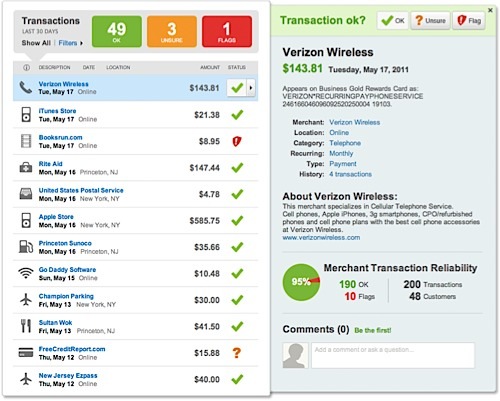 What do you do when you notice an unusual transaction on your credit card? If you're like most people, you call the credit card company to complain. If you're really worked up about it you might also post a rant on one of those bitch board web sites where people complain about fraudulent or otherwise sneaky credit card charges.
But those sites don't really do much good, other than let you blow off some steam. The parties responsible for double charges, unauthorized recurring subscription charges, hidden fees, fraudulent charges, unauthorized charges, and "accidental" charges merrily move on to other hapless victims for fleecing.
[Featured Product: Looking for credit cards for bad credit?]
And many victims don't even realize they've been ripped off, because credit card statements are often confusing to read. According to one company, "the average consumer loses over $300 a year to unwanted charges they're not even aware of." The name of the company is BillGuard, and it has come up with a way to solve the problem of dodgy credit card charges by harvesting the wisdom of the crowd. It calls its free service a "people powered, anti-virus for bills."
BillGuard is easy to use. You pick a username and password, and then register your credit cards (granting "read only" access to BillGuard). BillGuard scans your transactions on your behalf, looking for questionable charges. How does it sniff out fishy transactions? In two ways: it looks at transactions other BillGuard users have flagged as suspect, and it monitors web sites from the likes of the Better Business Bureau, social networks, and bitch boards for chatter about credit cards scams. BillGuard analyzes and incorporates its findings into algorithms that analyze your transactions, flagging ones that require your attention. If you see an unusual charge on one of your cards that BillGuard doesn't catch, you can flag it and BillGuard will look for similar charges on other BillGuard users' bills and alert them. BillGuard calls their technology "collective vigilance." It's a "we are smarter than me" method of identifying hard-to-spot problems.
[Tool: Quickly assess your risk of identity theft for free]
The first time you use BillGuard, it scans all the transactions that your credit card providers have in their history files for you. After that, BillGuard scans your transactions daily. If it finds an iffy charge, it sends you email alerting you about it. I registered three cards and BillGuard returned one "unsure" transaction: an order for 1-800-Flowers.com. It was a legit charge, so I clicked the "OK" button. All the other charges were tagged "OK." I looked through them all and determined that BillGuard didn't miss anything out of the ordinary.
I hope BillGuard expands its collective vigilance to more than credit card transactions. I have a teenager with a mobile phone and each month I have to closely examine the phone bill to make sure that she didn't accidentally sign up for a monthly ringtone charge by responding to a text message, dialing a 1-800-number, or clicking a link.
[Related article: 6 Tips to Protect Your Personal Data After a Breach]
Image: www.billguard.com