If an imposter has stolen your identity to open fraudulent credit accounts in your name, you'll want to act fast to not only protect your identity and credit record, but also get the fraudulent accounts removed from your credit reports as quickly as possible. Identity theft is a federal crime, and in some cases the offender can even go to jail, so this isn't a light issue. Someone opening a credit card in your name or using your Social Security number needs to be stopped as soon as possible. Take these steps to help yourself bounce back after falling victim to one of the most common crimes in the United States.
First, to deter thieves from opening more accounts in your name, place an initial 90-day fraud alert on your credit file. Call one of the three major credit reporting agencies, Experian, Equifax or TransUnion and inform them that a thief has compromised your credit accounts. Here's the contact information for these credit agencies, including the fraud-specific phone numbers:
Equifax – www.equifax.com
Fraud Victim Assistance Department
P.O. Box 740256
Atlanta, GA 30374
1-800-525-6285
Experian – www.experian.com
National Consumer Assistance
P.O. Box 9554
Allen, TX 75013
1-888-397-3742
TransUnion – www.transunion.com
Fraud Victim Assistance Department
P.O. Box 2000
Chester, PA 19016
1-800-680-7289
Using this contact information, request a fraud alert online or over the phone so that you're protected as soon as possible. After you've alerted the bureaus, the credit reporting agency you've contacted will contact the other credit reporting agencies and notify them of the fraud alert. Once the fraud alert is in place, lenders will take extra steps to verify that you are the one who is seeking the request for new credit.
A case of identity theft also entitles you to receive a free copy of your credit report from each of the three major credit reporting agencies. Take advantage of this and review your credit reports with a fine-toothed comb. Make note of every account that you do not recognize as your own.
File a Report
The Federal Trade Commission recommends filing a complaint with them, and then printing a copy of the report and using it to file a police report with your local law enforcement. The FTC calls this document an identity theft affidavit, and says it can be a helpful document to use when you're dealing with the companies where the fraudulent accounts were opened, as well as the credit reporting agencies.
You can file a report online, or by calling the FTC's Consumer Response Center at 1-877-FTC-HELP (1-877-382-4357). Essentially the FTC files these complaints which allow law enforcement to use this information to combat fraud.
Your complaint will be more useful if you provide:
Name, address, phone number, email
The product or service involved
The company or seller's name, address, phone number, website, email, representative's name
Transaction information: the amount paid, how you paid, the date of the transaction
Dispute Those Accounts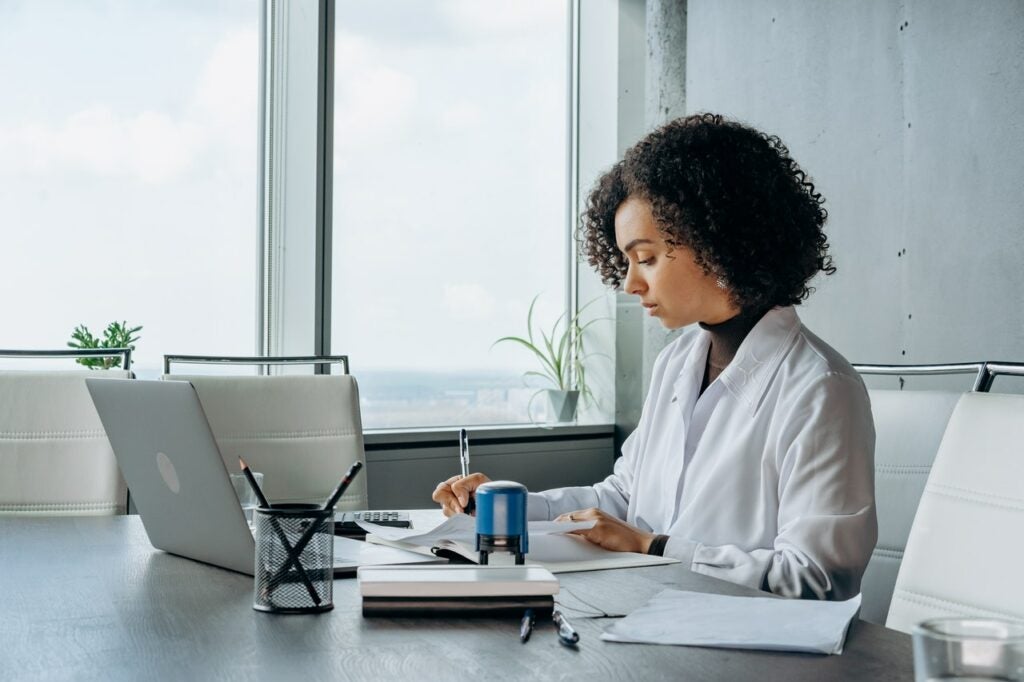 Next, contact the financial companies where a thief has opened fraudulent accounts in your name. Speak to the fraud department, and inform them that you're a victim of identity theft. Follow the phone call with a letter, preferably certified mail with a return receipt. Keep a copy of the letter and the receipt for your files. You may be required to submit more than the identity theft affidavit; the lender will tell you what information you need to supply for this process.
Send a dispute letter to each of the credit reporting agencies informing them of the fraudulent accounts opened in your name. Request that the fraudulent accounts be removed from your credit file.
In most instances, a credit reporting agency will investigate your complaint within 30 days. Each credit reporting agency will forward information about the identity theft to the financial companies reporting the fraudulent accounts opened by the thief. Once the financial company receives the notice from the credit reporting agency, it must investigate and report back to the credit reporting agency.
After an investigation is complete, a credit reporting agency must send you the results in writing. To have proof, ensure that you ask for and receive a confirmation letter. You'll be notified if the fraudulent accounts have been removed from your credit report.
It may take a while to clean up your credit file once an identity thief strikes, and you may wish to place a second 90-day fraud alert on your credit file as you go through the removal process for each fraudulent account on your credit report.
Alternatively, you can consider placing a credit freeze or credit lock on your reports. A credit freeze can be a more secure version of a fraud alert in that it blocks your credit reports entirely, so a lender can't approve a loan in your name, thus barring your identity thieves from doing any further damage to your credit. Keep in mind there's usually a nominal fee associated with a credit freeze. Unlike with a fraud alert, you can't access your credit reports or open new lines of credit without unfreezing your reports.
Edit Your Account Information
If someone has been using any of your accounts, make sure to close them. You can stop any current fraudulent activity in its tracks. For your other, uncompromised accounts, change all of your passwords and PINs. In the future, make sure you use new passwords and PINs that are difficult to guess.
Check Your Credit
One way to find out if there are fraudulent accounts in your name is to check your credit reports regularly. Pull your credit reports (you're entitled to a free credit report from each of the three major credit reporting agencies once a year), then check the accounts to see that everything listed belongs to you. If you see an account that doesn't belong to you, it's time to get to work on shoring up your credit and identity.
Monitoring your credit scores can also be a good way to catch identity fraud. If you check your scores regularly and notice a large, unexpected change, it's time to pull your credit reports. You can get two free credit scores on Credit.com, along with an overview of what's in your credit reports so you can track exactly where you stand.
Remember, this can be a time-consuming process, so don't get discouraged if it takes a little time. What's important is that you get it fixed. In some cases, it can be a good idea to hire a credit repair company like Lexington Law Firm.
Hannah Maluth contributed to this article. This article has been updated. It was originally published December 27, 2016.
Certain credit cards and other financial products mentioned in this and other articles on Credit.com News & Advice may also be offered through Credit.com product pages, and Credit.com will be compensated if our users apply for and ultimately sign up for any of these cards or products. However, this relationship does not result in any preferential editorial treatment.